Get To Know...The Fulgor Milano Collection
Fulgor Milano bring modern technology to kitchens, giving you the best cooking experience possible. They combine their passion for quality and contemporary design with functionality and durability to create truly exceptional cooking appliances.
High-end, premium Italian design and manufacturing makes up the Fulgor Milano range. Design and power are principles that Fulgor Milano share in all of their products, with cooking equipment that brings modern technology to your kitchen to enhance your cooking experience. In their factory near Venice, the Menenghetti family have been putting passion into their design for over 70 years, making Fulgor Milano a well-respected brand particularly in the USA. Bold and rigorous, these range cookers have all the style and performance you'd expect. Read on to find out more about the stunning products they have to offer...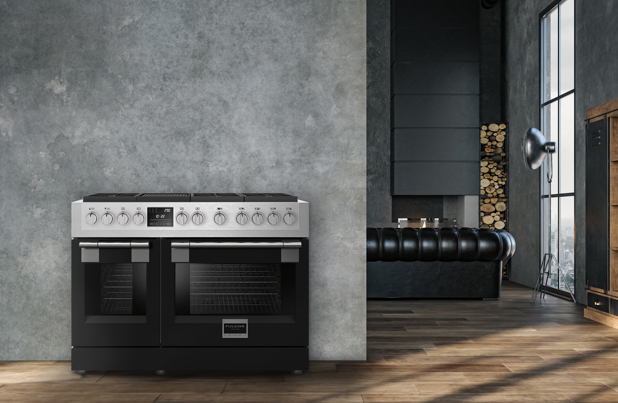 The Sofia collection, named in honour of the Italian movie star, was launched in 2015 and we are proud to offer it here at Rangecookers. The design's aluminium facia, branding and touch control panel, along with the chunky controls and sturdy door handles make an impressive cooker. The elegant yet monolithic design makes an impression at first sight, and it is perfect whether you are a cooking professional or a keen amateur, or you simply want an amazing cooker to show off.
This purposeful range cooker features a 161-litre multifunction oven with dual internal fans and a range of fanned, non-fanned and grilling functions to give you full versatility when cooking (including warming and proving settings). Rapid pre-heat gets the oven to temperature quickly and conveniently, and there is an automatic pyrolytic cleaning cycle to keep your oven cavity looking sparkling new. Inside the oven are two heavy duty racks, one of which can be set up on telescopic runners, an enamel tray with anti-splash insert and plug-in food prove which works in conjunction with the 6-digit touch control timer to cook to a target temperature and see perfect results.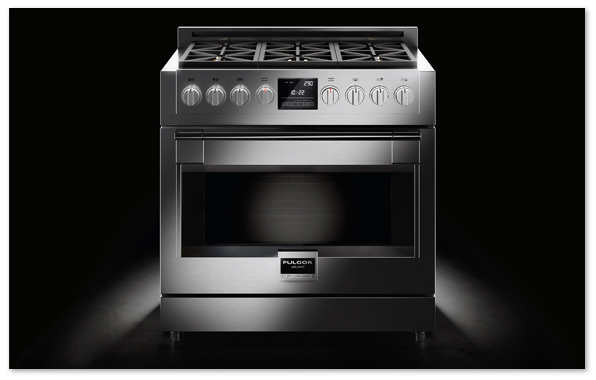 On top are cast iron pan supports which not only look great but their elegant design allows smooth movement of pans across their surface. Beneath these you will find six professional gas burners, with dual control allowing adjustment from 0.35kW up to 4.5kW. This is a unique feature as most ranges will have one or possibly two of these burners, but with the presence of six creates a very powerful performance. The hotplate is coated in a matt porcelain enamel for resilience and all burners have an automatic re-ignition feature.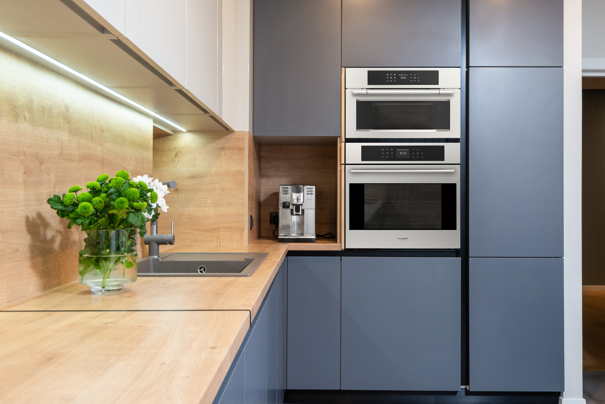 Installing built-in ovens is an ideal way to accomplish a streamlined and sleek look within your kitchen. Electric built-in microwave ovens have been a strong part of Fulgor Milano's portfolio since 1976, with additions still being added to their impressive selection. Fulgor Milano have created a collection of built-in products that introduces a modern, intuitive way of cooking.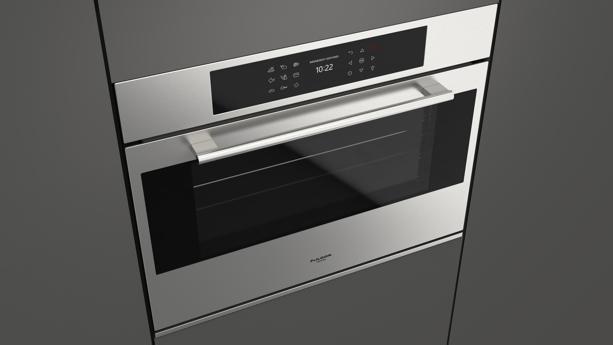 This model comes in stainless steel with sleek and stylish metal handles to match the look the other Sofia built-in appliances. Situated in the middle of the fascia panel is an impressive multifunction, touch control TFT display with a quick access menu designed to make choosing functions and temperatures as easy as possible. With two different options when cooking your pizza, you can cook a homemade pizza in just two and a half minutes. Behind the soft close triple glazed doors is an incredible 126 litre black porcelain enamel interior, which offers 13 amazing cooking functions from eco baking to dual convection and everything in between.
Another option is the Fulgor Milano FPWD 3024 X warming drawer. Designed to complement the built-in main and compact ovens, this model offers a large 60 litre capacity and is finished in stainless steel with stylish handles to match the look of the other Sofia appliances. With the drawer being mounted on telescopic rails, it offers a soft close finish and comes with a rubber mat to place dishes on when opening and closing the drawer. On the right-hand side as you open the drawer, there is the temperature control knobs which are easy to use and can be set between 30°C and 85°C. With ventilation that distributes heat evenly, the drawer can be used for things such as keeping food cooked warm, dough rising, slow cooking and more. This warming drawer is super handy, and if you love cooking or simply want an extra amazing feature for your kitchen, this is the built-in appliance to do it with.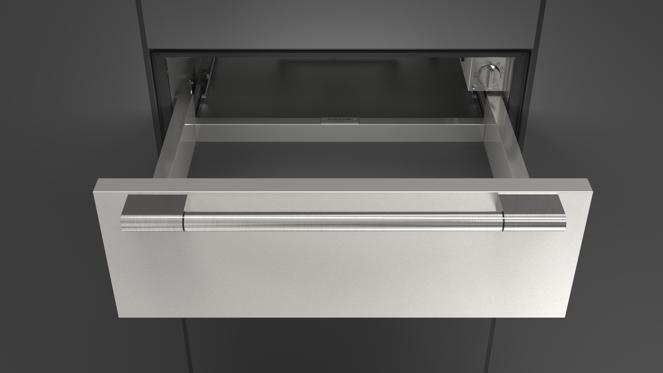 Fulgor Milano are a brand to be taken seriously. They value the quality of their products, with heritage and developing powerful cooking equipment being at the forefront of everything they do, making sure their products exceed all expectations of quality, performance and styling. To find out more about any of these products, visit our website or call our team on 01244 402 975.