Founded in 1882 by Francesco Bertazzoni in Guastalla, a town in the Emilia Romagna region of Italy, this truly special brand has continued to evolve their technology and engineering to create a wide range of range cookers and other kitchen appliances.
Francesco Bertazzoni became inspired to combine his love for family, food and innovative engineering to create Bertazzoni's original wood burning stoves. This passion and precision engineering has carried on throughout the decades, now celebrating an impressive 140th year of production.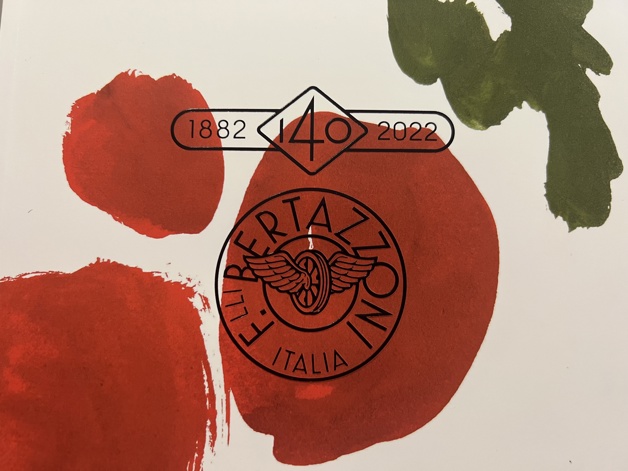 The mixture of food and the coming together of families to share laughter and stories over their favourite dishes runs through Bertazzoni's heritage, with their bespoke range of kitchen appliances including range cookers, sleek built in ovens and hobs, refrigerators, wine coolers and more.
Whilst Emilia Romagna is well known for being home to culinary specialities, it is also home to top car manufacturers such as Ferrari and Maserati. Whilst inspiration for the bright colours of Bertazzoni's range cookers comes from the surrounding landscape and the fruit and vegetables, partnering with Northern Italy's sports car manufacturers has meant top level colours being professionally applied to metal, creating a unique finish on the Bertazzoni appliances that is both eye-catching and resilient. The result is hard-wearing and resistant to temperature corrosion and acidity.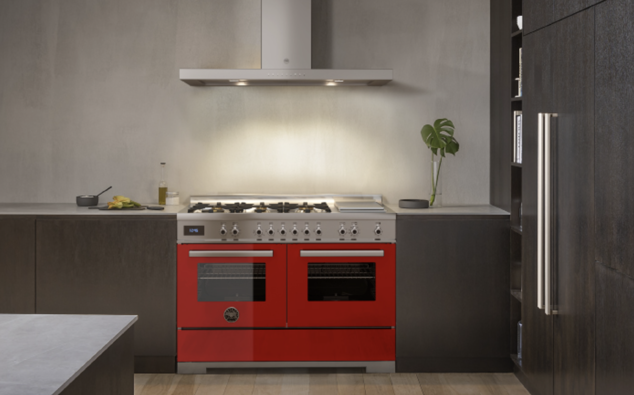 For the past 140 years, Bertazzoni have understood that the kitchen is at the heart of family life. It has built its reputation on considered design and outstanding engineering and this approach continues with the innovation that has been passed down through six generations.
Here are our Bertazzoni top picks to celebrate this historic year…
The Heritage 120 Twin
The Heritage series was originally introduced to celebrate Bertazzoni's 125th anniversary, with it taking inspiration from their original wood burning stoves. These newer models have all the advanced technology and engineering that you would see on a Bertazzoni Professional model. The classic appeal of a Heritage makes it a perfect addition to a more traditionally styled kitchen.

The striking rounded chrome control knobs are familiar and comfortable to use, making them a key part of the design of the model. These bright handles are replicas of the handles found on the original Bertazzoni stoves. Aiming to bring a more traditional finish to the kitchen, this style is found throughout all of these appliances.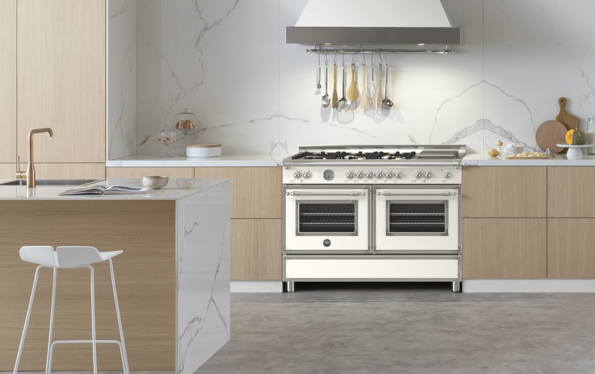 This 120cm double oven range cooker offers a main electric oven with 11 functions, ranging from convection and baking to fast-preheat, and a second auxiliary oven. Both ovens have triple glazed doors to minimise heat loss, whilst on top are six versatile gas burners including a dual-ring power burner and a stainless steel electric teppanyaki griddle. Finishing this well executed range cooker is a characteristic temperature gauge and a choice of two stunning colours, Nero Matt and Avorio.
The Professional Built In Series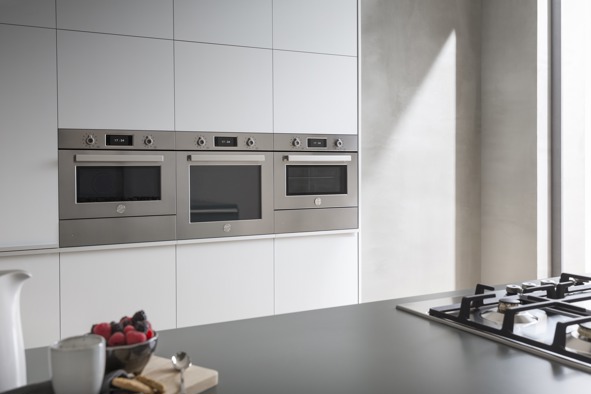 The beautifully designed Professional series offers both flexibility and professional performance that is a great addition to your kitchen. The distinctive style features reflect an innovative approach within their engineering. This stunning range of built-in ovens are available with the popular stainless steel facia, or the standout Carbonio. The sophisticated look of these cookers is further enhanced with sleek tap-style knobs and matching door handle. Subtlety is an important part of the Professional series, with functionality at the forefront.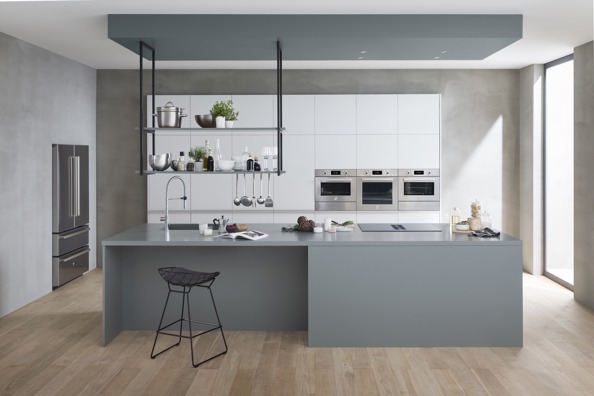 Wine Coolers
In keeping with their other appliances, the Professional, Master and Heritage series wine coolers highlight the high quality design from the Bertazzoni team. Behind the stainless steel and glass front doors, with anti UV-treatment to protect the bottles from light damage, is a spacious cavity which can hold up to 52 bottles of wine.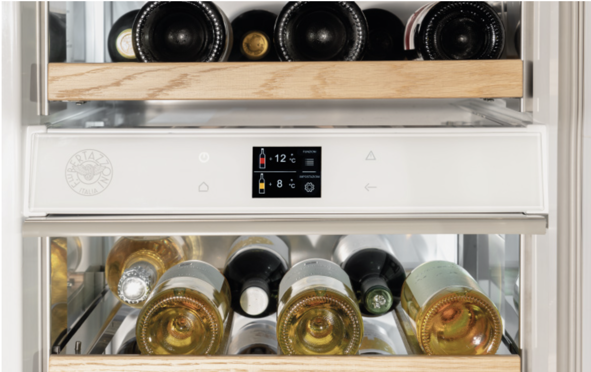 These 45cm built in wine column's demonstrate the talent of Bertazzoni's design team. With two temperature zones for red and white wine, you will have full control to set the temperature between 4°C to 18°C. Alongside this is the side-to-side airflow circulation to maintain the temperature even if the door has been opened and a vibration damping system to ensure the wine is undisturbed, plus a red wine ageing function that allows the wine to be lay down whilst still being kept in the best possible condition.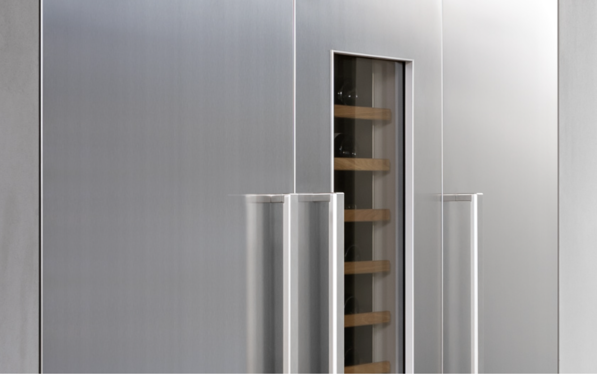 In order to use these impressive wine columns, Bertazzoni have included a digital touch control display which enables you to pick the perfect temperature for your wine and control the humidity inside both zones.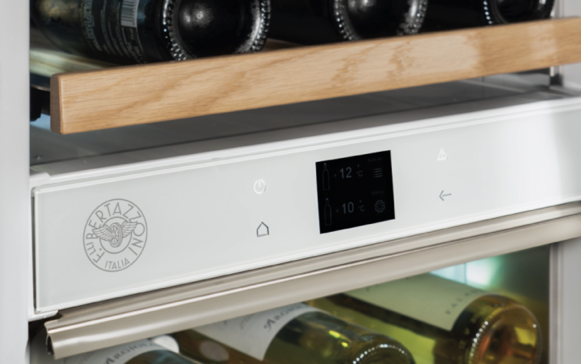 Professional 90 Single Induction in Carbonio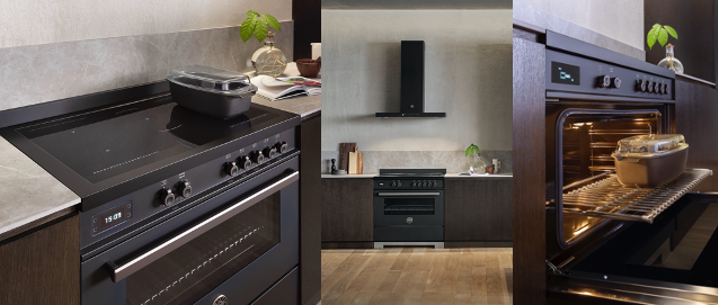 The latest Professional series welcomes new controls and handle finishes, plus this all new sleek Carbonio colour option. On the top of this 90cm Carbonio Professional is the latest induction technology to give you ultimate power and controllability, and the added benefit of an easy-to-clean vitreoceramic surface, with five heating zones that include a booster feature, pot detection and residual heat indication for each zone. The all new bridging function also allows you to use the two cooking zones as one single cooking zone. 
Master 100XG Induction
This range brings you all the usual authentic features of a Bertazzoni range cooker but with an affordable price point. Available in stainless steel and matt black, this very well-executed machine has a design that reflects that of a more commercial kitchen.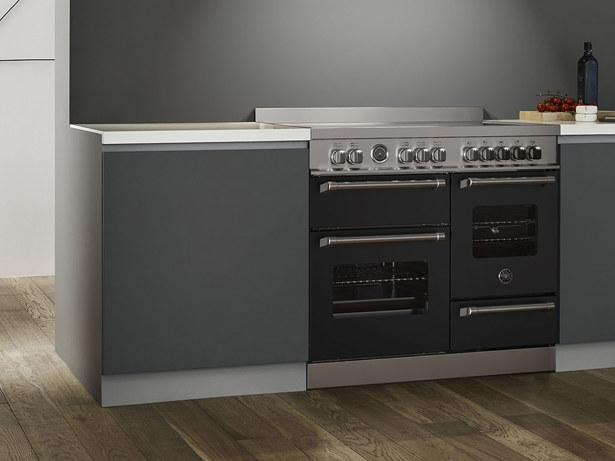 This triple cavity model offers a main electric oven with 11 functions, from convection to baking and features a thermometer on the control panel. The useful second auxiliary oven has four modes and a powerful adjustable grill is provided in the third oven. Both ovens have triple-glazed doors to minimise heat loss, whilst the hob consists of a five zone induction hotplate, including booster feature, pot detection and residual heat indicator for each zone. The new bridging function also allows you to use the two cooking zones on the right as one single cooking zone. Finishing this well-executed range cooker is the characteristic temperature gauge, plus all new metal control knobs replacing the original black plastic controls.
Designed and engineered for precision in every part of the kitchen, these Bertazzoni appliances will stand out and deliver within your space for many years. To find out more about any of these products visit our website here or call our team on 01244 402 975.