Very Peri, a vibrant mixture between blue and purple, is the Pantone Colour of the Year for 2022.
This is a brand-new colour created by Pantone for the first time in the history of their Colour of the Year forecasts. Pantone describes Very Peri as "encompassing the qualities of the blues, yet at the same time possessing a violet-red undertone." In the home, Very Peri can inject a fresh new colour into interior design. As a guaranteed pop of colour, this shade "displays a spritely, joyous attitude and dynamic presence that encourages courageous creativity and imaginative expressions" (Leatrice Eiseman, Executive Director of the Pantone Colour Institute).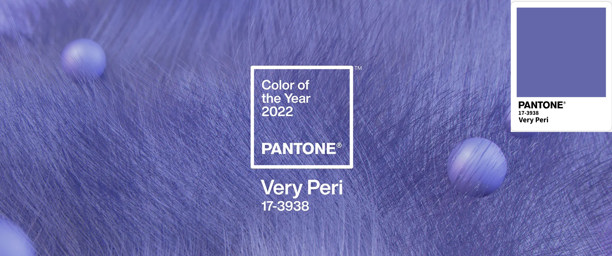 The Pantone Colour of the Year selection process takes place through careful consideration and trend analysis. For 23 years, it has influenced product development across many different industries, including fashion, product packaging and of course, range cookers. Enjoying it on a larger scale than just a new mug, this bright periwinkle blue is beginning to be offered as a custom paint finish. Although it is not available here at Rangecookers.co.uk, we want to show you how you can recreate this splash of colour with some shades that aren't too far away…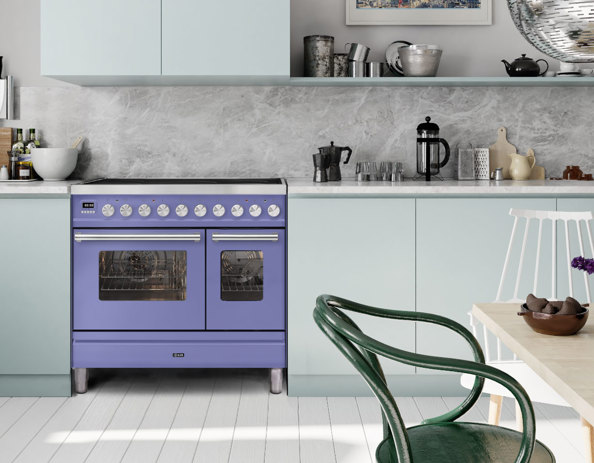 ILVE's superb Custom Colour Service lets you create a range cooker that perfectly complements your kitchen's design. When purchasing your cooker the factory will post you a paint-finished swatch in your chosen shade for your final approval. Once you are satisfied that your colour is matched, ILVE will custom-finish your cooker and deliver to you.
The ILVE Roma 90 Twin Induction model offers copious cooking capacity and A+ rated energy efficiency in a premium and refined package. The versatile 65 litre multifunction main oven gives you 15 fanned, conventional and grill functions, with the 43 litre second oven offering non-fanned cooking and grilling functions. On top is an excellent five zone induction hob with the most advanced and efficient technology. Power boost, automatic boil and a heat-up function all add to the convenience of this excellent and fast cooking medium.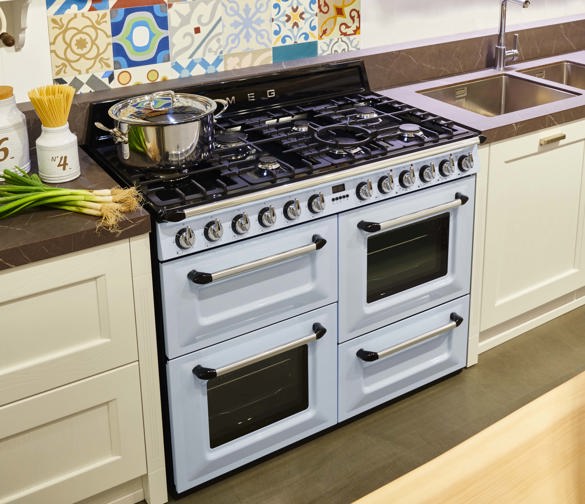 Rich with Italian style and class, Smeg range cookers are designed for contemporary living with advanced technology and flexibility. The Victoria is designed with the UK consumer very much in mind. Its retro appearance makes it perfect for both traditional and contemporary settings, with stylish door panelling and features from the classic ranges with a modern twist.
This dual fuel model features a 61-litre triple glazed multifunction oven with fanned, conventional and grilling functions. All this comes with Smeg's vapour clean system, which uses steam to help clean the oven's interior. On the top is a six-burner gas hob, with cast iron pan supports that give you one high, two medium and two simmer burners, plus a useful rapid burner at the front which is great for wok cooking.
Lacanche Cluny Classic in Plum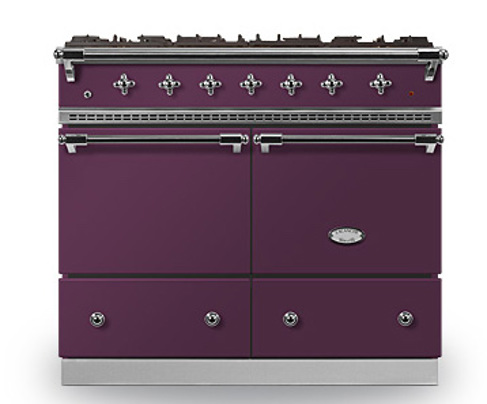 One of Lacanche's best-selling range cookers is the Cluny Classic. The aesthetically pleasing symmetrical configuration offers versatility with two 55 litre conventional gas ovens and a five burner Classic hob. Both the Cluny Classic and Modern models offer ample storage in the form of twin drawers and can be ordered in natural gas, LPG or all electric.
Rangemaster Elise in China Blue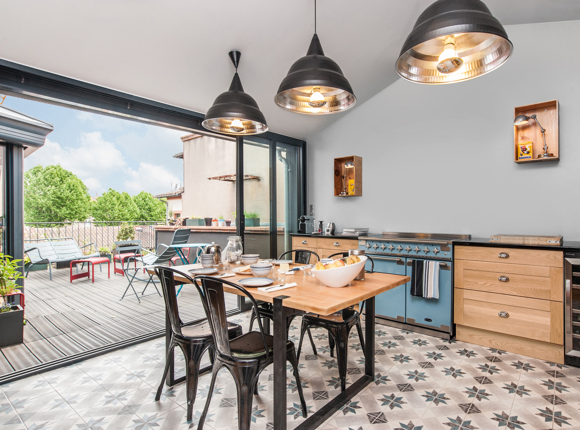 The Elise model has the aesthetic feel of a traditional French style range cooker. Available in sizes 90cm, 100cm and 110cm, this professional looking appliance allows flexible oven cooking with multifunction main oven and a fanned second oven. All Elise range cookers also come with a handyrack and separate glide-out grill.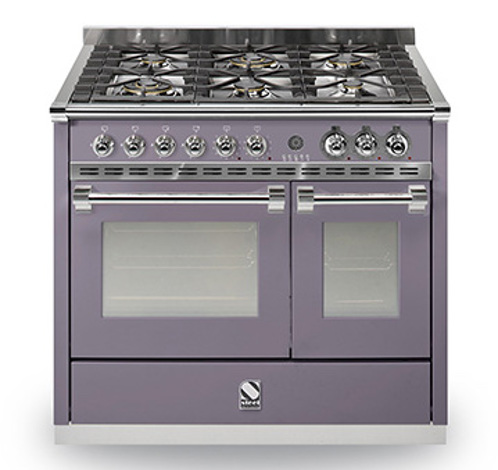 The Ascot series features some great attention to detail, including a full width towel rail, a fluted heat deflector strip and tap style controls. In addition to some exciting and appealing facia colours, such as this beautiful Amethyst, the controls and handle ends come in a choice of four trim finishes – Chrome, Brass, Nickel or Bronze – building even more character and visual impact.
This Ascot 100 Twin model offers a six burner gas hotplate, which includes two 3.5kW brass wok burners to give you plenty of scope for larger meals. Also featured are a fully programmable multifunction oven, offering a range of fanned and conventional oven and grill settings, and a second conventional oven with a grill, offering combinations of top and bottom heat.
To find out more about any of these products, visit our website here or call our team on 01244 402 975.