Bertazzoni 2020 Built-in Collection
Bertazzoni has made quite an impression in the UK, with their very stylish, very nicely put together cooking appliances and bold, exciting Italian good looks. In addition to their superb range cookers Bertazzoni also excel in built-in cooking, and they have just launched their rather impressive 2020 built-in collection.
Built-in cooking is a crowded arena, but even at first glance you can tell that Bertazzoni's designers have worked their magic and elevated this collection above the crowd. The crisply engineered detailing, elegantly proportioned lines and use of high quality materials and finishes all grab the attention and turn these humble cooking devices into objects of desire. The premium feel is not just skin-deep, of course, and extends into every component. The result is a magnificent array of highly competent electric ovens, combi-steam, full steam, combi-microwaves and warming drawers, with equally impressive gas and electric hobs to make both your cooking experience and your kitchen outstanding. Naturally there are matching extractor hoods, and some glorious refrigeration and dishwashing products too.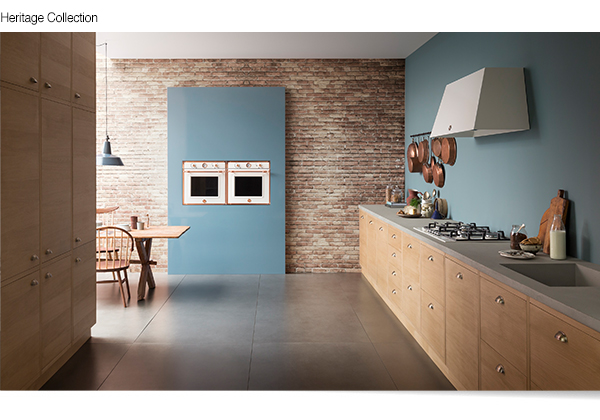 Cosmetically the collection falls into three categories - Modern, Professional and Heritage series - and shares common handle and control profiles within each series to ensure a consistency across the full product range, as well as an uncompromising approach to vertical and horizontal alignments for a truly harmonious integrated look. Display interfaces include TFT Full Touch, LED, LCD and, on the Heritage series, timeless elegant thermometer dials. With the largest capacity in their class (up to 76 litres), these ovens give you optimum performance, faster heat-up times and no heat shadows or hot-spots, with the option of hydro or pyrolytic cleaning technology for no-fuss cleaning. Soft motion and soft-close triple-glazed doors contribute to the up to A++ energy rating for maximum energy efficiency on all models.


Modern
The Bertazzoni Modern series is the entry level offering, with a refined, sleek and simple look defined by crisp square lines, a flatter facia profile and laser-etched or printed logo branding.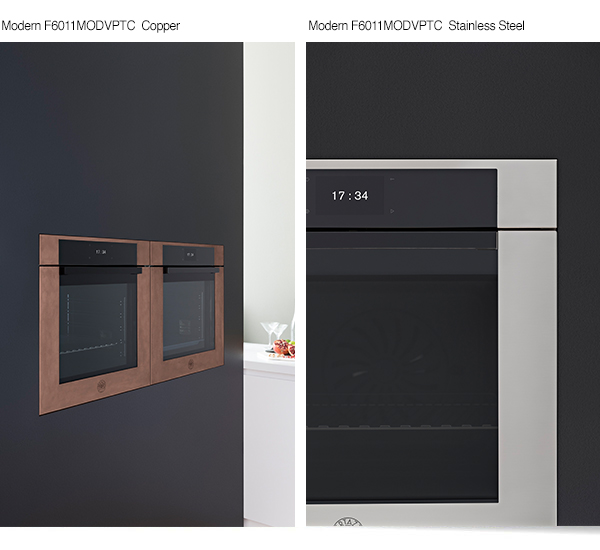 Door handles have a black glass finish to blend perfectly with the door glass, set off by some very beautiful finishes - a no-fingerprint stainless steel, Nero (textured matt black), Zinc or Copper, with a stunning satin lustre on these latter metallic choices, which both do an incredibly good job of adding some textural warmth and industrial chic to this already stunning and highly contemporary series.
Professional
The stunning Professional range employs no-fingerprint stainless steel facias or a gorgeous new textured matt-finish Nero black, with matching handles and controls adding up to a bold and weighty, functional yet sophisticated look which immediately inspires confidence.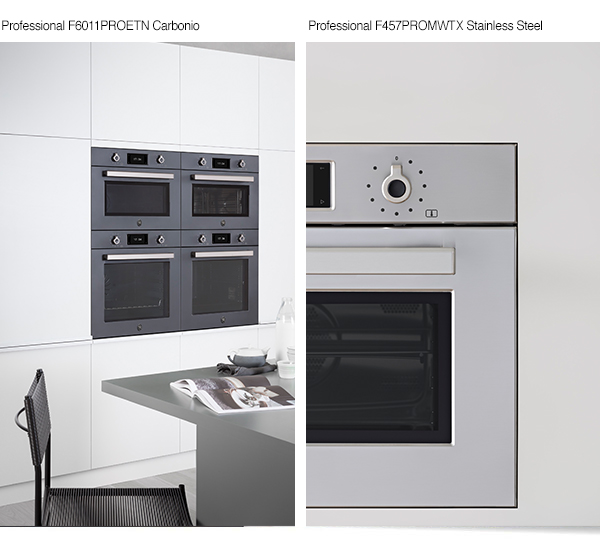 The deceptively simple tap-style control knobs are solid stainless steel and rather beautiful, as is the nicely profiled door handle, all set off by the gorgeous cast Bertazzoni roundel at the bottom of the door. The oven window subtly picks up on this 3d-effect with a tight bevelled inset detail, echoed by the display panel surround. A lot of quietly clever design has gone into the Professional series, and it speaks volumes about the way Berazzoni does things.
Heritage
The Heritage models share the same functionality as the Professional, but the very tastefully applied Heritage aesthetic brings a beautifully balanced traditional feel into the kitchen. With doors bounded by a choice of stainless steel or copper metal banding, and a nicely contoured window surround, smoothly rounded finial detailing on the handles and controls, and a rather lovely temperature dial on the fanned oven, the overall effect is immensely pleasing and very classy indeed.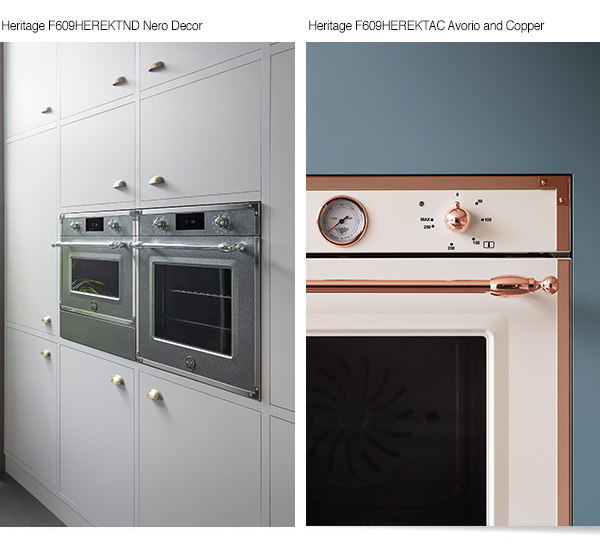 In the wrong hands, an Italian heritage look can look out of place in a British context, but Bertazzoni's skill and experience shines through here and they have got this series just right. Available in Avorio (ivory) with either stainless steel or copper trim, Nero (textured matt black) or Carbonio (smooth matt black), both with brushed stainless. All trims couple brushed and bright finishes to great effect.
Bertazzoni Hobs
Equal thought and consideration has gone onto Bertazzoni's hobs, which ooze quality, style and capability. Gas hobs with brass-bound burners for maximum performance, dual control 5kW Power Burners for incredible flexibility from the gentle simmer of the inner ring to the full power of both inner and outer, continuous pan supports giving a large, stable cooking surface, and a choice of layouts with central or side-positioned main burner to suit your cooking style. Available in Professional and Heritage styles with stainless steel, matt black or ivory finishes and stunning Professional or Modern-series gas-on-glass formats with soft touch controls.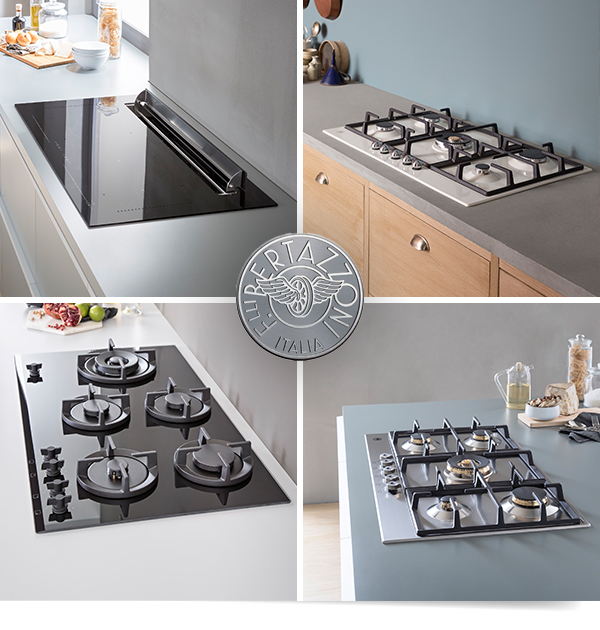 For semi-pro cooks there is even a segmented format which allows you to have a large Power burner or a subtle simmer burner alongside an electric griddle plate and a high speed induction area - in either a 60 or 90cm formats. If you prefer the clean simplicity of Induction, Bertazzoni offer some stunning choices in three sizes - 60/78/90cm - with five or six zones and great features such as timer, booster, pause, a clever Cooking Assistant for specific cooking modes, Flexi Moving to transfer settings to another zone, and Flexi Cooking Area to use multiple zones for bigger pots. There are even induction hobs with integrated ventilation.
If you are serious about cooking you are probably well aware of Bertazzoni's global credibility as a cooking brand. These are appliances which make an immediate statement about the way you cook and the way you live. Family. Food. Engineering - the philosophy that has passed through six generations of the Bertazzoni family and still underpins its approach today. Based as they are in the heart of Emilia-Romagna, where food and engineering play an equally important role, surrounded by excellence in the form of Alfa Romeo, Lamborghini, Ducati, Ferrari (who's paintshop facilities they share) as well as many other world beating companies, they have turned engineering into a form of art which would adorn and enhance any home. Not just great to look at, this comprehensive collection is designed to deliver great food with great ease and maximum pleasure. Well worth a much closer look…