Best For Your Budget: Spending The Money On Your Range Cooker
A hard-working and reliable range cooker is a must for many busy households. They not only make a great statement piece within a kitchen, the cooking capacity and power is very much worth the money. But just which range cookers are the best for your budget?
A range cooker can provide a kitchen with a hint of colour, character and warmth. Whether the cooker you choose is a sleek and subtle design or an Instagram worthy pastel shade, it can change the decor of a room instantly. Cooking food to perfection, a premium model range cooker can often cost you anywhere upwards of £2000. If the budget is tight a range cooker can be a daunting piece of equipment, especially as it is an investment piece, but it doesn't have to be as expensive as you may think. Here are some of our Rangecookers top brands that will offer you the best value for your budget...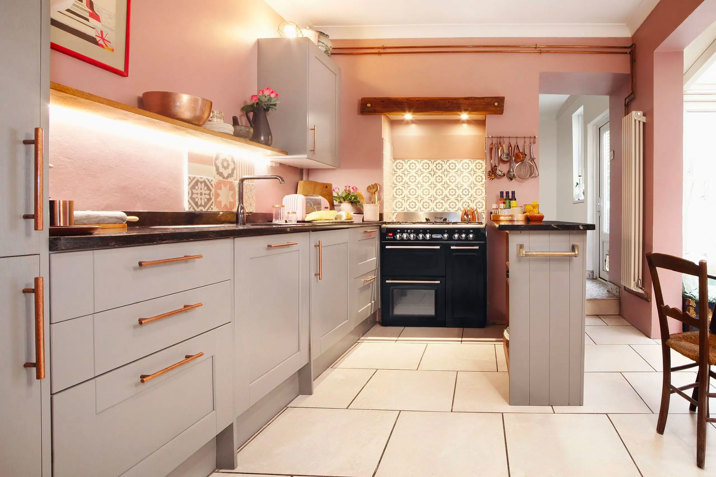 Some of our best-selling range cookers are from entry-level brand DeLonghi, an Italian brand that provides excellent value. DeLonghi range cookers are known for their clean lines and elegance, but they also offer well-considered design features for a very fair price.
The DeLonghi Professional 90DF single cavity model comes in at the lowest price for all the cookers on our website, but it doesn't mean it lacks in quality. The specification for this cooker is just as pleasing as the price, with the large programmable A-rated main oven featuring four different fanned cooking functions that also includes a grill, easy-to-clean vitreous enamel and an interior halogen light. Below the oven is also a drop-down door, revealing a very useful extra storage space.
The DeLonghi Vintage is slightly more expensive but still excellent value. Offering durable and attractive range cookers at a very sensible price, the retro appearance and high-quality feel of a Vintage model would be a great addition to any kitchen. The Vintage 90DF two cavity model is very good value. It features a programmable A-rated main oven with 8 different fanned and conventional cooking functions, plus a grill. The second conventional oven includes a very clever rotisserie and another grill, along with a useful plate warming shelf. On top is a Professional-style hob, with five gas burners including a powerful 4kW triple flame wok burner and cast-iron pan supports.
Creating a reliable range cooker, our very own Rangecookers Select series is a popular option. We sell a variety of range cookers from various brands but when it comes to our own brand, the culmination of many years' experience by our specialist Bigblue designers creates the Rangecookers products we know and love.
The Select 70DF1 brings a rare size in the range cooker world. This 70cm model is designed for smaller kitchens to benefit from the increased capacity without the overpowering size. This nicely sized range cooker appeals on both quality and style, with stainless steel t-bar handles and cast-iron pan supports. It also offers a 53-litre programmable multifunction cavity, with variable grill, plus a drop-down double-glazed door with removable inner door glass. Like the rest of the Select series, the design is aesthetically pleasing and modern. This mini range cooker is available online exclusively here at Rangecookers.co.uk and is a great alternative to the standard 60cm size.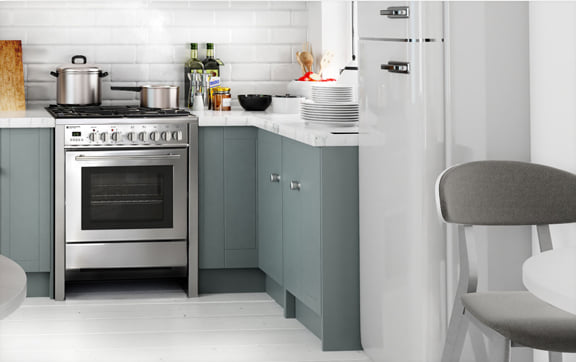 The Select 100df2 is the largest out of the Rangecookers collection. This impressive product features a multifunction, programmable main oven and a conventional second oven. Alongside this are two integrated grills and single-handed ignition. This range cooker represents great value for money and comes with a two-year parts and labour warranty, proving it to be a sound investment for anyone.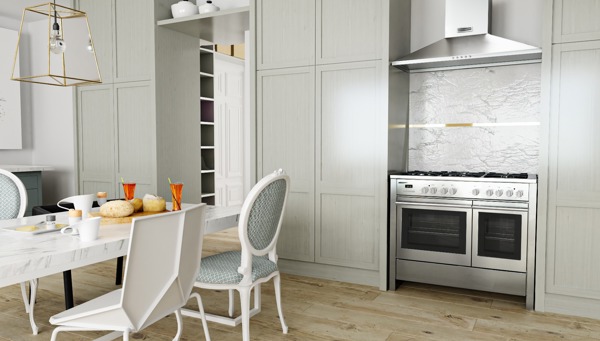 Starting at slightly more than both the Rangecookers brand and DeLonghi, Belling cookers are still a familiar sight in the kitchens of many across Britain. The current collection offers a style to suit anyone, with the contemporary Belling Cookcentre models to the traditional Belling Farmhouse series. The brand offers style and quality at a family-friendly price.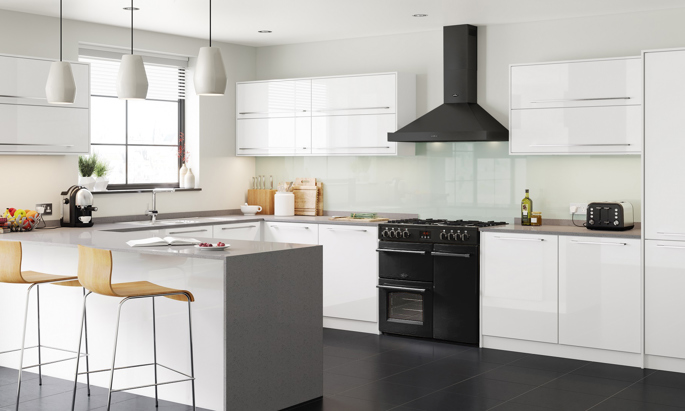 Starting with the Farmhouse model, its classic appearance and gently bow-fronted doors will fit perfectly into a traditional kitchen. It features an A-rated fanned and programmable main oven and a second, cavernous A-rated fanned oven. With a separate variable grill and a five-burner hotplate, including a powerful 4kW wok burner, makes a reliable machine. Available in 90cm, 100cm and 110cm widths.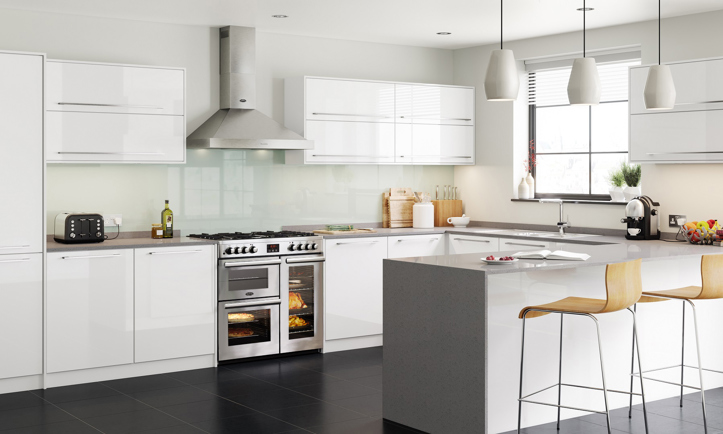 The stylish and compact Belling Cookcentre gives you plenty of cooking capacity. This comes in the form of an impressive 86 litre capacity, with a second 58 litre programmable fanned oven beneath a dedicated grill cavity with variable electric element. Both ovens are A-rated, and for ease of use the Cookcentre also has a user friendly three button touch control LED clock and programmer, enabling you to time meals to perfection. This dual fuel range cooker also has an easy-to-clean one-piece seamless gas hob with 5 burners, including a wok burner and cast-iron pan supports.
Rich with Italian style and class, Smeg range cookers are designed for contemporary living with advanced technology and flexibility. Attention to detail is something that brings Smeg's products to life within the homes they are installed in. 
The Smeg Concert collection are the brand's entry-level offering. The Concert has a distinctive design with clean, elegant styling and an array of features such as a multifunction oven, digital electronic clock/programmer and flame safety devices. These range cookers are easy to use, practical and look great within any kitchen. Available in a 90cm width with either a gas or ceramic top.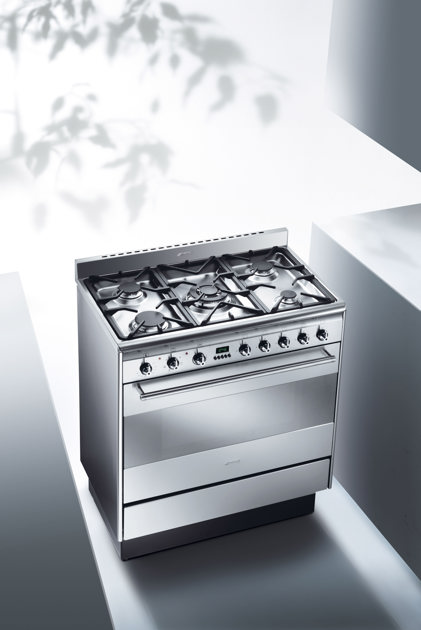 The slightly more expensive Victoria model is a great choice worth pushing the budget that little bit further, but not too much. The Smeg Victoria collection has been designed with the British consumer in mind. Its retro appearance makes it perfect for both traditional and contemporary settings, with stylish door panelling and features from the classic ranges with a modern twist. This dual fuel model features a 61-litre triple glazed multifunction oven with fanned, conventional and grilling functions. On the top is a six-burner gas hob, with cast iron pan supports that give you one high, two medium and two simmer burners, plus a useful rapid burner at the front which is great for wok cooking.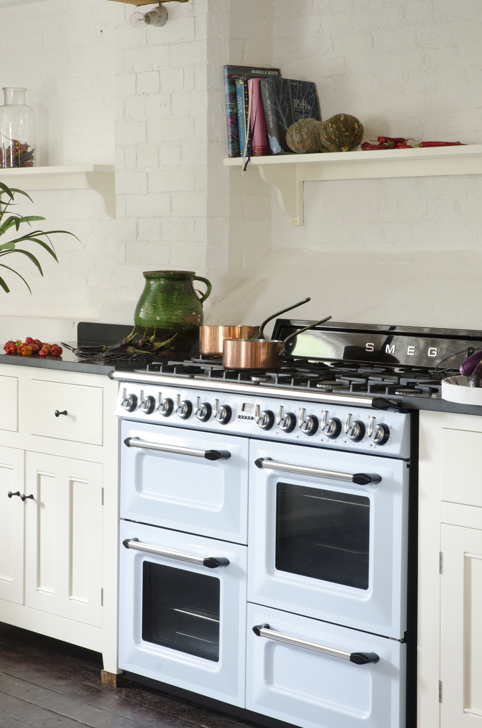 ...and if you have a larger budget in mind?
Premium brands such as Bertazzoni and ILVE do offer their own budget friendly models. If you have a slightly bigger budget, but you would like to bag yourself a bargain still, these are the perfect choice for you.
The Bertazzoni Master range brings you all the usual authentic features of a Bertazzoni range cooker but with an affordable price point. The single cavity model features a multi-function oven that is both quiet and efficient, plus a five-burner hotplate with a powerful double-ring wok burner on top. The twin model includes a second auxiliary oven, along with all the same features as its smaller sibling. The Master series now also includes a useful storage compartment with a drop-down door for ease of use when cooking. The characteristic temperature gauge and chunky controls make this a very well-executed machine. The ILVE Torino offers range cookers in sizes 60cm up to 120cm. This range cooker is great for those wanting affordable luxury within their kitchen. One of the more contemporary styles, the Torino's simplicity creates a stylish aesthetic that is available in a range of colours. The Torino 90 Single 6 Burner features one large oven with a 97-litre capacity and six high-quality solid brass burners. There is a choice of nine oven functions including quick start rapid heat up, heating to 200 degrees in six minutes. The pizza function gives the feeling of a traditional pizza furnace at 300 degrees. The oven also includes two dual-height halogen lights for ideal control visually.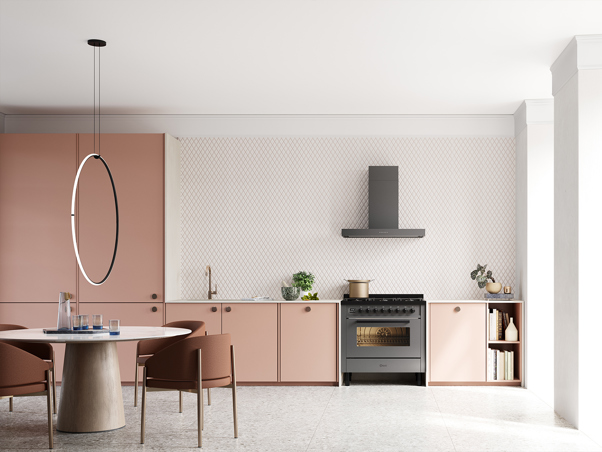 To find out more about any of these products, take a look on our website now or give our team a call on 01244 402 975.