Bertazzoni products have always been truly special, but with some brand new features they just keep getting better.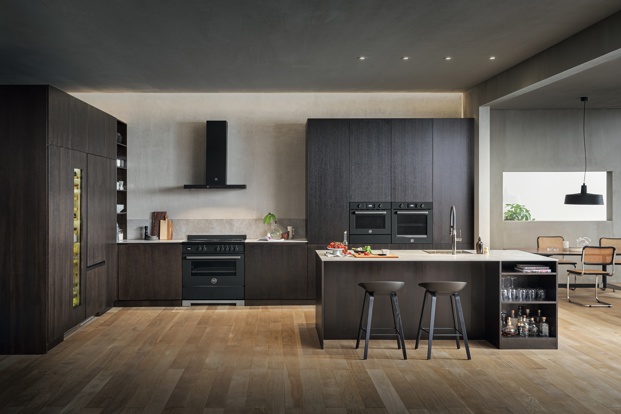 Bertazzoni are one of the oldest brands in Italy, having run for 140 years. Their range cookers are built through rich Italian heritage and manufacturing, with cooking being at the forefront of the high-quality design on each of their products. Functional ergonomic design makes these cookers a standout piece in many homes and the passion that has been passed down through six Bertazzoni generations is clear within every appliance.
Bertazzoni truly believe that the kitchen is the heart of every home, and we couldn't agree more. Precision engineering ensures your appliance functions perfectly, but the stylish design also gives an elegant but powerful aesthetic. With range cookers available in sizes 60cm to 120cm, Bertazzoni's range offers a variety of sizes, colours and finishes to suit every need. The Bertazzoni Professional, Master and Heritage collections have all had an update, bringing a variety of new colour options, controls and styles, so read on to find out more…
Professional Series
The Professional series offers premium Italian quality in the form of solid, functional design and all the most popular Bertazzoni refinements. All Bertazzoni models come with triple-glazed doors which minimise heat-loss and noise levels, and enhanced insulation materials to maximise energy efficiency.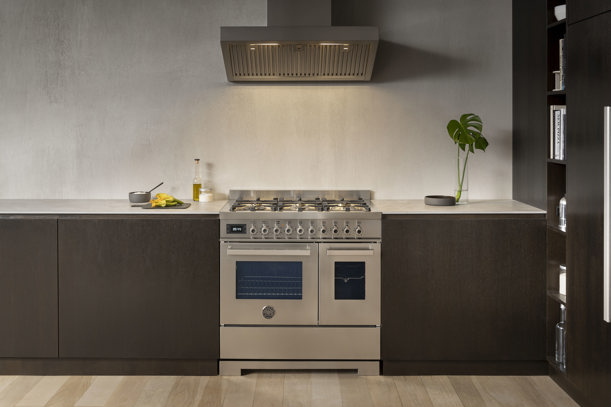 Featured on the Professional models are five shelf positions clearly lit by two oven lights, and ample storage for all your cookware and accessories in a handy compartment below. The coordinated design of this particular series continues with the iconic controls and handle design, which have had a slight update. Reflecting the luxurious look of this contemporary model, every control panel, handle and oven window are made to align perfectly in configuration and make such a simple design so beautiful to look at.
The latest Professional series welcomes new controls and handle finishes, plus this all new sleek Carbonio colour option. On the top of this 90cm Carbonio Professional is the latest induction technology to give you ultimate power and controllability, and the added benefit of an easy-to-clean vitreoceramic surface, with five heating zones that include a booster feature, pot detection and residual heat indication for each zone. The all new bridging function also allows you to use the two cooking zones as one single cooking zone.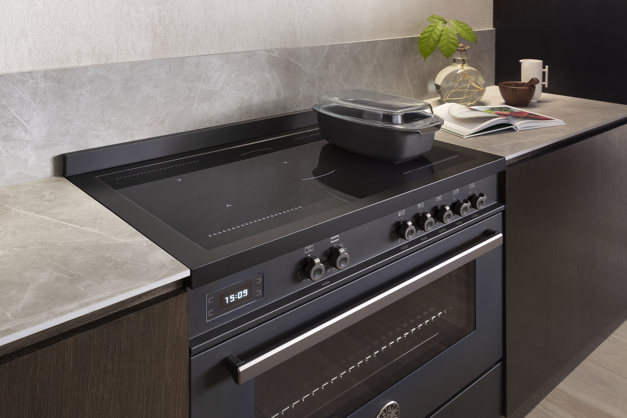 Master Series
This range brings you all the usual authentic features of a Bertazzoni range cooker but with an affordable price point. Available in stainless steel and matt black, this very well-executed machine has a design that reflects that of a more commercial kitchen.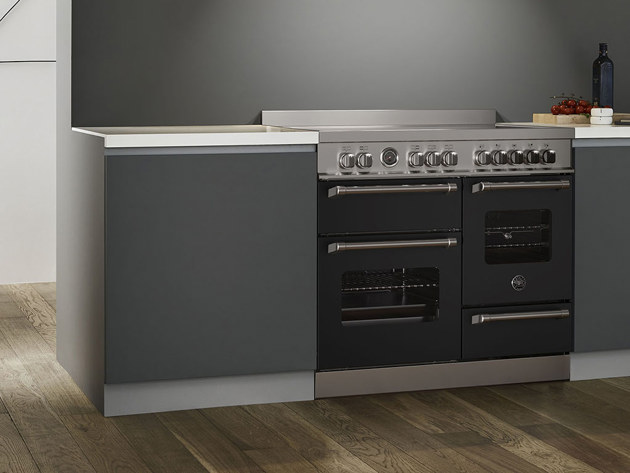 Practical elegance is something that shines through these range cookers, with integrated vision and the qualities you'd expect from Bertazzoni. The characteristic temperature gauge is now joined by the new fully metal controls to replace the black plastic controls on the older models and new satin finish handles. This triple cavity model offers a main electric oven with 11 functions, from convection to baking and features a thermometer on the control panel. The useful second auxiliary oven has four modes and a powerful adjustable grill is provided in the third oven.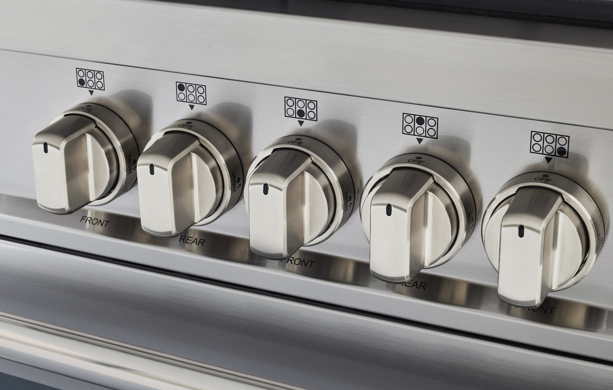 Heritage Series
Possibly the biggest change by Bertazzoni is the appearance of their Heritage series. These stunning range cookers boast a whole new style with door trims, enhanced controls and an additional towel rail. All this is joined by the shining new Ivory shade.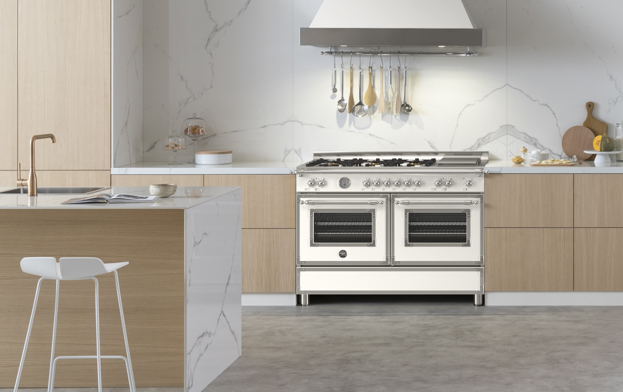 The Heritage series was originally introduced to celebrate Bertazzoni's 125th anniversary, with it taking inspiration from their original wood burning stoves. These newer models have all the advanced technology and engineering that you would see on a Bertazzoni Professional model. The classic appeal of a Heritage makes it a perfect addition to a more traditionally styled kitchen.
The striking rounded chrome control knobs are familiar and comfortable to use, making them a key part of the design of the model. These bright handles are replicas of the handles found on the original Bertazzoni stoves. Aiming to bring a more traditional finish to the kitchen, this style is found throughout all of these appliances.

To find out more about any of the Bertazzoni collection, head to our website now or give our team a call on 01244 402 975.