Built In Appliances: Coordinate Your Kitchen
A range cooker is a statement within the room that often becomes the main focal point. A built-in appliance can blend into your kitchen seamlessly and help save space. Both are a great choice, but if you are looking for the more convenient appliance for a smaller space, look no further than a built-in oven.
When it comes to the look and style of your kitchen, you want your appliances to act as design features. A built-in appliance can be placed high or low, even at eye-level for ease of use. Although a range cooker comes with the hob and other functions already included, these can be bought separately if desired but to match perfectly to your built-in ovens. The all-electric built-in ovens we offer are designed to fit seamlessly under your kitchen worktops or within a wall for convenient cooking. Here is a Rangecookers insight into the built-in appliances we have to offer from some top brands...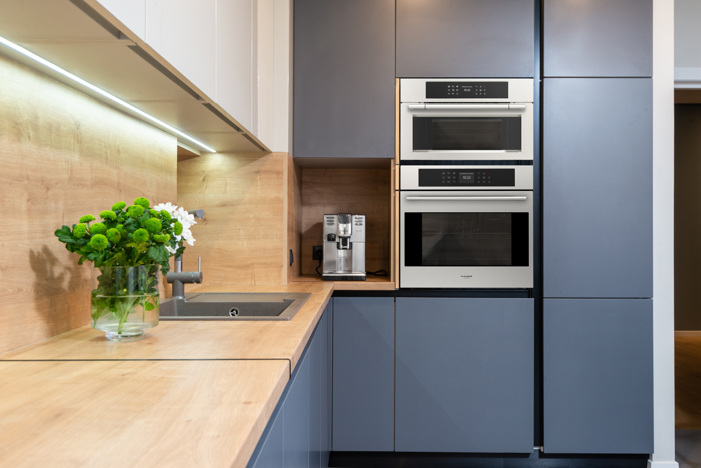 If you have not come across the Bertazzoni built in range before then you are in for a treat. Bertazzoni are known for their stylish range cookers, but their impressive built-in collection has fit in perfectly. An array of neat electric ovens and proficient gas and electric hobs makes this range a stand-out within a very crowded market. The detail in the engineering is sublime, giving these cookers and hobs the premium quality Bertazzoni are recognised for.
The Professional Series
The beautifully designed Professional series offers both flexibility and professional performance. The distinctive style features reflect an innovative approach within their engineering. This stunning range of built-in ovens are available with the popular stainless-steel facia, or the standout Carbonio. The sophisticated look of these cookers is further enhanced with sleek tap-style knobs and matching door handle. Subtlety is an important part of the Professional series, with functionality at the forefront.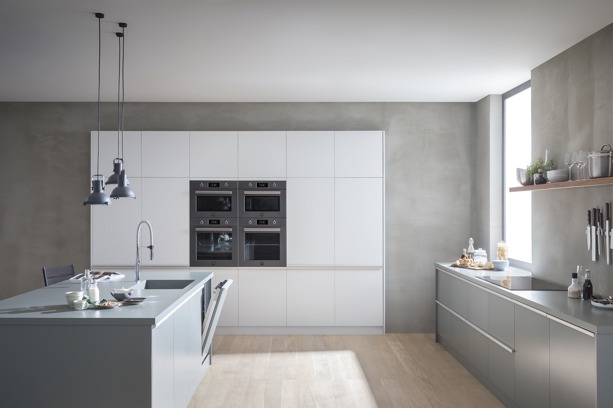 This Bertazzoni Professional with LCD display gives you a simple package but with rewarding benefits when cooking. Behind the triple-glazed, cool to touch glass door is a 76-litre capacity oven with 11 functions to choose from. These include mid-low cooking for baking or slow cooking, whilst the fan-assisted mode ensures even heat distribution across all five levels for roasting and baking with no crossover of flavours. A clear LCD display makes choosing the different cooking modes easy.
The Heritage Series
The Heritage models offer a more traditional feel to your kitchen's interior. Available in a matt black Nero, a smooth black Carbonio, both featuring a brushed stainless trim, or the beautiful ivory colour Avorio, which is available with either a stainless-steel or copper trim. The Heritage aesthetic is familiar and full of character, bringing together both modern technology and traditional styling. This oven makes cooking easy for anybody, no matter how many people you are cooking for.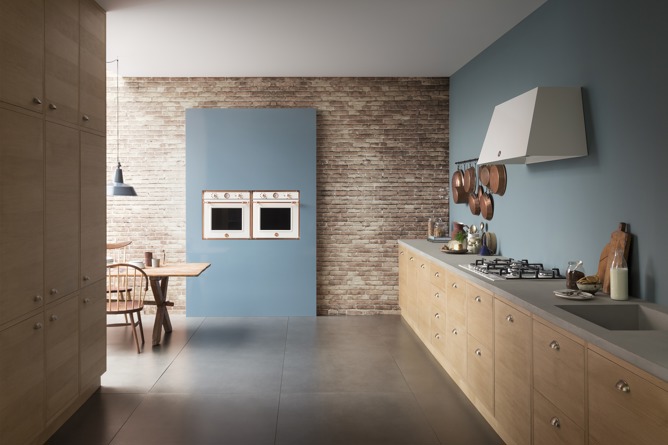 This superb A rated oven offers a 76-litre capacity and 9 functions to choose from, including the non-convection mode which is brilliant for baking cakes. The fan-assisted mode ensures even heat distribution across all five levels for roasting and baking. It also includes a full-size grill and toaster function. An eye-catching analogue temperature gauge centrally positioned on the fascia panel creates a traditional aesthetic, giving even more character along with the tasteful trim options.
The Modern Series
The Modern series gives a refined and simple look. This contemporary model is finished perfectly to add an industrial feel to your interior. Creating a mix of Italian style and design, this collection is produced to feel timeless. The precision is maintained throughout with a black glass finish on the door handles, to match the glass within the door, and a choice of chic metallic finishes, including Stainless Steel, matt black Nero, Zinc or Copper.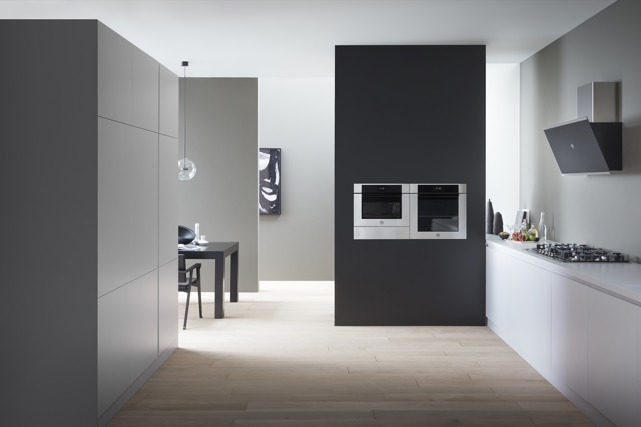 This Modern Series gives you the amazing benefits of convection steam cooking and hydro cleaning all in an elegant and simple-to-use package. The LCD display allows choosing cooking modes to be easy and makes manging the probe and Bertazzoni Assistant simple. This makes cooking easy and enjoyable no matter the amount of people you are cooking for.
Bertazzoni have coordinated their built-in hobs perfectly with their built-in ovens. A built-in hob looks sleek as it has been levelled and integrated into the kitchen countertop. The gas hobs feature brass-bound burners for maximum performance, pan supports that give a large, stable cooking surface and a choice of layouts to suit your cooking requirements. Designed to provide greater accuracy and control, these built-in hobs make cooking simple and precise.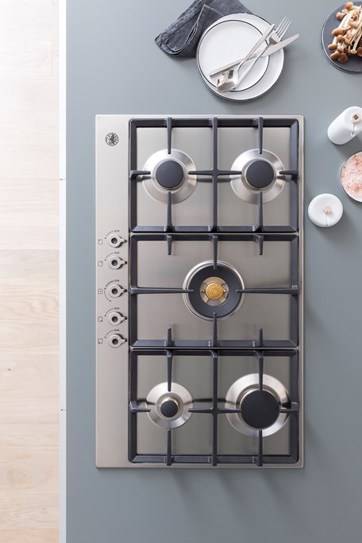 This built-in hob offers five impressive gas burners, with a 4kW wok burner with solid cast iron supports which are secure and safe for use. The one-hand ignition burners are controlled by the impressive accurate metal control knobs, making cooking simple and precise. This particular model is available in Stainless Steel and Nero Matt.
As a globally renowned cooker brand, ILVE take pride in the quality and refinement of their products. Efficiency and visual appeal make ILVE stand out amongst the crowd, with precision engineering providing a professional cooking appliance that is perfect for any home. Their overall integrity of all their components shines through and reassures owners that they have made the right investment.
Now featured on our website are more ILVE built in ovens and hobs, bringing you more to choose than ever before.
This 60cm oven shows off the new Nero style from ILVE, with gloss black oven doors and matt black handles. Behind the triple glazed, soft closing door is a 37 litre cooking space, providing you with 14 functions to choose from including a pizza setting. When using the pizza setting, prepare the pizza yourself, turn the oven and it can reach an impressive temperature of 400°C. Wait just over two minutes for it to be cooked thanks to ILVE's precise temperature control.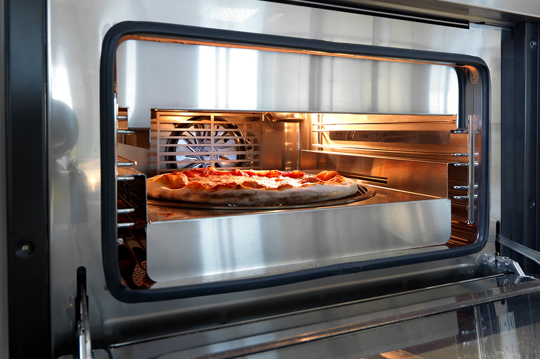 This 60cm vacuum drawer follows the contemporary styling of the Roma collection, with a clean cut, stainless steel finish giving it a modern and professional appearance. Designed to be used for both cooking and preserving food, the drawer removes 99% of air and reduces the chance of bacteria growth. Including additional features such as cold infusions, vacuum curing, tenderising and marinating, this drawer ensures your food is prepared quickly but maintains excellent results.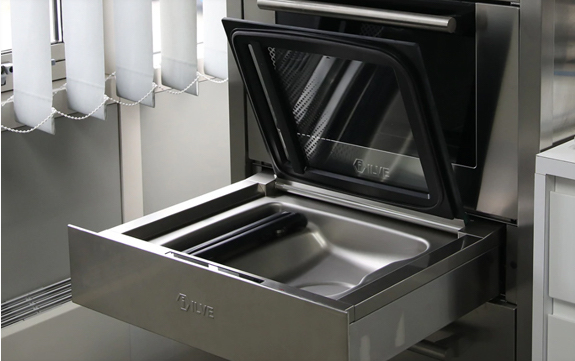 This 60cm blast chiller also follows the modern styling of the Roma appliances, whilst featuring a 40 litre cavity which offers multiple functions from slow cooking to blast chilling, proving to microcrystalline freezing allowing you to preserve, cook or store food and even has the option to chill beverages. The blast chilling is a particularly useful feature, designed to quickly bring the core temperature of your freshly cooked food down to 3°C and therefore preparing your food for the next step of the cooking process.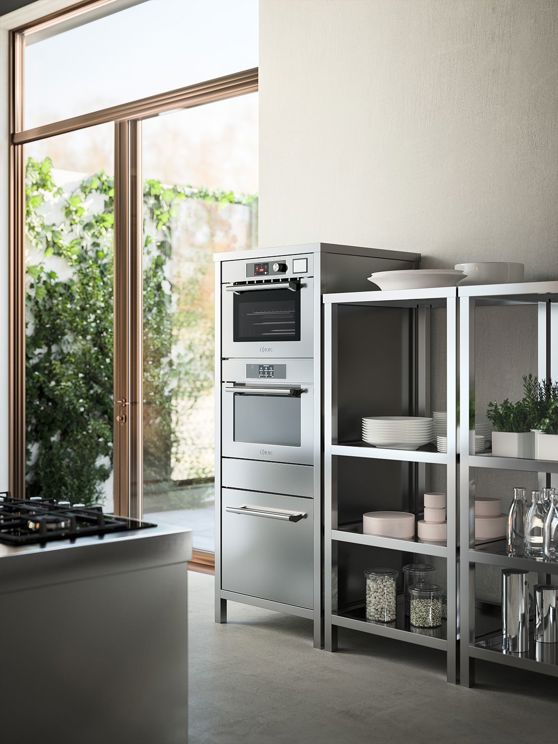 Milano
There are not many manufacturers that make 90cm wide built-in ovens, so those looking for one with a more traditional style should look no further than the Milano 90 Single Built-in Oven. Executed in the same Milano style as the range cooker, the nicely detailed controls and handle are available in a choice of finishes to complement the choice of colour.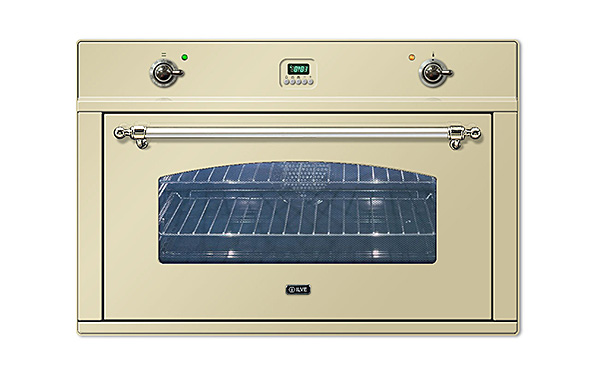 This impressive oven offers ILVE's smart E3 technology, which gives you digitally controlled temperature settings from 30° to a remarkable 300°C with 9 fanned and non-fanned and grill functions to suit all occasions. There is even a dedicated pizza function, plus a quick start function to get things to temperature rapidly. This triple-glazed door helps this oven work quietly and efficiently.
Roma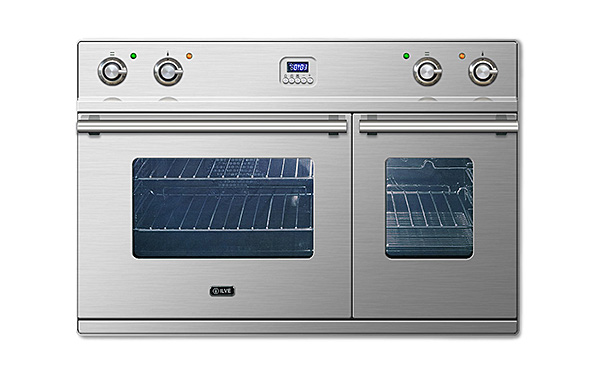 The competent modern styling of the Roma 90 Twin Built-In Oven matches that of the renowned Roma range cookers. This impressive appliance includes the handy E3 technology, with the main oven also being fully programmable using the same LED display. The right hand 30.8 litre oven has 5 non-fanned oven and grill functions including a useful rotisserie setting. Both ovens include halogen lighting, and telescopic shelf runners are available as an optional accessory.
ILVE's built in hobs have a reputation for quality and it is well deserved. An important part of the kitchen is the hob, and ILVE's collection offers something for everyone with the choice of both natural gas and all electric hobs.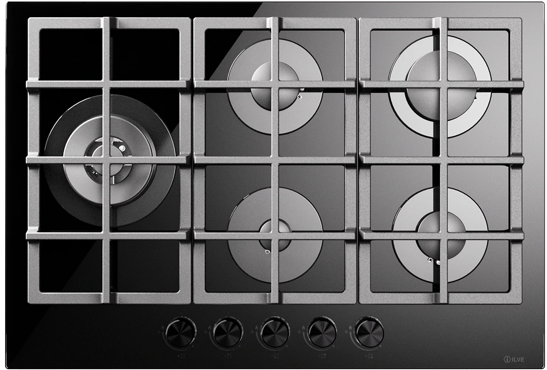 This 90cm gas hob features five exceptional solid brass burners and cast-iron pan supports, which are hard wearing, heavy duty and easy to clean. With single handed ignition, you can choose from a powerful 4kW wok burner, 2 x 1.75kW small burners, 1 x large 3kW burner and an auxiliary burner. Each of which have a flame failure device connected to ensure if the flame is extinguished for any reason, it will stop the flow of the gas through the burners.
Electric built-in microwave ovens have been a strong part of Fulgor Milano's portfolio since 1976, with additions still being added to their impressive selection. Fulgor Milano have created a collection of built-in products that introduces a modern, intuitive way of cooking.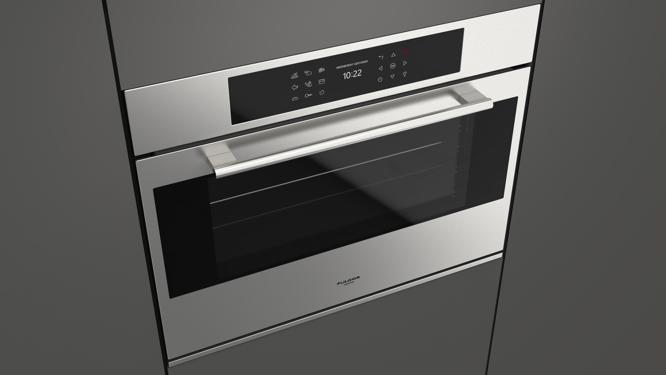 This model comes in stainless steel with sleek and stylish metal handles to match the look of the other Sofia built-in appliances. Situated in the middle of the fascia panel is an impressive multifunction, touch control TFT display with a quick access menu designed to make choosing functions and temperatures as easy as possible. Behind the soft close triple glazed doors is an incredible 126 litre black porcelain enamel interior, which offers 13 amazing cooking functions from eco baking to dual convection and everything in between.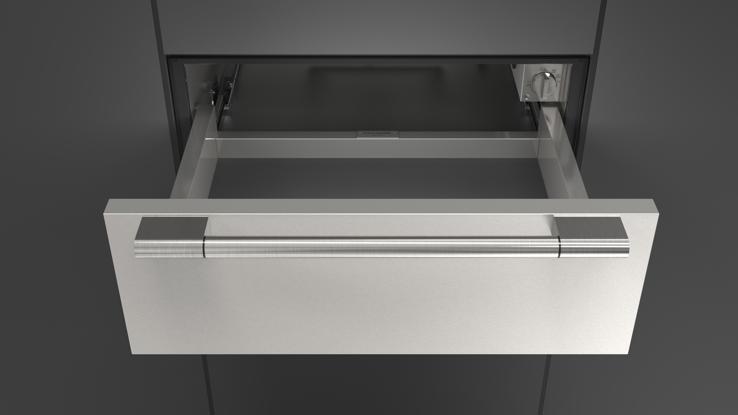 Another option is the Fulgor Milano FPWD 3024 X warming drawer. Designed to complement the built-in main and compact ovens, this model offers a large 60 litre capacity and is finished in stainless steel with stylish handles to match the look of the other Sofia appliances. With the drawer being mounted on telescopic rails, it offers a soft close finish and comes with a rubber mat to place dishes on when opening and closing the drawer. On the right-hand side as you open the drawer, there is the temperature control knobs which are easy to use and can be set between 30°C and 85°C. This warming drawer is super handy, and if you love cooking or simply want an extra amazing feature for your kitchen, this is the built-in appliance to do it with.
To find out more about any of the products mentioned, head to our website now or call our team on 01244 402 975, they'll be happy to help!