Choosing The Best Induction Range Cooker
When it comes to cooking, a lot of us still opt for the traditional gas or electric hobs, not knowing that induction cookers can often be quicker, cleaner and even safer.
A range cooker with an induction hob can give you the best of both worlds. It combines the benefits of both a sleek induction hob mixed with the practicality of a traditional range cooker. When buying an induction range cooker you need to consider the way you cook, your current kitchen design and the look that you want from your cooker. Consider your budget and what features will be most beneficial to you. Although the hob is an important decision, it is just as important to consider how many ovens you need, with many range cookers offering at least two. Some models may even have three or four, splitting ovens and grills into separate cavities alongside storage or warming drawers.
Here at Rangecookers we want to help you decide why an induction range cooker might be the right one for you and which you should take a look at…
What is meant by induction?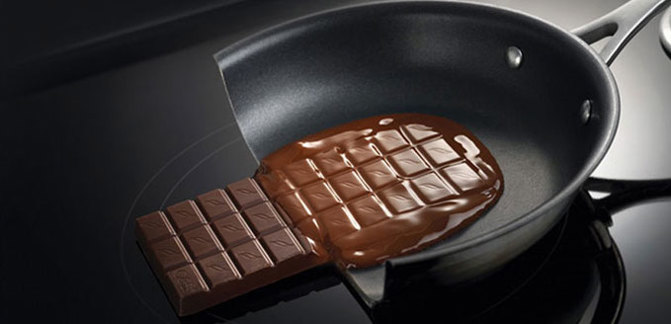 Induction refers to the heat transfer when cooking. They may look similar to an electric hob, but they work in a different way. Beneath the hob's ceramic plate, induction coils made from copper create a magnetic field as electricity is passed through. If a pan made of a ferromagnetic material is placed on the hob, the magnetic field causes it to directly heat up. The benefit of this is the hob stays cool, with only a little residual heat from the pan. Because of this heat transferral method, there is a limited amount of residual heat on the hob's surface.
A thermostatically controlled fan cools the electronic components below the surface. Due to the extra contact with the heat below it, induction hobs will stop the pan developing hot spots and therefore reducing the chance of burnt or scorched food.
Why should you buy an induction range cooker?
They are responsive and easy to use
With the induction technology heating the pan directly, the difference is almost immediate when you increase or decrease the heat on your hob. Induction rivals gas for both its responsiveness and precision. This also reduced the amount of wasted energy, with some saying they can even heat up a pan of boiling water quicker than a kettle can!
Induction hobs also provide greater control and precision through touch controls, making them extremely easy to use. So if you want a range cooker that is efficient and speedy, but also cools down fast, then an induction could be the ideal one for you.  
Easy to clean
The ease in which induction range cookers can be cleaned makes cooking with one all that more enjoyable. The flat surface means a hot soapy cloth can have your cooker gleaming again in no time. As the hob doesn't get hot, any accidental spillages won't stick to the hob, meaning it can be cleared with just one wipe. However, always ensure the hob is fully cool before cleaning it.
Durability
Whilst induction technology is continuously improving, it is a tried and tested format used on range cookers for over a decade. A good induction hob is said to last between 10 and 15 years, depending on the manufacturer. For example, Smeg induction hobs are tested for 15 years of use.
Environmentally Friendly
Induction hobs are more environmentally friendly than gas and electric hobs. There is no excess heat, with all heat being concentrated inside the pan. Some induction hobs also include smart technology that can detect when a pan is absent, meaning they switch off to save energy.
Which are the best induction range cookers?
Here are our Rangecookers.co.uk top picks for an induction range cooker…
Bertazzoni Master 100 XG Induction
The Bertazzoni Master series brings you a generous taste of Bertazzoni quality a very attractive price-point, with authentic and appealing Italian café-bar aesthetic. This triple-oven range cooker brings ultimate versatility. The main electric oven has 11 functions, whilst the useful second auxiliary oven has four modes. The hob consists of an induction top with five heating zones, including booster feature, pot detection and residual heat indicator for each zone.
One feature that particularly stands out, and shoots this Bertazzoni above the rest, is the bridging function that allows you to use the two right side cooking zones as one single cooking zone. This cooker is finished off nicely with the characteristic temperature gauge (low/medium/high), chunky metal controls and some very well-executed traditional flourish.
Lacanche Cluny Modern 100 Induction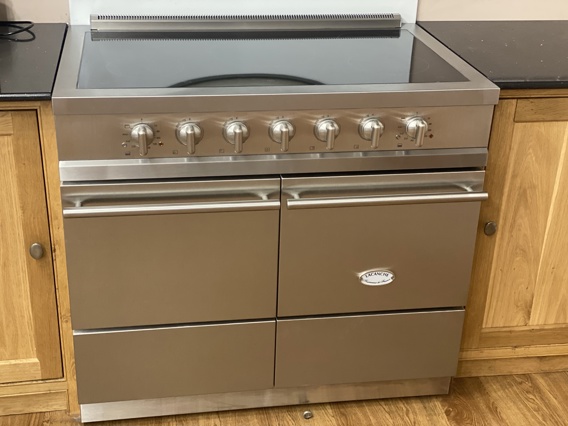 With its aesthetically pleasing symmetrical configuration, the Lacanche Cluny Modern induction model offers two large ovens and has been specially designed for serious cooks who love the solid and traditional appearance of this historic and impressive French brand, but may prefer a slightly more contemporary style.
With chunky, lusciously chromed control knobs and handles, you can choose from an array of luxury enamel finishes to complement this impressive range cooker. This particular model features a five zone induction hob, a 55 litre static electric oven with integrated grill, and a 49 litre convection (fanned) oven with grill.
Rangemaster Nexus SE 110 Induction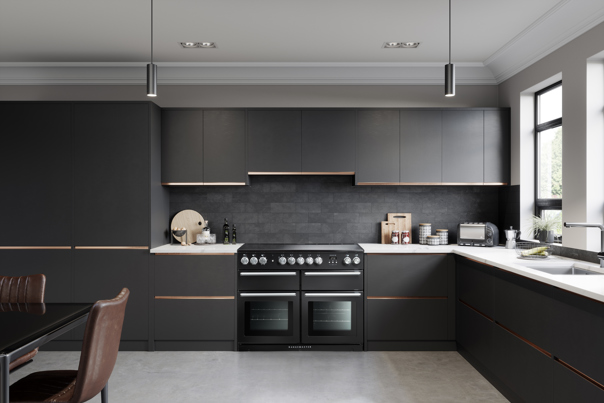 The Rangemaster Nexus SE mixes traditional cooking methods with contemporary styling. This enhanced range cooker takes performance to the next level with a versatile multifunction oven, which includes impressive specifications, and includes a fanned second oven and even a slow cook oven. A change of layout to the standard Rangemaster Nexus model, this is sure to please those who love symmetry.
The Nexus SE Induction comes with an improved dual circuit electric grill, which offers even more flexibility and a five zone induction hob with zones ranging from 1.15kW to 1.85kW and combines all the modern benefits of an induction hob into one easy cleanable surface.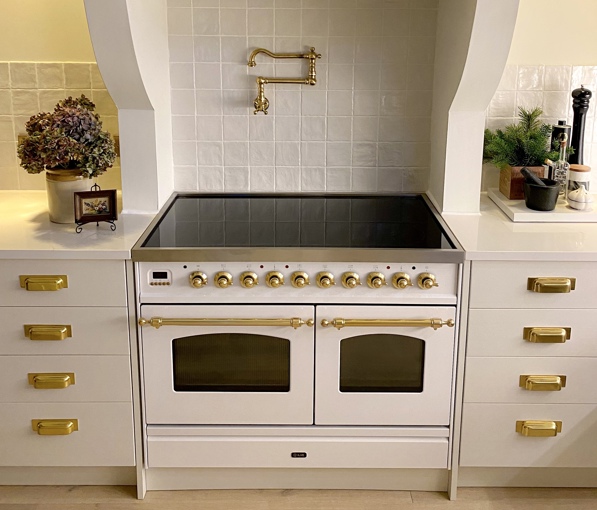 The iconic Milano is one of ILVE's more traditional style range cookers. This beautiful range cooker is a powerful package. With premium trims to choose from, including Antique Bronze and Copper, it is easy to integrate this cooker into your kitchen design and colour scheme. It has the perfect blend of elegance and intricacy with a design that creates quite an impact.
ILVE's unique E3 control allows you to digitally adjust the temperature using a control dial to nudge the setting in 5 degree increments, from 30 to an impressive 300°C with minimal thermal fluctuation. The versatile 65 litre multifunction main oven gives you 15 fanned, conventional and grill functions, with the 57 litre second oven offering non-fanned cooking and grilling functions. On top is a superb 6 zone induction hob with the most advanced and efficient technology. Power boost, automatic boil and a heat up function all add to the convenience of this fast cooking machine, with digital display and the major benefit of easy cleaning.
Induction range cookers have become a feature in the collections of many manufacturers and are now more popular than ever in households all around the world, as well as the kitchens of professional chefs. Take a look at all induction range cookers here on our website or if you have any questions about our induction cookers or the technology used, call our team on 01244 402 975 and they will be happy to help you!