Colour Your Cooker: Which Colour Would Work Best In Your Kitchen?
Summer has arrived, (we think), so here at Rangecookers we want to add a bit of colour to your kitchen. We all enjoy the idea of a stunning range cooker as a centrepiece to create those delicious aromas that circulate our homes, whether it be a traditional style or a more modern take. If your kitchen is missing that statement piece to match the colour of the new blinds you have been waiting to fit or maybe even the colour of your favourite mug, then look no further... 
No matter what style you have chosen for your kitchen, brands such as Lacanche, Rangemaster and Bertazzoni have the perfect colours to complement your overall design. With so much to choose from, here is a little guide to choosing the right colour for you and your kitchen...
Lacanche Savigny Classic 110 in Provencal Yellow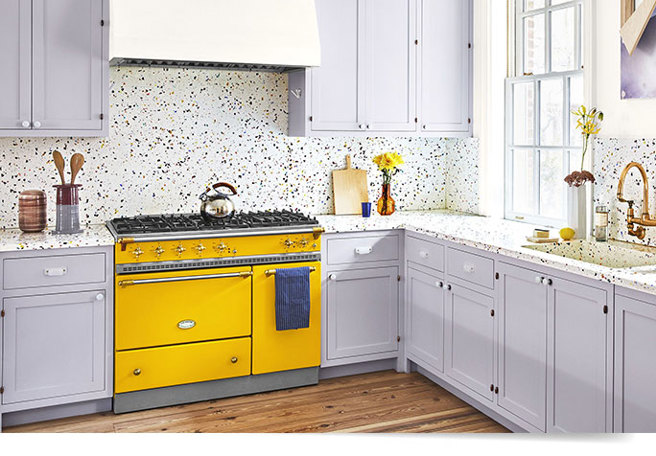 With the Pantone colour of 2021 being 'Illuminating', a stand-out yellow, it is only right we start this off with a beautiful, bright Lacanche finished in Provencal Yellow. This sunny shade is perfect for brightening up your kitchen, even on the darkest of days. Match it with some cream cabinets and a light colour on the walls for a warm and sophisticated feel.
Rangemaster Elise 90 in Mineral Green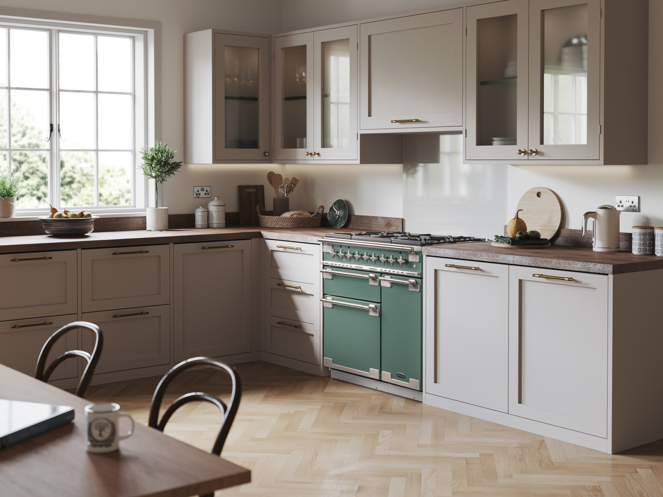 Rangemaster have made three new colours available for selected cookers within their range. The shades Stone Blue, Charcoal Black and Mineral Green are all a subtle way of adding a minimal block of colour or blending your range cooker in with the rest of the interior. Perfect for modern spaces with classic warm wooden tones. 
The Rangemaster Elise 90 brings a sense of elegance with its timeless style and solid doors. Gallic, faucet style controls mean it truly creates a presence between your kitchen cabinets. It has a multifunction main oven with an integrated grill and a fanned tall second oven that are completed by a separate grill that glides out for your use.
Bertazzoni Professional 90 Single Colours in Aranci
If you want to use orange in your kitchen but aren't loving the bright hues for your walls, try a more mellow vibe with an orange cooker. This simple block of colour can be added to both dark and light decor to create a warm and inviting focal point. Just imagine a refined kitchen with dark units and marble worktops matched with a showstopping professional range finished in Aranci. 
Bertazzoni have a 130-year history of building quality into cookers, and this is clearly shown within the functional ergonomic design of the Professional 90 Single Colours. It comes with triple-glazed doors that minimise heat-loss and noise levels, plus easy to clean full-screen inner glass on the oven door. It also features a high-resolution LCD touch screen display and programmable clock/timer, with Bertazzoni being one of the first manufacturers to incorporate this into their range cooker offering.
ILVE Majestic Milano 120 in Burgundy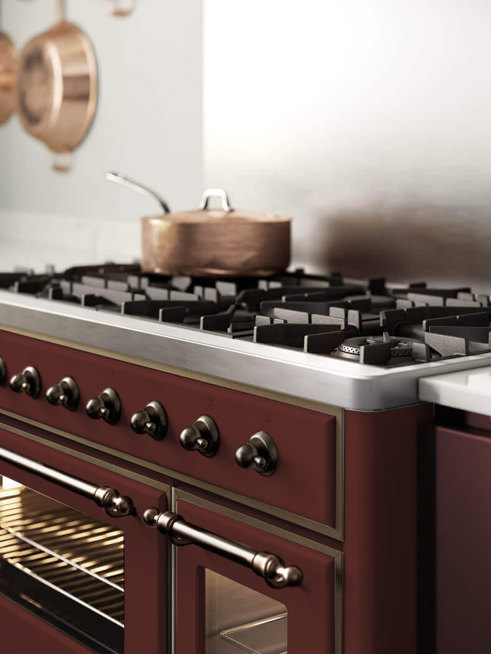 The heart of every kitchen is the cooker. So why not have yours in a powerful red like this ILVE range finished in Burgundy. Pairing a striking colour with a light and airy space is the best way to be bold and add that pop of colour that is often needed. If you're really in need of some more inspiration, ILVE's bespoke colour matching service offers over 200 RAL classic colours to choose from, with hundreds of options to inspire your kitchen dreams. The choice is all yours.
It can be hard choosing the right design for your kitchen as it is a much-loved room in any home. Making it your own and reflecting the personality of the space with your chosen cooker is important. 
Check out all our range cookers here on our website. You can also contact our team on 01244 402 975 if you have any questions about any of the cookers or the colours we can offer, they will be happy to help!