Coronavirus (COVID-19) Customer Information
It has now been almost two weeks since we took the decision to close our showroom to the general public in response the unfolding Coronavirus pandemic.  Since then we, along with the rest of the country, have been adjusting to the new normal.
A week ago the Rangecookers Team transitioned to a home working arrangement in line with our contingency plans, and we are pleased to report that we are settled in and all systems are functioning normally.  In addition to being able to reach us by phone and email, we also have a chat facility on our website.
We are in regular contact with all the brands that we sell.  Their delivery teams are following the relevant guidance to ensure safe delivery to your homes, namely:
Making contact the day before to ascertain the status of the household (self-isolation etc.).
Using masks and gloves, with sanitisers on board for both before and after delivery.

In some circumstances only providing delivery to the doorstep or first room, rather than the room of choice.
Please contact us if you have specific questions regarding your delivery.
As the UK's range cooker specialist, we design and source our own brand: Rangecookers.  We are pleased to report that our warehousing, delivery and service platforms are working normally and should continue to do so excepting any further government-led lockdown measures.  In terms of servicing, appliances that are not working will take priority over those that may have cosmetic damage, for example.  Please bear with us during this time - our priority is to ensure people have working cooking facilities.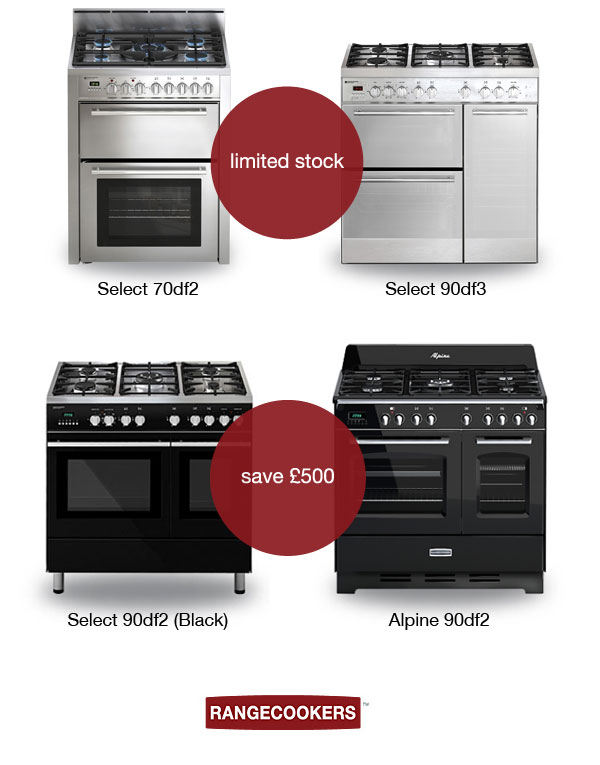 Finally, we have good stock levels across all our Rangecookers cookers and hoods so available for immediate delivery - although we are seeing large volumes on our Select 70DF2 and Select 90DF3 products, so please order early to avoid disappointment.  We also have a substantial saving of £500 on clearance stock, the Select 90DF2 (Black) and Alpine 90DF2, in anticipation of some exciting new ranges that will be available soon.
Remember, we're here to help so get in contact if you need us.  Stay safe, stay home, and stay positive.
All the best,
The Rangecookers Team