Eco-Friendly Range Cooking
A range cooker is an appliance you will use everyday for many years, so it is worth taking the time to choose a cooker that will minimise both your costs and carbon footprint. In this Rangecookers guide, we will look at the energy efficiency of gas and electric range cookers, induction hobs and give our top picks of the more eco-friendly range cookers...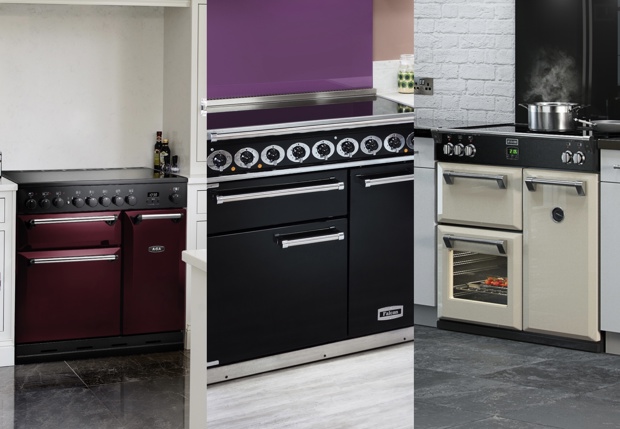 Gas vs. Electric
One of the first things to consider is whether your range cooker should be gas or electric. This can be tricky to decide when weighing up energy efficiency and carbon emissions, as well as running costs. A gas cooker is most commonly the more environmentally friendly option when considering overall carbon emissions. With natural gas cookers, these heat more efficiently than electric cookers so, in terms of the hob, less energy is needed to produce the same amount of heat. However, electric ovens will heat up quicker than a gas oven. The thing to consider is where you get your electricity from. If your electricity comes from a company that only supplies renewable energy, then electricity is a great option. So it is all about your energy source. 
Although electric cookers currently have a similar impact to gas cookers, in the long-term they will be the better option. However, there are a few things to think about when making shopping for your electric range cooker...
Electric Oven?
Electric ovens are already a very popular option, with dual fuel free standing cookers being an addition in many households. Electric ovens are better for even and accurate heat distribution and temperature.
Electric Hobs?
When used to cooking on a gas hob, electric hobs can seem a strange concept. They typically do take longer to heat up and cool down, making it trickier to control the temperature, but this problem can be solved with a ceramic or induction hob that offer faster heating and control.
Induction Cooking
Induction refers to the heat transfer when cooking. They may look similar to an electric hob, but they work in a completely different way. Beneath the hob's ceramic plate, induction coils made from copper create a magnetic field as electricity is passed through. If a pan made of a ferromagnetic material is placed on the hob, the magnetic field causes it to directly heat up. The benefit of this is the hob stays cool, with only a little residual heat from the pan. Induction hobs are more environmentally friendly than gas and electric hobs due to there being no excess heat, with all heat being concentrated inside the pan and better cooking time. Some induction hobs also include smart technology that can detect when a pan is absent, meaning they switch off to save energy.
Ceramic Hotplate
Traditional electric hobs often include a ceramic heated surface. Ceramic hobs heat up a lot quicker and are easier to clean than metal. Range cookers with a ceramic hob are a popular choice due to their sleek appearance, which also makes it easier to clean and maintain with there being no difficult to reach areas. Ceramic hobs are the perfect alternative to gas as they offer fast heat-up times and responsive controls.
Rangecookers Top Picks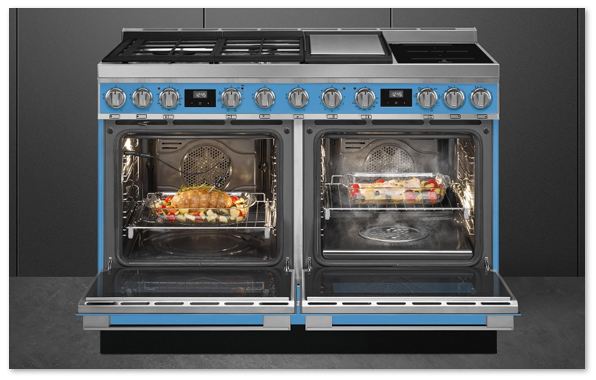 Smeg have created a stunning range cooker that offers both great specification and high build quality. The 70 litre multifunction oven has pyrolytic cleaning and cooking functions such as eco mode and closed-door grilling. The second 63 litre multifunction oven boasts 8 cooking functions, including direct steam technology and eco mode. The highly efficient A+ rated 70 litre oven ensures a fast and even spread of heat whilst the quadruple-glazed door ensures quiet and energy efficient performance. The pyrolytic mode removes stubborn bits of food from the oven walls by increasing the heat to 500 degrees celsius with A+ energy efficiency.
Bertazzoni Professional 100 Twin Induction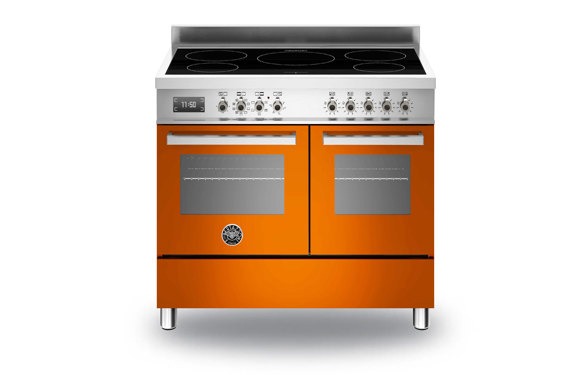 The Bertazzoni Professional series offers Italian quality and professional ergonomic design. Triple-glazed doors minimise heat loss as well as noise levels, as well as providing enhanced insulation materials that maximise energy efficiency. On top is the latest induction technology which gives you the ultimate power and almost instant control.
Falcon 1092 Continental Induction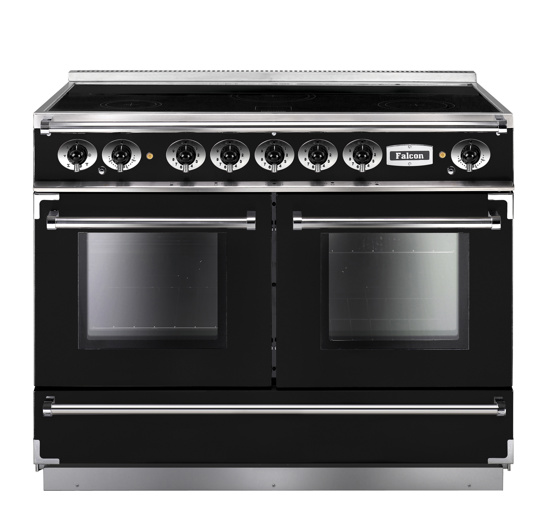 If you're looking for a solid and reliable range cooker, look no further than the Falcon 1092 Continental Induction. This induction model brings all the power you could need in the form of five cooking zones with useful features like power-boost, boil-dry detection, auto-heat up, simmer and zone-link functions, all being operated by clear and simple control knobs.   
How to save energy when cooking with your range cooker
As well as the type of range cooker you should go for, how you cook your food is also important for reducing energy consumption.
Using your hob:
Use lids on your pots and pans
Use the right pans for your hob, for example if you have an induction hob the most suitable pans have a flat base made of a ferrous material, or a 'magnetic' metal. This is quite common on high-quality cookware anyway and will be labelled as suitable for induction hobs.
Use the right sized pans – if the pan is smaller than the electric ring will waste more heat.
Using your oven:
Cook as much of your food as possible in one go to make sure all the space and heat is being used and not wasted.
Don't open and close the oven door multiple times as the oven loses heat and requires more energy to get it back up to the temperature you need.
If possible, use the fan assisted cooking option that allows you to set the oven at a lower temperature.
Make sure you maintain the seal on your oven.
If you want to find out more about anything mentioned, or you want a little bit of inspiration to help choose your new range cooker, give our team a call on 01244 402 975 and they will be happy to help! Or, visit our website now.