Enamel, Catalytic or Pyrolytic?
Whilst on the search for your range cooker, there are many different things to think about and it can often become overwhelming.
One of the most popular topics when it comes to making a purchase decision is regarding the different types of oven lining. Enamel, catalytic and pyrolytic linings are all options to consider and we are here to help you decide which is best. Keeping things simple, we will be looking at which liner makes cleaning the easiest and the things you should keep a look out for…
Enamel
Enamel is the most common type of oven lining. It is a ceramic coating that prevents flavours or odours from building. It creates a very smooth surface, so grease and other dirt often have a harder time sticking to it.
Although it does not stop food building up entirely, regular cleaning will ensure that build up is kept to a minimum. If you are looking for an oven lining that will get rid of particles and not leave a dark residue within your oven, enamel is the best option for you.
When it comes to downsides, there is only one – it will chip or scratch off if used in a rough manner. This can be prevented by quickly cleaning the lining after each use to keep it in good condition. Enamel is also often the cheapest option, with it being included on most ovens.
Range Cookers with Enamel Lining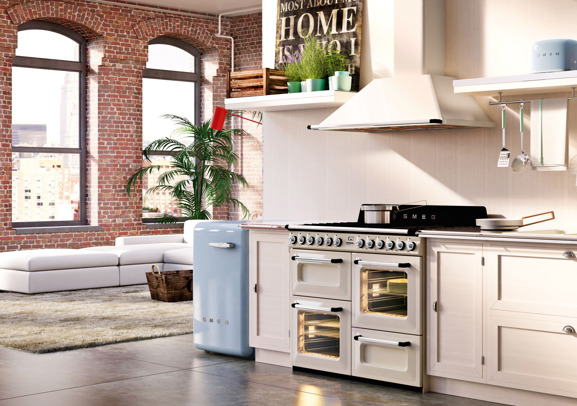 The Smeg Victoria is designed with the UK consumer in mind. Its retro appearance makes it perfect for both traditional and contemporary settings, with stylish door panelling and features from the classic ranges with a modern twist.
This dual fuel model features a 61 litre triple glazed multifunction oven with fanned, conventional and grilling functions. All this, along with the enamel linings, comes with Smeg's vapour clean system, which uses steam to help clean the oven's interior. On top is a six-burner gas hob, with cast iron pan supports that give you one high, two medium and two simmer burners, plus a useful rapid burner at the front which is great for wok cooking.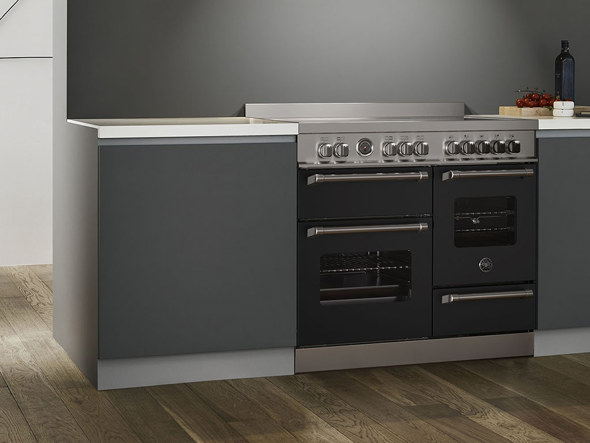 The Bertazzoni Master brings all the usual authentic features of a Bertazzoni range cooker but with an affordable price point. The characteristic temperature gauge is joined by fully metal controls to replace the black plastic controls on the older models and new satin finish handles. This triple cavity model offers a main electric oven with 11 functions, from convection to baking and features a thermometer on the control panel. The useful second auxiliary oven has four modes and a powerful adjustable grill is provided in the third oven.
Catalytic
Another option for oven lining is catalytic. Catalytic liners absorb the food or grease and break it down, which is then simply burnt down when you are cooking. It can often be a good idea, if you do not have your oven over 200°C very often, to run your oven at this temperature for thirty minutes or so every month to make sure all food and grease is burnt away.
Catalytic liners can reach a temperature of up to 250°C and contain an oxidant that encourages the organic material within the oven to decompose. This means that they are very effective at removing greases, stains and oils. They are also easy to clean, meaning you won't have to scrub the oven lining as much as you would with enamel. The greatest advantage of catalytic liners is that since they are becoming increasingly popular, you no longer need to break your budget to enjoy this type of self-cleaning cooker. Do remember though, not every part of the oven cavity will be covered by these liners so you will still have to clean the rest regularly.
Range cookers with Catalytic Lining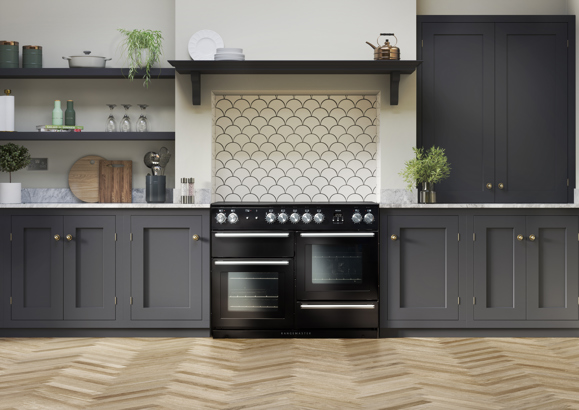 The Rangemaster Nexus mixes traditional cooking methods with contemporary styling. The ultra modern rotary controls are made from diamond turned aluminium for durability. Not only do they look good, the rubberised O ring design provides an ergonomic firm grip. This enhanced model takes performance up a notch and includes a fanned second oven and even a proving drawer. This unique features enables a controlled warming environment, operated by a simple on/off switch and has slots in the base that allows warm air to flow in and prove dough perfectly.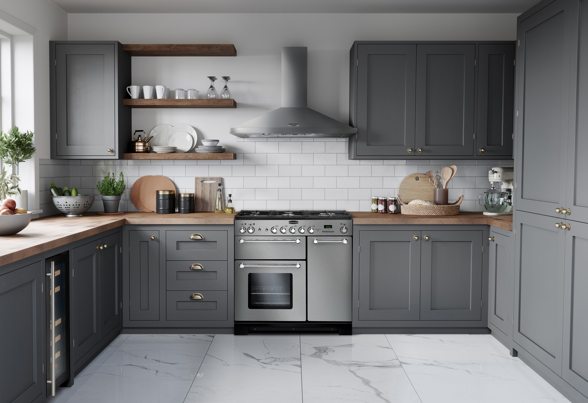 The Rangemaster Kitchener does a great job of representing the brand's entry-level offering, with its straightforward design and specification that is seen on Rangemaster's other standard models. The Kitchener 90 dual fuel model offers a 73 litre fanned and programmable main oven with handyrack feature, a separate grill above and a tall, fanned oven on the right. Although this range cooker features enamel linings in two of the cavities, the third cavity offers catalytic.
Pyrolytic
The easiest way of keeping the ovens of a range cooker clean is pyrolytic cleaning. Pyrolytic is actually a method of cleaning, rather than just the lining.
Ovens that include pyrolytic cleaning have a special program ready. When you use the program, the oven gets to a temperature of over 400°C. It is very similar to catalytic liners in the sense that they also use oxidants and heat to clean the air in your oven. These cookers are often more costly to use, as they require the oven to be preheated and takes a significant amount of energy to operate. However, pyrolytic liners can last up to about 12 times longer than catalytic or enamel before needing replacement.
The best part is that it ensures your oven has better air quality, enabling you to cook healthier food. Most pyrolytic ovens also have an automatic door lock too, so once the cleaning process has started, no one can open the oven until it has cooled down to a safe temperature. A downside, however, is your choice of range cookers with this setting is reduced due to the technology, so you will often need a bigger budget.
Range Cookers with Pyrolytic Cleaning
Fulgor Milano Sofia 36 Professional Series Pyro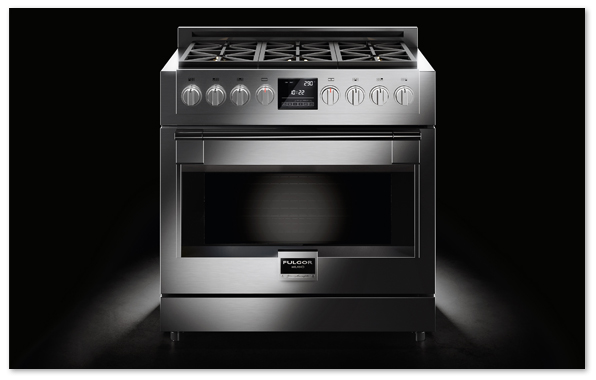 This purposeful range cooker features a 161 litre multifunction oven with dual internal fans and a range of fanned, non-fanned and grilling functions to give you full versatility when cooking (including warming and proving settings). Rapid pre-heat gets the oven to temperature quickly and conveniently, and there is an automatic pyrolytic cleaning cycle to keep your oven cavity looking sparkling new. Inside the oven are two heavy duty racks, one of which can be set up on telescopic runners, an enamel tray with anti-splash insert and plug-in food probe which works in conjunction with the 6-digit touch control timer to cook to a target temperature and see perfect results.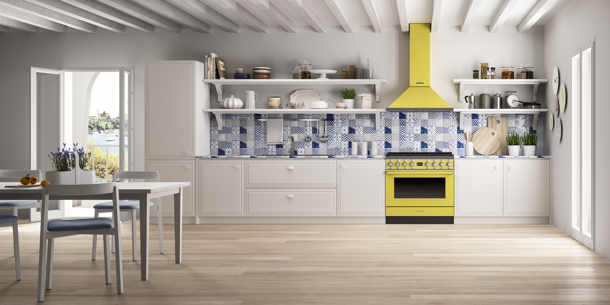 This range cooker brings incredibly good specification and superb quality. The 115 litre oven has 12 cooking functions, including an eco mode, a keep warm and a low power mode. The slick and clear LCD display offers 20 automatic programmes with everything digitally controlled via the large metal control knobs. The multifunction oven has a triple fan array to ensure a fast and even spread of heat, and the cool touch door ensures a very quiet, energy efficient and solid feeling performance. The inner glass is removable for ease of cleaning, along with the pyrolytic cleaning feature. Just turn a control and the door will automatically lock, running a high temperature cycle that will burn off all grease and grime on the interior.
Whilst pyrolytic ovens are the easiest to clean, which oven lining is most suitable for you depends on which will be the easiest within your life. The type of range cooker you buy depends on your cooking requirements, your budget and how often you would be able to clean it. If a pyrolytic oven is a bit out of reach, a catalytic oven would also make your life a lot easier with very minimal cleaning needed. Although, if you don't mind giving your oven a clean after each cooking session, enamel lined ovens are still fantastic and will save you quite a bit of money too…
To find out more about any of these products or if you have any questions, call our team on 01244 402 975 or visit our website now!