Falcon Range Cookers - Strong Character, Enduring Appeal
Falcon range cookers have always appealed to cooks with a no-nonsense approach to life, looking for a straightforward and reliable cooking platform which will look great in their kitchen and provide years of robust service.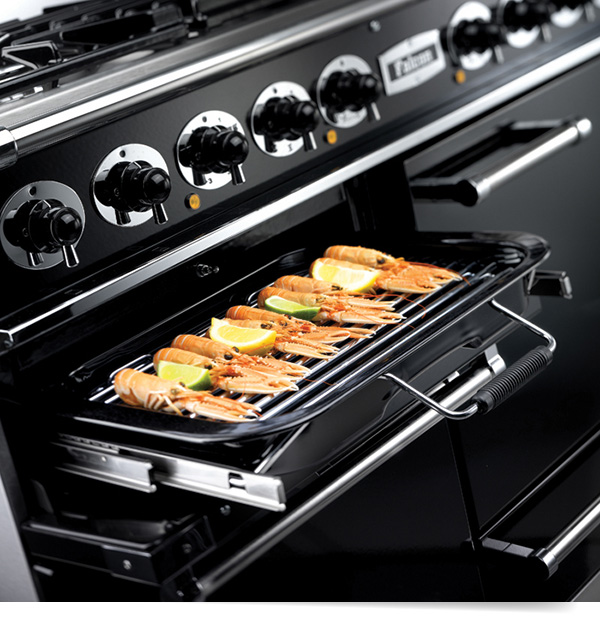 This formula works beautifully well for this highly regarded premium brand, and the confidently stylish Falcon "look" has remained unchanged since it was introduced some 25 years ago. The technology has evolved, of course, and the current collection uses all the latest components and insulation materials, so under the skin these impressive cookers are designed to give you optimum performance. Made by Aga Rangemaster in Leamington Spa, Falcon share the same chassis formats as this prolific manufacturer's other brands - Rangemaster, Mercury and Aga Masterchef - but are built using heavier-grade sheet steel, more robust oven shelving and grill and high quality, brass gas burners with impressive power. The oven doors may be triple-glazed for superb thermal and noise insulation, but are non-windowed on all but the entry-level Continental model, lending each range a more professional persona. This pared-back approach extends to the control panel with its chunky thermoplastic controls and steel back-plates very reminiscent of engineering machinery from another era. The absence of a clock or timer is also notable, but this will not usually bother the typical Falcon owner to whom this kind of domesticated detail is somewhat anathema (or so the Falcon philosophy goes). A full-width towel rail and tubular door handles in brushed stainless steel are set off by corner plates on the outer door edges, with stainless steel hotplate and plinth completing this framing effect. Matching Falcon hoods in flat, chimney or integrated styles provide a stunning partner to your range, with all the high performance you would expect.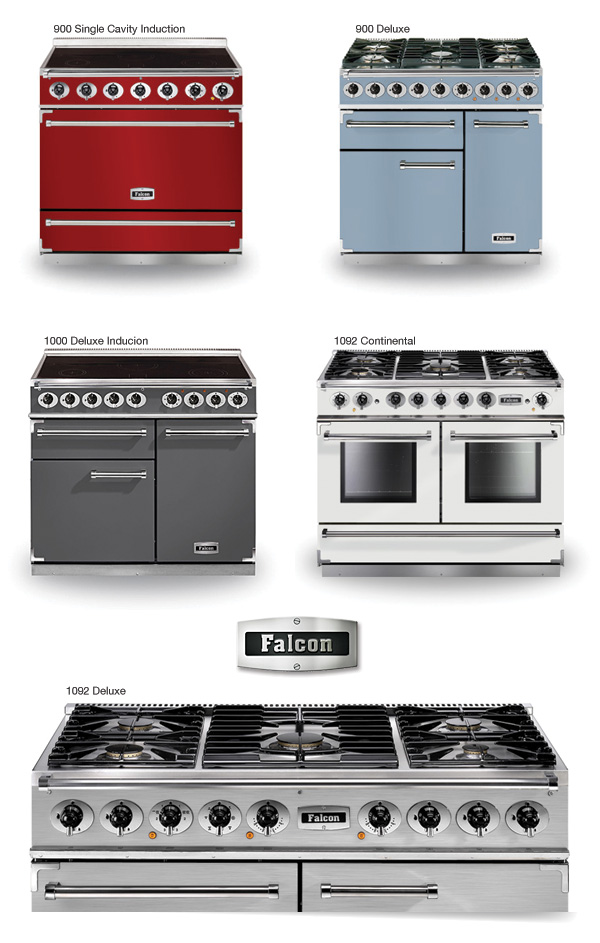 Formats
You can choose one of three widths - 90, 100 and 110cm (named by its actual width of "1092"), with a choice of five burner gas hob or five electric zones using the latest generation of induction technology. The 900 Deluxe and 1000 Deluxe feature a tall fanned oven on the right (67 or 82 litre capacity), and the 1092 Deluxe and 1092 Continental give you two 80 litre cavities, the standard multifunction main oven on the left and a fanned on the right. The "Deluxe" tag is a legacy from previous times when two levels of spec were available, but now serves to remind us that these are top-flight range cookers as standard. The Falcon 900 Single Cavity is a clever alternative take on the 90cm format, with a large 108 litre oven which you can split into two for most day-to-day needs, giving a smaller 49 litre oven on the right and a dormant area on the left - quick, sensible and economical. When called upon, the full single oven gives you really superb cooking capacity.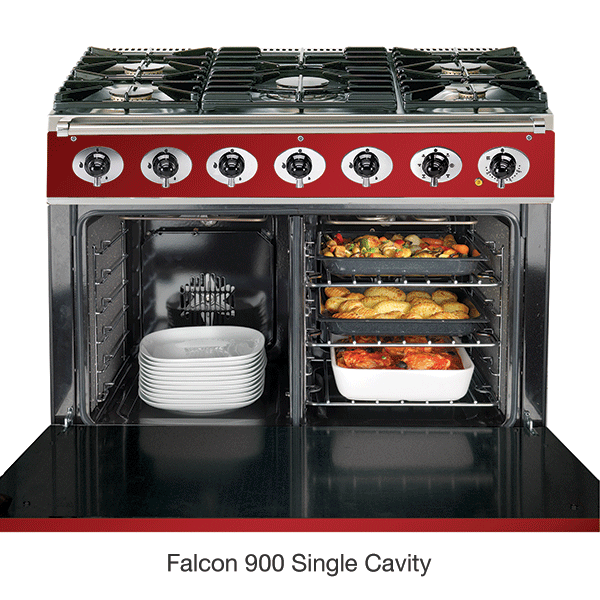 Finishes
This all adds up to a range cooker which can look very at home in a whole variety of settings, from traditional to classic, Shaker-style or ultra-modern. Falcon's retro-industrial personality is very accommodating - friendly and familiar but serious and professional at the same time. You can choose from eight finishes - black, cream and stainless steel with chrome trim, or Cherry Red, Ice White, China Blue, Slate (matte) or Fawn with brushes steel trim. All colours but one are tough vitreous enamel finishes, with Slate being a specialist paint in matte finish.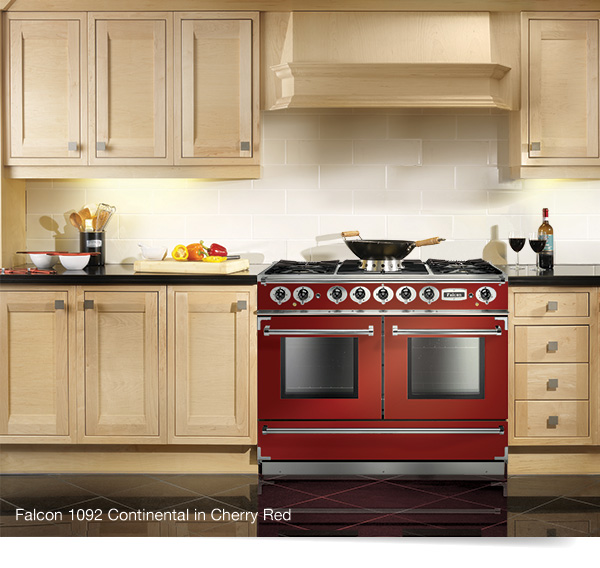 The Falcon 1092 Continental
Thoughtfully, for those with the aspirations but a more modest budget Falcon have provided a simplified and lower cost alternative in the form of the Falcon 1092 Continental. The Continental certainly represents something of a bargain at over £1000 less than the 1092 Deluxe, with no compromise on the Falcon quality, but savings are made by removing features you may not even miss. Gone are the separate grill cavity, catalytic oven liners and removable oven floor plates, and the doors are windowed, with a full-width storage drawer below. For a substantially reduced price you are still getting the full Falcon pedigree and cooking prowess, and the symmetrical layout still brings you that very special Falcon look, whether in dual fuel or induction.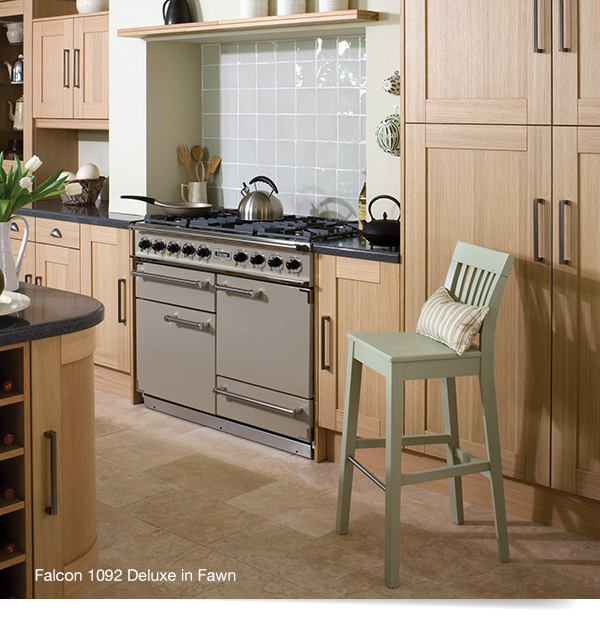 The thing we continue to love about Falcon, and key to the brand's enduring appeal, is the timeless and deceptively simple aesthetic which somehow harks back to an era of British manufacturing integrity which is inherently nostalgic and reassuringly familiar. We have dealt with customers who have had their Falcon for twenty years or more, and at the end of its dedicated working life are coming back for a new one. This role as a member of the family has been earned not only through sheer reliable functionality, but by Falcon's ability to just look right, and to go on looking right through the years. This is a rare ability for a humble household appliance, shared of course by Aga itself, and if you are thinking of putting a range cooker in your kitchen we recommend you put Falcon towards the top of your list.