Create A Beautiful Kitchen Without Compromising On Functionality
Words and photos by Jelena Janjic
The kitchen has evolved over the years, it has become a natural gathering place, the hub of every party, a place to eat and cook and dance in. When I first started designing, kitchens were my least favourite space to design. When I realised the range of options and significance that kitchens have on our wellbeing, the functionality of day-to-day life and the ease of living, kitchens quickly became my favourite space to design!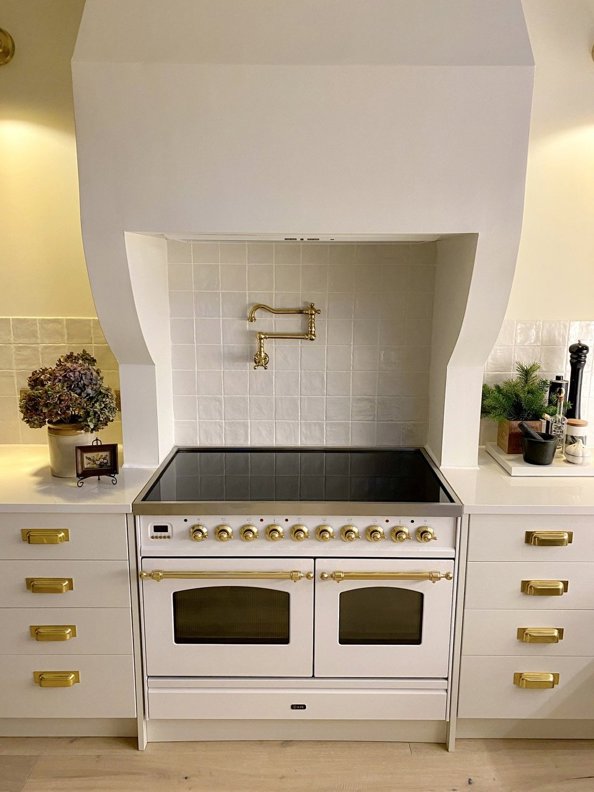 It is more important, than ever, that kitchens are stylish as well as functional, therefore, designing a kitchen can be a complicated affair. You have to think about appliances, storage, plumbing, space planning and sometimes even dining. The kitchen doesn't just play one role in the home; it serves as a breakfast area in the mornings, dinner in the evenings, a social space and even an office nowadays.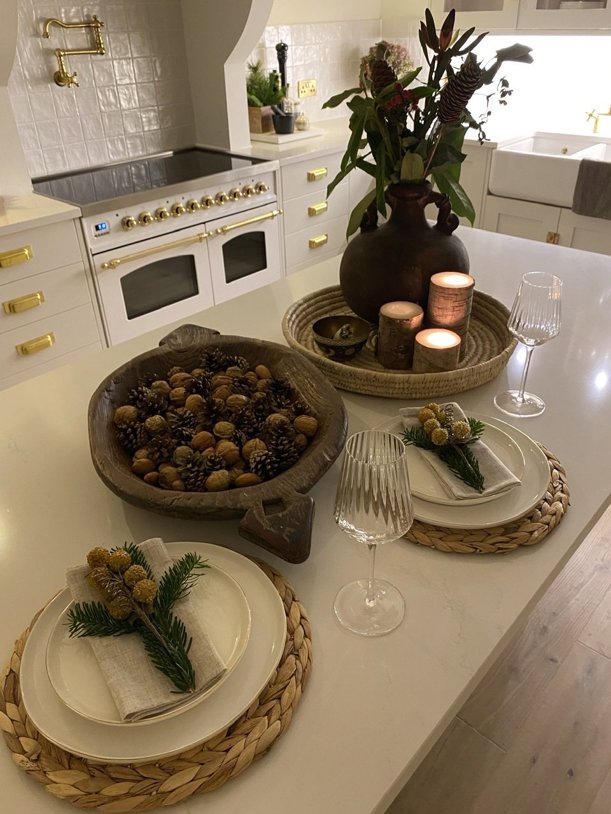 When designing the kitchen at Whittingehame I knew I wanted a timeless design that still wouldn't look out of place in 20 years' time. My starting point was the cooker. Since there is no gas in the building, our options were either oil fired AGA, electric or induction stove. Induction was the most efficient choice so I knew I was looking for an induction cooker. I came across Rangecookers and the options were endless. The ILVE collection was particularly unique to me. You can personalise features to your spec so I chose the Milano 100 Induction in White with brass hardware. The rest of the kitchen design evolved naturally from there.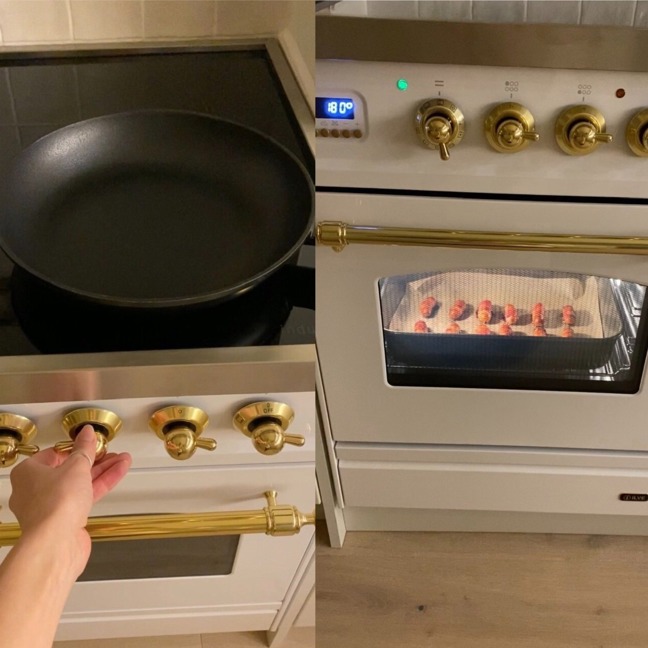 I wasn't used to cooking on induction but, having used the stove over the past few weeks, I can't see past it. The temperature control is super precise so it gives you much more freedom when cooking. WIth induction, only the cookware heats up so heat isn't lost in the transferring process i.e. the air around the pots and pans, making it more efficient. It's so easy to clean, with one level surface rather than taking all those gas rings off individually. The inside of the oven doesn't seem to absorb grease very easily, I have had a cooker before that was filthy after one use so, this saves a lot of time!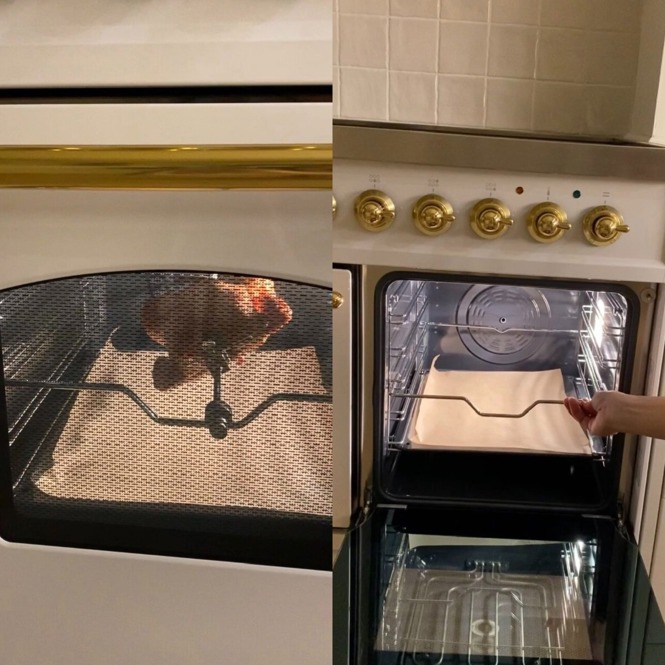 Often I see beautiful, seamless kitchens and right in the middle of it is this oversized, stainless steel eyesore which is visually written-off as 'that's just the cooker'. As with our last home, I wanted the appliances to blend into the interior, to look like a piece of considered furniture rather than a functional box. Cookers can be beautiful and practical.
Quality products are timeless and worth the investment. Instead of changing your kitchen every 10 years because it's no longer 'on trend' or you never really liked that stove when you bought it, invest in a key piece that makes a statement, will last forever and, if you wanted, take with you from home to home.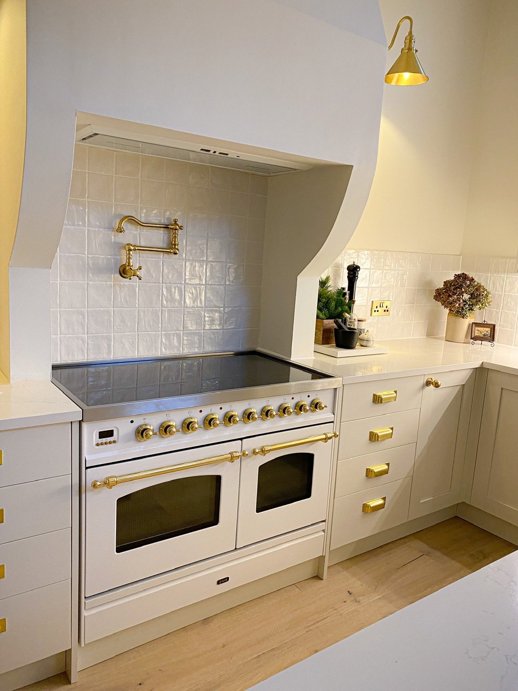 By choosing one hero piece in your room and keeping everything else simple, you are giving the item its moment and letting it breathe. On the cost scale of kitchens, Howdens are fairly low budget, so we chose the Chilcomb range in Porcelain. By placing the cooker against it, it makes the kitchen look more expensive that it actually was. We saved money on the kitchen cabinets and the integrated appliances instead. Let's be honest, a fridge or a freezer have one job, to keep your food cool so they are probably harder to differentiate. Cookers, however, they have a much harder job. They are the captain of the kitchen ship.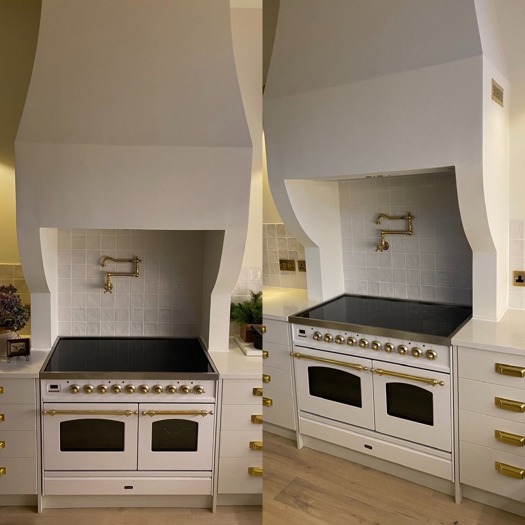 The team at Rangecookers were very helpful. Mostly, they provided a realistic timescale, which is rare for companies these days. Due to the nature of the bespoke items, they have to be made to your specifications so there is a wait time. I don't mind waiting, as a designer and a maker, I realise the creative process takes time. It's when you're told an unrealistic lead time which gets pushed further and further back and you feel like you're being strung along. There was none of that with Rangecookers. What you see is what you get!
Jelena Janjic/Upcycgirl is a self-taught Interior Designer, DIY enthusiast and small-budget, big-impact upcycler. Upcycgirl is a blog for the remaining artisans of this world who want an insight into the good, the bad and the ugly side of home renovation. Expect upcycling projects, tips and tricks that she has learned on the job and plenty of transformation photos on Jelena's blog www.upcycgirl.com.