ILVE's Built In Collection
We have some exciting new additions on the Rangecookers website and they come from the stylish Italian brand ILVE…
As a globally renowned cooker brand, ILVE take pride in the quality and refinement of their products. Efficiency and visual appeal make ILVE stand out amongst the crowd, with precision engineering providing a professional cooking appliance that is perfect for any home. Their overall integrity of all their components shines through and reassures owners that they have made the right investment.
Located near the beautiful Italian city of Venice, ILVE products are handcrafted using the finest materials. They showcase an impressive collection of products, with a choice of colours, size and finishes to suit any style kitchen. Whether contemporary or more traditional there is guaranteed to be a style to suit you at ILVE, with a variety of configurations.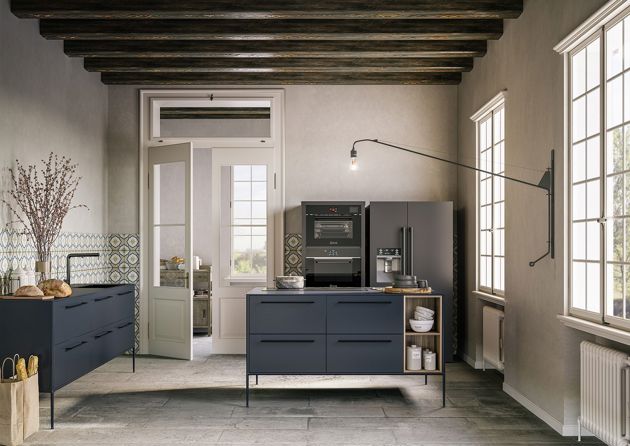 Now featured on our website are even more ILVE built in ovens and hobs, bringing you more to choose from than ever before. Included is a pizza oven, allowing you to choose between cooking programs and reaching an impressive temperature of 400°C. There is also the vacuum drawer, which has been designed for both cooking and preserving food with the drawer removing 99% of air and reduces the chance of bacteria growth.
Here is a Rangecookers insight into our newest standout appliances…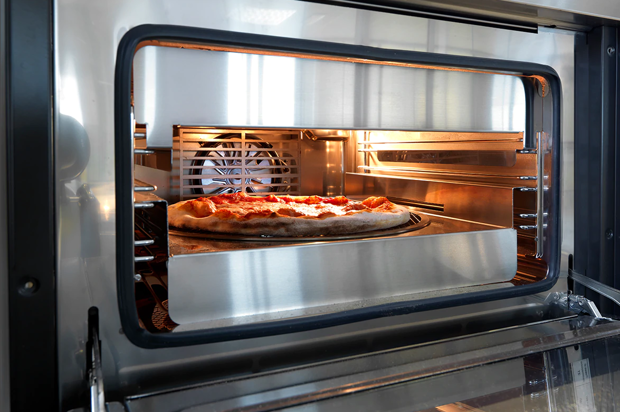 This 60cm oven shows off the new Nero style from ILVE, with gloss black oven doors and matt black handles. Behind the triple glazed, soft closing door is a 37 litre cooking space, providing you with 14 functions to choose from including a pizza setting. When using the pizza setting, prepare the pizza yourself, turn the oven on and it can reach an impressive temperature of 400°C. Wait just over two minutes for it to be cooked thanks to ILVE's precise temperature control. Also provided is an electronic temperature probe, allowing you to check the temperature of your food to ensure it is cooked to perfection.
In order to use all these amazing features, ILVE have paired this oven with a TFT digital touch screen control, allowing you to adjust the timer, choose between cooking programs and also includes a child lock.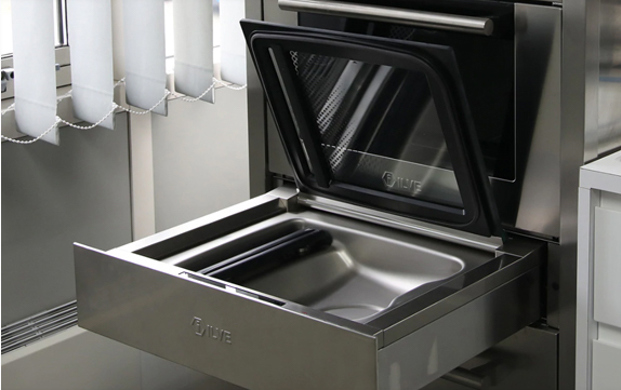 This 60cm vacuum drawer follows the contemporary styling of the Roma collection, with a clean cut, stainless steel finish giving it a modern and professional appearance. Designed to be used for both cooking and preserving food, the draw removes 99% of air and reduces the chance of bacteria growth which can be used for all food and some liquids. Including additional features such as cold infusions, vacuum curing, tenderising and marinating, this drawer ensures your food is prepared quickly but maintains excellent results.
In order to use the useful features on this appliance, ILVE has paired them with a touch screen display meaning you can easily choose between functions, levels and cycles. Match this with ILVE's other built in appliances, such as the built in ovens and blast chiller.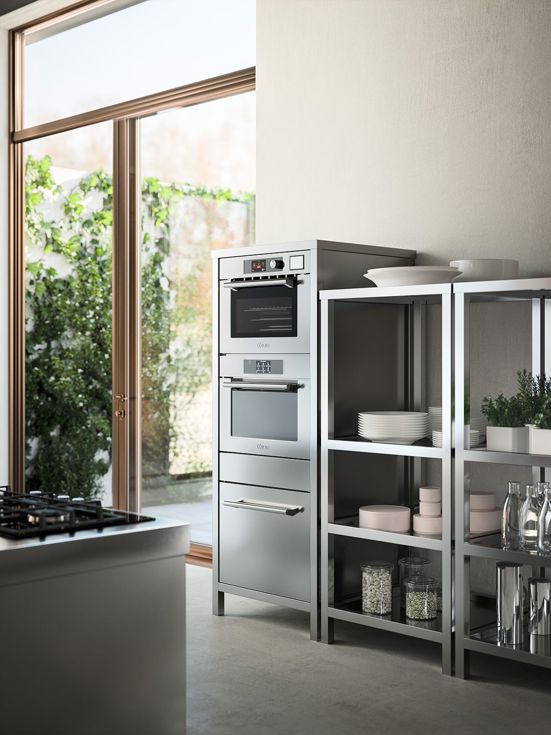 This 60cm blast chiller also follows the modern styling of the Roma appliances, maintaining that professional look. Behind the triple-glazed door is a 40 litre cavity which offers multiple functions from slow cooking to blast chilling, proving to microcrystalline freezing allowing you to preserve, cook or store food and even has the option to chill beverages. The blast chilling is a particularly useful feature, designed to quickly bring the core temperature of your freshly cooked food down to 3°C and therefore preparing your food for the next step of the cooking process. This means you no longer need to leave tubs of food to cool on your counter tops.
Also included with this appliance is an electronic core probe which allows you to check the temperature of your food and once it has hit the set temperature, the process will end automatically.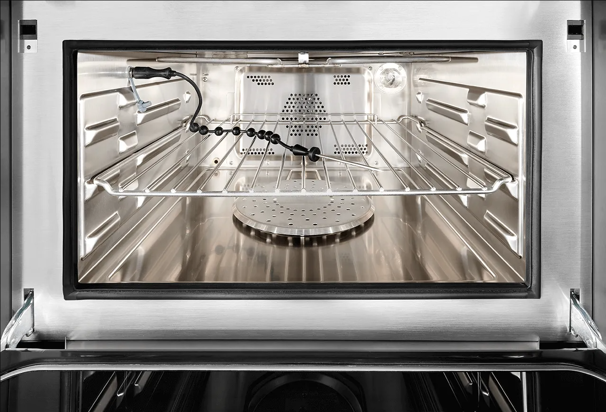 This 90cm oven continues the Roma styling, and with a 110 litre cavity this oven gives multiple layers so no matter the level you choose to use you will be able to see your food thanks to the double internal lighting. The TFT digital touch screen control allows you to easily choose between 15 specialist cooking programs, set the timer and use the child lock. You can use this display to choose an exact temperature for your food between 30°C and 320°C, using the built in rotisserie to cook your meat and vegetables and the electronic food temperature probe to check the exact temperature of your food to ensure it is cooked to perfection. Using their new wet/dry cooking setting, you can reduce the amount of moisture in your oven by releasing water through the ovens steam release vent.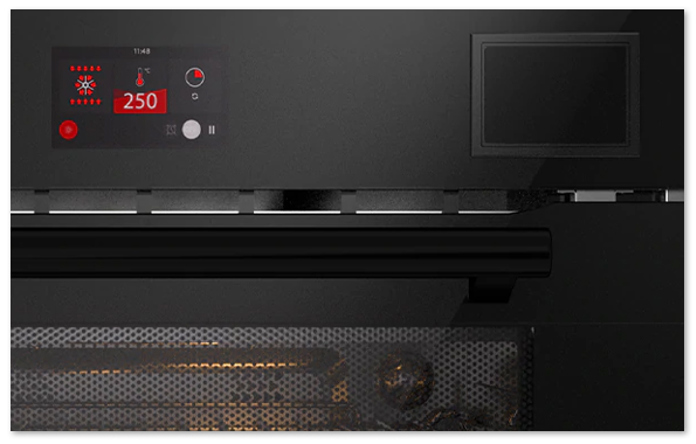 The Ultracombi oven shows off the Nero style, with a black gloss triple glazed door with a 36 litre oven providing you with three cooking methods in one single oven, using advanced technology to allow you to mix steam, microwave and conventional cooking. When using the steam option, the heat can be adjusted by just 1 degree at a time which is perfect for when you are using the sous-vide cooking method, enhancing natural flavours whilst providing healthy food. It also uses a refillable water reservoir at the front of the oven to ensure you don't need to open the oven door to check on your food or check on the temperature, you can just place your food in the oven and leave it until it's ready.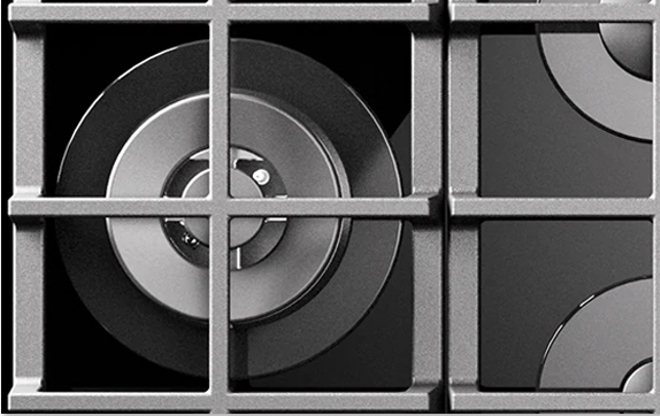 This 90cm gas hob features five exceptional solid brass burners and cast-iron pan supports, which are hard wearing, heavy duty and easy to clean. With single-handed ignition, you can choose from a powerful 4kW wok burner, 2 x 1.75kW small burners, 1 x large 3kW burner and an auxiliary burner. Each of which have a flame failure device connected to ensure if the flame is extinguished for any reason, it will stop the flow of the gas through the burners.
To view all of the ILVE built in products and to find out more about those that are mentioned in this post, visit our website now. Or, you can call our team on 01244 402 975 and they will be happy to help you.