ILVE's Re-engineered 2020 Collection
One of the finest range cooker brands you will find is ILVE, and as this revered manufacturer has recently re-engineered its famously well-appointed collection we thought our potential customers would appreciate a closer look.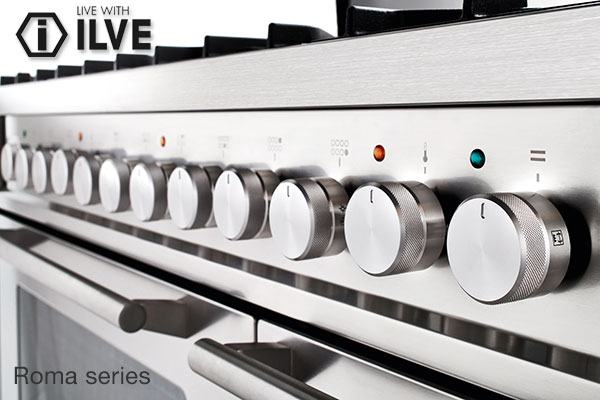 A globally renowned cooker brand and family firm for over 60 years, every ILVE range cooker is hand-built by an experienced engineer at their impressive state of the art factory just outside Venice. Consequently, ILVE range cookers have gained a well-deserved reputation for quality and refinement, and the overall solidity of these cookers and the integrity of every component is very apparent - from the metal controls to the triple-glazed doors and the gentle hum of the ovens you soon know you are cooking in a different league. With head-turning good looks, ILVE ranges have always been something rather special, with:
Triple glazed doors - quiet and efficient
Rapid-start ovens - 6 minutes to 200°
Dedicated pizza setting
Advanced E3 digital temperature control
30 to 300°C temperature range
Individual cast iron pan supports
Professional-grade gas burners
Optional dual control burners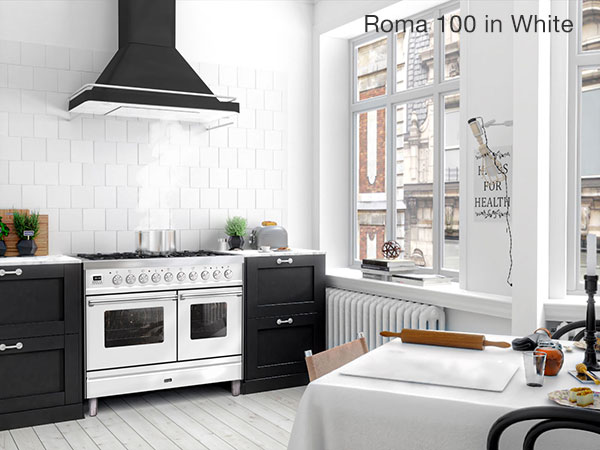 Under the skin these premium ranges are every bit as good as they have always been, of course, but with some thoughtful improvements:
Larger oven capacities
A+ energy ratings
Oven humidity control via steam valve
Easy-clean enamel oven interiors
Two-height halogen oven lighting
Thicker shelving
Soft-close doors and storage drawer
Solid brass gas burners with black easy-clean nanotechnology coating
Increased burner power
Hob Options
Always a great option, ILVE have modified their superb Fry Top feature, which is still constructed with 8mm solid stainless steel, but now sits over two conventional gas burners rather than a single long fish kettle burner, which had little practical use when used in its own right. If you choose to go for an induction hob on a 90 or 100cm model this now has five zones rather than the previous but unusually generous six. If you are a professional chef, or aspire to be, there is also the familiar Coup de Feu hotplate, a cast iron surface delivering even heat and which allows you to move pans to where you need them, with removable rings for more direct access to the 5kW burner should you need it.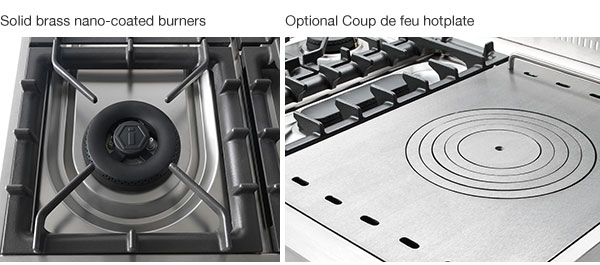 Traditional or Contemporary Styles
Made in two distinct styles, the heritage-style Milano and the clean and contemporary Roma, the formula has remained largely unchanged for 15 years or more. This "if it ain't broke, don't fix it" approach has served the brand well, albeit with some pressures from UK distributors, but the both market and consumer expectations have evolved, so the Italian engineers have been working away on the welcome upgrades that we can now see on the 2020 collection. The Milano/Roma approach remains, and cosmetically both styles are pretty unchanged, more so the Milano which retains its distinctive arched windows, metal control knobs (available in four finishes) and matching finial-style door handles. The Roma, however, now sports some all-new control knobs in turned aluminium, with very smart and appealing knurled detailing, lending the whole cooker a very professional persona which exudes engineering quality.

Majestic Series
All the new upgrades also apply to the enhanced and elegantly grand Ilve Majestic series, which takes the brand's heritage Milano styling to new heights with a deeper front-to-back format (70cm), more sculpted front facia with decorative trim, and an all-new touch control programmer display. The Majestic is highly popular in the USA, so the 120 and 150 models actually follow 48 and 60 inch conventions, which work out slightly bigger.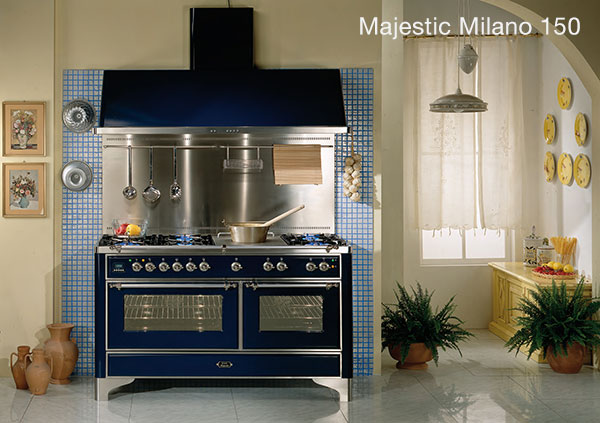 It is only when you come to cook on an ILVE that you will fully appreciate how incredibly good they are, and how much more pleasure this brings to the process of producing wonderful food. This has always been the case, but this latest generation takes things to a new level. If, like the exemplary team at ILVE, you appreciate great food, great cooking, and great engineering, then you should work out a way of making an ILVE range cooker part of you life for the next twenty years or so. You will not regret it.