Induction Hobs: Should I Buy and Why?
When it comes to choosing a cooker, induction hobs have been a popular choice for many years. However, they are very different to the rest of the market so there is often the question of why should I buy? When it comes to cooking a lot of us still opt for the traditional gas or electric hobs, not knowing that induction cookers can often be quicker, cleaner and even safer. Here at Rangecookers we want to give you the lowdown on why you should give induction hobs a try...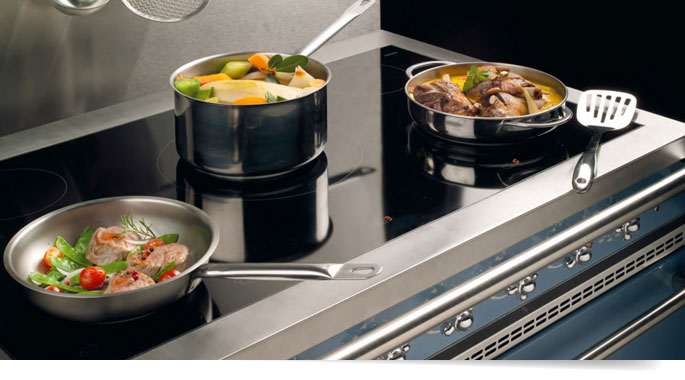 Now for the smart side…what is meant by induction?
Induction refers to the heat transfer when cooking. They may look similar to an electric hob, but they work in a completely different way. Beneath the hob's ceramic plate, induction coils made from copper create a magnetic field as electricity is passed through. If a pan made of a ferromagnetic material is placed on the hob, the magnetic field causes it to directly heat up. The benefit of this is the hob stays cool, with only a little residual heat from the pan. Because of this heat transferral method, there is a limited amount of residual heat on the hob's surface
A thermostatically controlled fan cools the electronic components below the surface. Due to the extra contact with the heat below it, induction hobs will stop the pan developing hot spots and therefore reducing the chance of burnt or scorched food.
Why should you buy an induction hob?
Induction hobs offer a few different things to consider when looking for your perfect range cooker. Here are some of the most frequent questions we get asked:
How responsive and easy to use are induction hobs?
We've all had times when we've turned away from our cooking for a couple of minutes and the hob has been covered with sauce or water! With the induction heating the pan directly, the difference is almost immediate when you increase or decrease the heat on your hob. Induction rivals' gas for both its responsiveness and precision. Electric hobs are often known for being slower at heating up, whereas induction hobs give you instant cooking control, therefore reducing the amount of wasted energy, with some saying they can even heat up a pan of boiling water quicker than a kettle can! Induction hobs also provide greater control through touch controls, making them extremely easy to use. So if you want a hob that is efficient and speedy, but also cools down fast, then an induction hob could be the ideal one for you.
How easy is it to clean an induction hob?
The ease in which induction hobs can be cleaned makes cooking with them all that more enjoyable. The flat surface means a hot soapy cloth can have your cooker gleaming again in no time. As the hob doesn't get hot, any accidental spillages that do happen to occur won't stick to the hob, meaning it can be cleared with just one wipe. Do always ensure the hob is fully cool before cleaning it.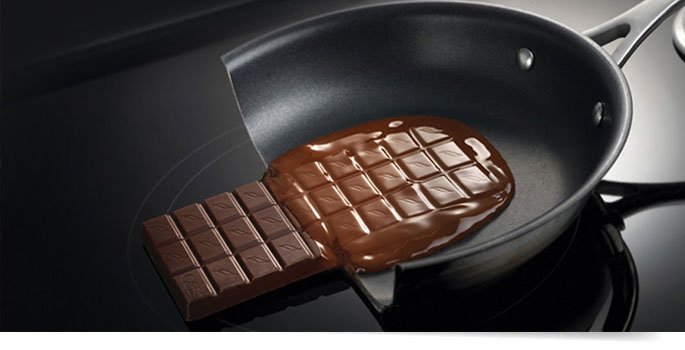 How durable are induction hobs?
Whilst induction technology is being continuously improved, it is a tried and tested format used on range cookers for over a decade. A good induction hob is said to be able to last between 10 and 15 years, depending on the manufacturer. For example, Smeg induction hobs are tested for 15 years of use.
How noisy are induction hobs?
A slight 'buzz' or 'hum' is common and can be louder at higher settings, however this noise is often no louder than a gas hob. There is sometimes a clicking of element electronics at a lower setting, as well as the sound from the cooling fan for the electronics.  
What is the environmental impact of an induction hob?
Induction hobs are more environmentally friendly than gas and electric hobs for several reasons. There is no excess heat, with all heat being concentrated inside the pan. Some induction hobs also include smart technology that can detect when a pan is absent, meaning they switch off to save energy.
Which pans should you use for an induction hob?
As there is a certain way an induction hob works, you need particular types of pots and pans. The most suitable for this have a flat base made of a ferrous material, or a 'magnetic' metal. This is quite common on most high-quality cookware anyway and will be labelled as suitable for glass ceramic induction hobs.
If the pan has a coil symbol on the base, this means it is suitable for induction cooking. Pots and pans with curved bottoms will not work as well with an induction hob, such as some woks for example. However, there are some flat-bottomed woks available, for example a cast iron flat-bottomed wok would be suitable.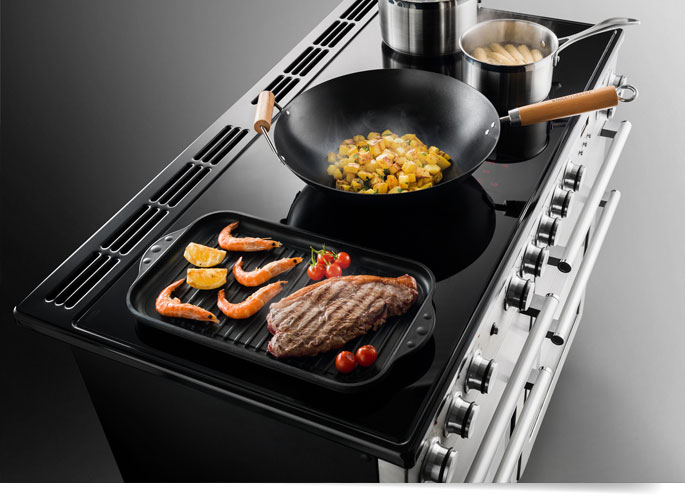 Choosing your Induction Hob
Induction hobs have become a feature in the collections of many manufacturers and are now more popular than ever in households all around the world, as well as the kitchens of professional chefs. Prices range from £1,195 for a DeLonghi Professional up to a Lacanche 220cm wide Vezelay Classic for £15,400.
Take a look at all of our electric range cookers here on our website. You can also contact our team on 01244 402 975 if you have any questions about our induction cookers or the technology used, they will be happy to help you!