With everything that the past two years have brought us, it has become a time for home improvements. Many of you may be considering investing in a new kitchen after spending so much time in the one you currently have. So whether you're planning on giving a simple update or starting from scratch, we want to give you some inspiration with the kitchen trends to watch out for in the year ahead.
The latest kitchen trends are bursting with colour and practicality. Materials in rich colour and an endless choice can make it hard to discover the look you want to go for, particularly for the room that it is considered the heart of the home. Here is a Rangecookers insight into what you should be considering for your kitchen refresh…
Bold Colours
We are all embracing more colour within our everyday lives, including clothes, accessories and now with home interior. There are different ways of doing this in your kitchen, maybe adding a splash of colour in with a bright appliance or choosing to be bold with your units and walls. Introducing bolder shades through cabinetry can often work better than you may think. Muted greens are on the rise, bringing a sense of nature and the outside world in. By choosing a more natural colour for your kitchen, it is easy to match with a stainless, cream or black range cooker for a contrasting look.
Whether you want to add a hint of colour or go really bright, we have range cookers to match. Many brands have the perfect colours to complement your overall design. Here are some of our favourites:
Stoves Richmond Colour Boutique in Bright Skies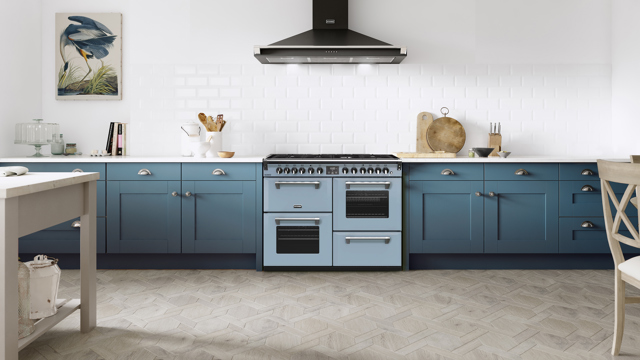 This stunning shade of blue is available only on the Stoves Richmond models, but its eye-catching beauty is hard to resist. The Stoves Richmond is a perfect match for both traditional or modern kitchen design. These range cookers are feature-rich and balance contemporary details with traditional character. Available in natural gas, dual fuel and all electric fuel types, as well as coming in 90cm, 100cm and 110cm widths.
Rangemaster Elise 90 in Mineral Green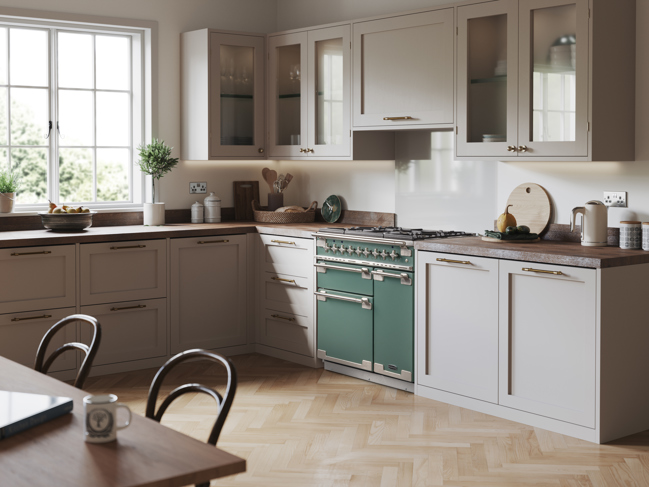 Rangemaster shades Stone Blue, Charcoal Black, and this beautiful Mineral Green, are all a subtle way of adding a minimal block of colour or blending your range cooker in with the rest of the interior. Perfect for modern spaces with classic warm wooden tones.
The Rangemaster Elise 90 brings a sense of elegance with its timeless style and solid doors. Gallic, faucet style controls mean it truly creates a presence between your kitchen cabinets. It has a multifunction main oven with an integrated grill and a fanned tall second oven that are completed by a separate grill that glides out for your use.
Bertazzoni Professional 90 in Aranci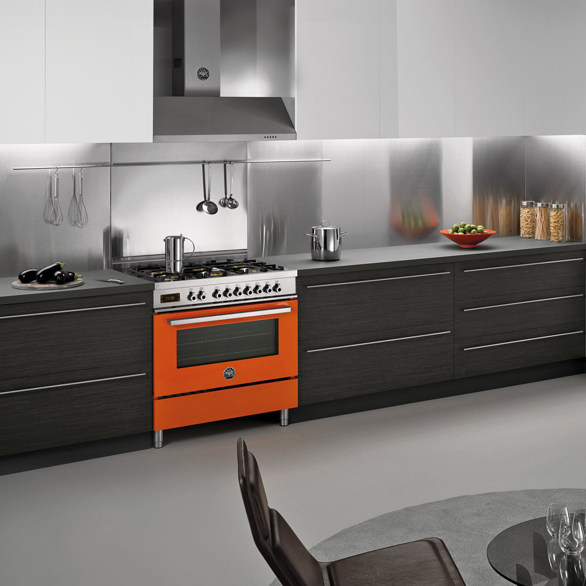 If you want to use orange in your kitchen but aren't loving the bright hues for your walls, try a more mellow vibe with an orange cooker. This simple block of colour can be added to both dark and light décor to create a warm and inviting focal point. This Professional 90 Single Colours comes with triple-glazed doors that minimise heat-loss and noise levels, plus easy to clean full-screen inner glass on the oven door. It also features a high-resolution LCD touch screen display and programmable clock/timer.
Statement Flooring
For kitchen flooring this year, there is predicted to be lots of patterned tiles, wood and checkerboard style. Wood effect flooring laid in a herringbone style is great for bringing in natural light and adding a sense of warmth to the space.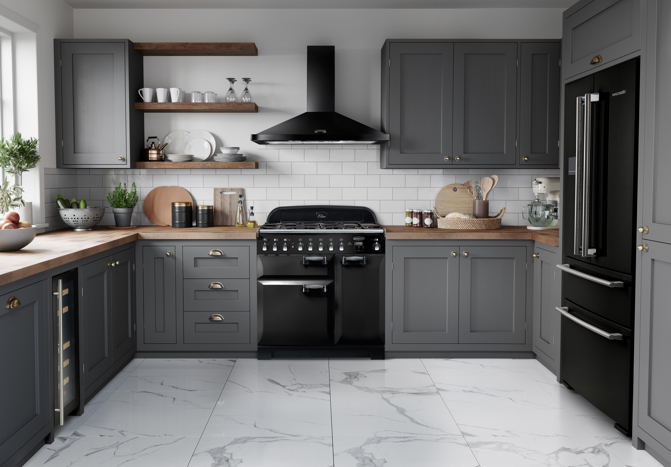 This marble tiling with the contrast of the dark appliances works perfectly. The Rangemaster wine cooling cabinet is integrated perfectly into the kitchen units. Traditional or contemporary, wine cabinets are designed to incorporate many features that will keep your wine in perfect condition. Here at Rangecookers we offer these stunning Rangemaster wine cooling cabinets, complementing your appliances in any style kitchen.
The Rangemaster Elan Deluxe range cooker is distinctly recognisable with its well-considered design, including spiral handles and unwindowed doors. It creates a traditional presence within a kitchen, with character and practicality. Available in sizes 90cm and 110cm, this collection is feature-rich and creates the perfect cooking experience with both multifunction and fanned ovens.
The Rangemaster refrigeration collection offer not only a stylish collection of range cookers, they also provide excellent refrigeration to complement these. With the DXD or SXS models to choose from, there is style to suit your kitchen. The DXD is a contemporary model, offering family-size storage and freezer space in the form of two easy access drawers. The SXS is an American style fridge freezer with a four-door format instead of freezer drawers.
Finishing Touches
First it was copper, then brass and now gold – we offer all of these as trims on our range cooker and built-in options. These luxury metal finishes have been making their way back into kitchen décor for years.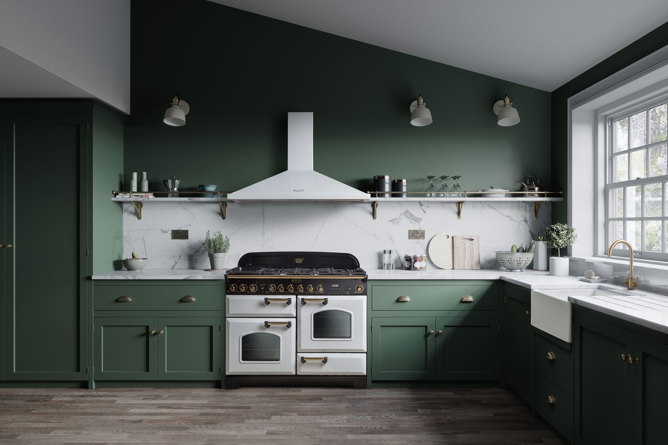 Brass is a standout choice for a range cooker. Available with premium brands such as ILVE, Lacanche and Rangemaster, this glamorous look highlights the warmth in a kitchen and particularly range cookers in colours such as red or green. Lacanche use natural, solid brass on their range cookers and this polishes perfectly to retain the beautiful look. We recommend matching with a Lacanche Bussy Classic 90 in Dark Olive or a Rangemaster Classic Deluxe 110 in Cranberry.
Copper is a chic finish to your range cooker and will stand out in your kitchen. A more elegant, delicate touch, this trim will match well with lighter hues such as white or pale colours including blues and pinks. Matching copper kitchen accessories look great with this trim, blending your cooker in to create a traditional aesthetic throughout the room. Available on this beautiful Bertazzoni Heritage built-in oven.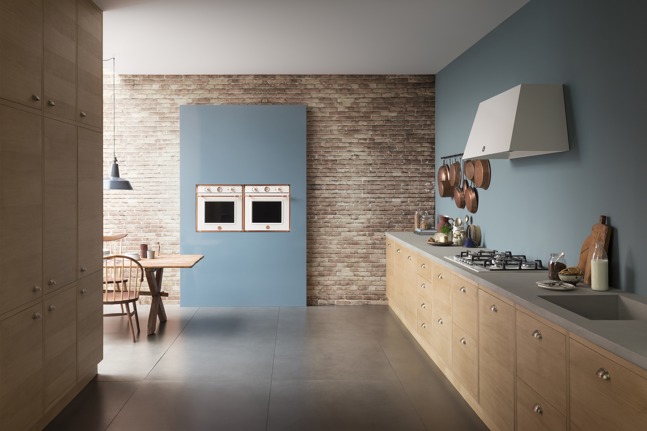 Integrated Appliances
The desire for a streamlined kitchen sees the trend of integrated kitchen appliances, that can often be concealed. Integrating your appliances can take the form of cabinetry to hide your refrigerator or a hood built in to the underneath of your units.
Installing built-in ovens is a great way of accomplishing a streamlined look within your room. Bertazzoni are known for their stylish range cookers, but their impressive built-in collection has fit in perfectly. An array of neat electric ovens and proficient gas and electric hobs makes this range a stand-out within a very crowded market. The detail in the engineering is sublime, giving these cookers and hobs the premium quality Bertazzoni are recognised for.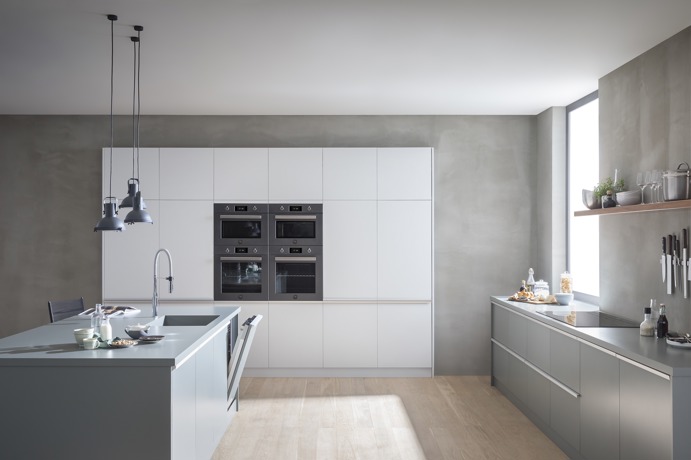 This Faber integrated hood is perfect for those who do not want to make their hood a design feature. This hood is seamless, compact and will not impact your kitchen's aesthetic. Under cabinet hoods can either include ducts that will transport the smoke and air out of the kitchen or without ducts that will recirculate the air back into the kitchen.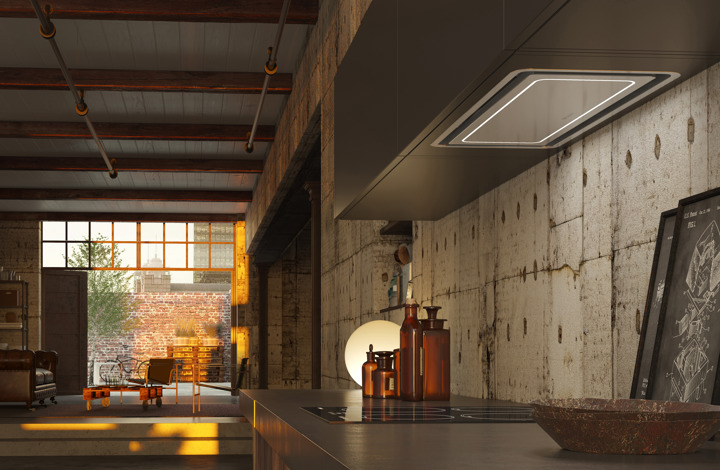 For any more design inspiration or to find out more about anything that is mentioned in this post, visit our website now or call our team on 01244 402 975.