Positioning Your Range Cooker
When it comes to positioning your range cooker, this will vary according to the product and the manufacturer. However, we want to give you a basic guide about installing and positioning that may help when purchasing your range cooker...
Firstly, there are a few things you definitely need to consider when installing your range cooker:
 Connection can only be made to a supply which is sufficient enough for the appliance you have purchased. In ALL cases, installation position must be approved be the engineer in situ.
 Adequate ventilation is required around the room. Proximity of surrounding and overhanging cupboards should also be taken into consideration.
 Allowance should always be made for side walls, particularly where appliances with side opening doors will be installed.
 All connection points must be accessible for servicing.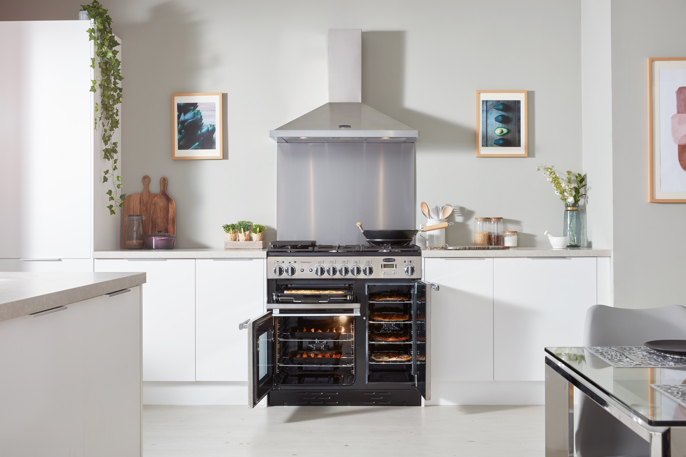 Will it fit?
A frequent question from customers looking to purchase a range cooker is what gap should be left either side of the cooker? The first thing to know is the exact size of your range cooker, and these are usually 5mm or so under the normal width, meaning if your space is actually 1000mm wide your 995mm range cooker will slide in neatly. Modern range cookers are very well insulated so do not need a large gap at the side of them, unless perhaps you want to position your cooker next to a refrigerator or a wine cooler.
However, some range cookers such as the Stoves Richmond models, do need a greater gap due to having a towel rail or handle, so it is always best to check with our team or the product manual to make sure you have enough space.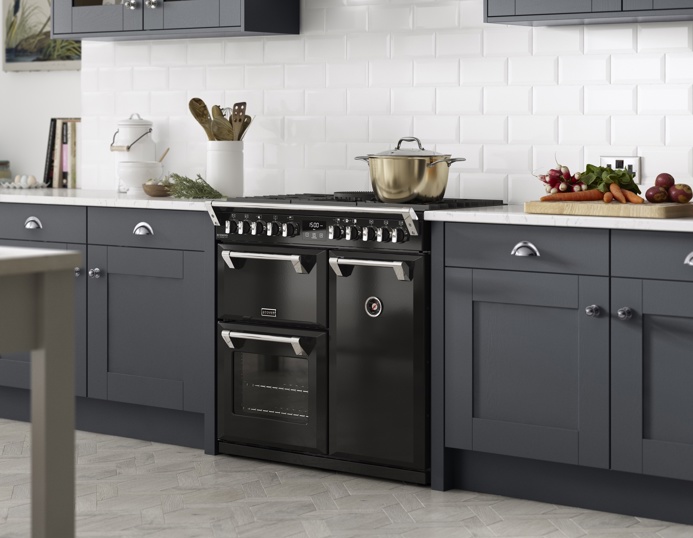 If you have an old cooker that is a particular width, but this is no longer available or you cannot find a replacement that is the same width, we suggest replacing it with the next size down, although this will of course create a slight gap at the side of your cooker. Odd sizes are rare but make sure to check this before purchasing if you do not want to replace your whole kitchen.
When positioning a range cooker into a corner, remember to allow enough space for the doors to fully open.
How much room do I need above my cooker hob if installing a hood?
General guidelines recommend a gap of 650mm from the top of an induction hob to the underside of your hood, or a gap of 750mm for a gas hob. However, this is not set and the cooker hood manufacturer will advise this on purchase. It will depend on the type of cooker hood, the extraction method and overall build quality. Many cooker hoods often leave a slightly smaller gap between the hob and the extractor. This can range anywhere from 450-650 for induction and 600-750 for gas.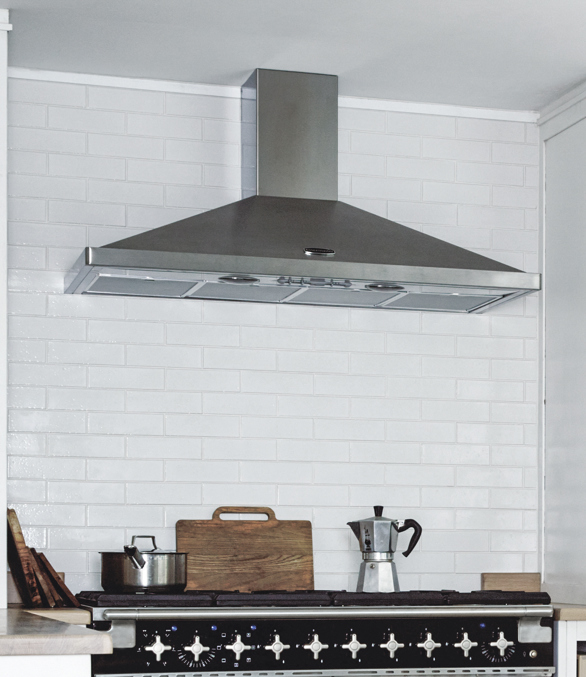 Here are just some of the range cookers we offer, but you can find out more about all of our cookers on our website here…
Lacanche Cluny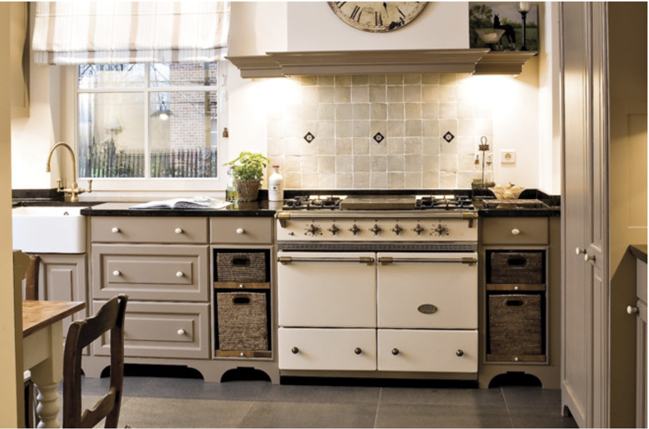 One of Lacanche's best-selling range cookers, this aesthetically pleasing symmetrical configuration offers versatility with two 55-litre conventional gas ovens and a five-burner classic hob. Both the Cluny Classic and the Cluny Modern offer ample storage space in the form of twin drawers and can be ordered in natural gas, LPG gas or all electric.
Rangemaster Classic 90 FX
This new dual fuel model is available in five colourways: Black, Cream, Slate, Stone Blue and Mineral Green, all with a choice of chrome or brass finishes for the controls, handle and towel rail. In addition to this, it has a colour matched fascia and a premium white time display. This exciting new cooker boasts a 114 litre oven, featuring a unique Energy Saving Panel (ESP) that allows you to split the oven in half. A five burner hotplate on top also now includes the added feature of a new, removable Teppanyaki griddle plate, making this a truly flexible and energy conscious appliance.
Rangecookers Select 90df3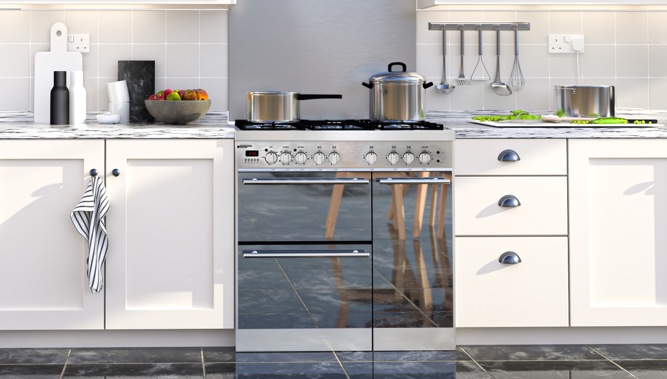 The three-cavity Select 90df3 gives the perfect mix of reliability, style and value for money. This modern cooker is ideal for all types of cooking, from batch baking to general cooking. The main oven door is windowed and a translucent mirror effect on the rest of the cooker helps the machine look good even when it's not in use. The third cavity is a variable electric grill with glide-out tray and on top are five gas burners with a powerful wok burner in the middle.
ILVE Milano
The iconic Milano is one of ILVE's more traditional style range cookers. It has the perfect blend of elegance and intricacy with a design that creates quite an impact. This beautiful range cooker is a powerful package.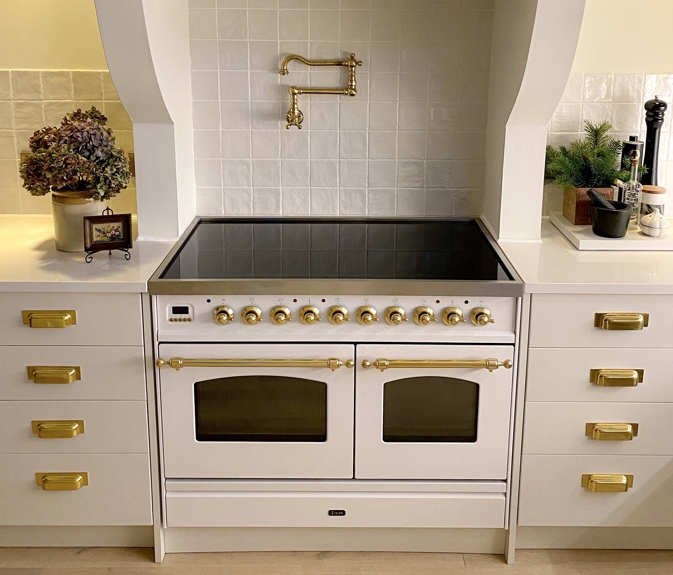 With premium trims to choose from, including Antique Bronze and Copper, it is easy to integrate this cooker into your kitchen design and colour scheme. The Milano 90 Twin 6 Burner is an enticing heritage style range cooker. This dual cavity range cooker offers attractive metal control knobs and matching door handles to create a polished look. Also featured is ILVE's unique E3 control that allows you to digitally adjust the temperature using a control dial to nudge the setting in five-degree increments.