Premium Range Cooker Finishes
Choosing a range cooker to suit your home and your lifestyle is an exciting prospect, and the priorities for this will naturally vary. Getting the look right is always high on the list, including the style and the colour. This may even go down to the finish used on the metal details, which is where you may be able to add some subtlety which will make all the difference to the overall effect.
It used to be a simple choice of Chrome or Brass, but in recent years some manufacturers have introduced other options, reflecting the appetites of UK customers increasingly informed by not only the style magazines, but by style blogs and all manner of social media. Kitchen suppliers are now offering a whole variety of lovely options when it comes to handles and detailing.


ILVE
This top-notch Italian manufacturer has for a long time offered a choice of chrome or gold trim on their elegant Milano series, and have recently added Antique Bronze and Copper to their list of options, albeit for a small premium. These beautiful finishes have been developed to add some subtle sophistication to traditional kitchen settings, and to compliment modern kitchen choices.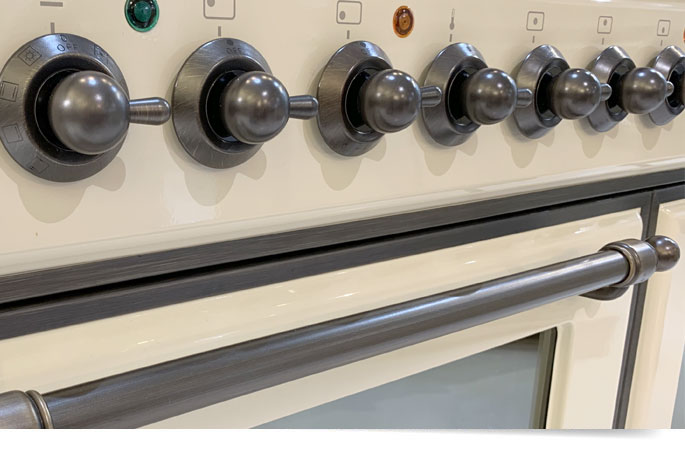 For those who find the joyful brightness and warmth of Copper too contemporary, Antique Bronze plays a much more subdued note, tuning into a rustic heritage very well suited to the Milano's finial detailing. This excellent range has always been a class act, brimming with competence, refinement and cooking finesse, and it is great to see the collection extended this way.


Lacanche
Much could be written about Lacanche's established reputation as one of the world's finest cooking brands, and its presence in some of the world's finest kitchens. Their amazing range cookers are built like no other, with an incredible choice of widths, formats and professional cooking features delivering both power and prestige. The family which owns Lacanche also owns an enamelling factory in Switzerland, which is how they can also offer their potential customers a choice of over thirty gorgeous colours, and the opportunity to match these with a choice of SIX metal finishes for their distinctive door and towel-rail ends and control knobs.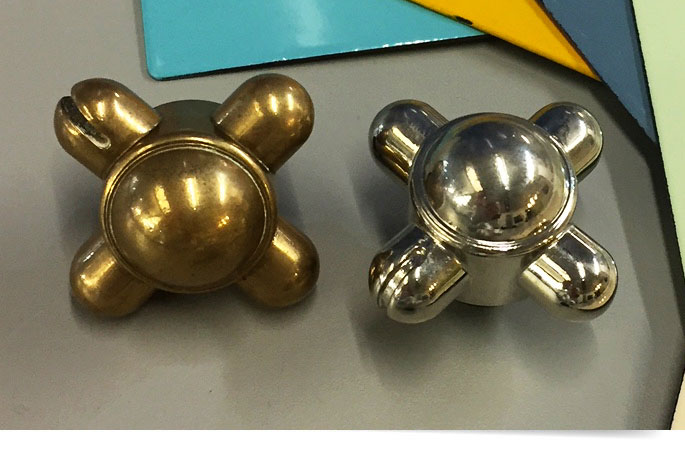 Chrome, Nickel (a warmer variant of chrome), natural Brass, Brushed Stainless Steel, Matt Chrome, plus the recently added Copper - all machined from satisfyingly solid metal, and all with something to offer when matched with your ideal range cooker finish. A Lacanche is the ultimate dream cooker, so having this much flexibility of choice is an important part of the process which ensures every dream is fulfilled.


Steel
Another high-end Italian manufacturer with a perfect blend of engineering competence and design prowess, Steel's stunningly good Ascot series offers some cleverly considered colours, with a choice of four trim finishes, with Nickel and Bronze as well as the usual Chrome or Brass. Bronze brings some wonderful heritage richness to the warm neutrals of Sisal, Cotton and Cream, and pairing Nickel with these shades instead of chrome subtly changes the dynamic to add warmth whilst retaining a more contemporary edge.
All of these finishes help to further enhance the Steel Ascot range, already something very special, and make it into a real head-turner which will make it the focal point it deserves to be.


DeLonghi
You are probably thinking that this is all very well if you have a healthy budget to spend on a posh cooker, but there is hope for those with more modest means. Our own design team has been working closely with DeLonghi to add a new finish to their excellent and popular Vintage range cooker collection, and together we are assessing both Copper and Antique Bronze.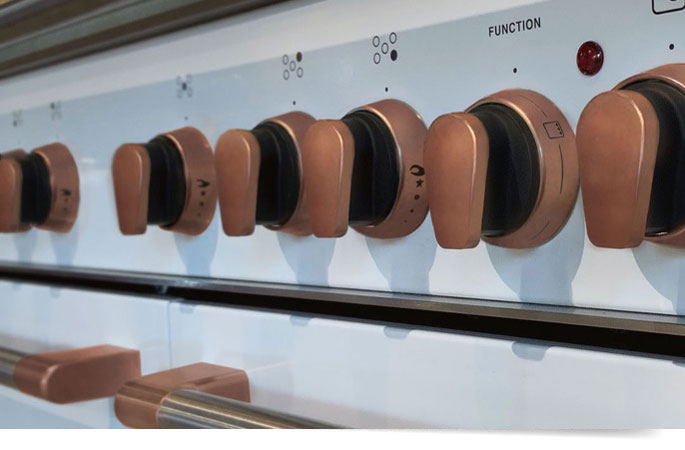 DeLonghi build good quality ranges and offer them at an affordable price, and their flexible approach to design enables them to consider and respond to market trends to ensure that their products catch the eye of style-conscious cooks and deliver maximum appeal.


The process of plating metals is something of an art, which is why there can sometimes be a little extra to pay for these special finishes. However, the difference they can make to your overall look is worth every penny, in our opinion. Copper, in particular, is very on-trend yet very classic, and works wonderfully with certain colours. With so many copper small appliances, cookware items, taps, light fittings and general accessories available you can really make a statement. Equally, Bronze has so much integrity as a finish you can build your kitchen around, imbued as it is with notions of classic sculpture and heavy engineering, not to mention heritage and history. Opportunities to do things a little differently in the kitchen are not going to appeal to everyone, but if you have an eye for detail then you may want to give these stunning finishes some healthy consideration.