Rangecookers Best Buys Under £1500
An essential ingredient in any household, a range cooker can provide a kitchen with a hint of colour, character and warmth. Whether the cooker you choose is a sleek and subtle design or an Instagram worthy pastel shade, it can change the decor of a room instantly. 
Cooking food to perfection, a premium model range cooker can often cost you anywhere upwards of £2000. A range cooker is an investment purchase, but it doesn't have to be as expensive as you think. Here is our pick of the best range cookers under £1500...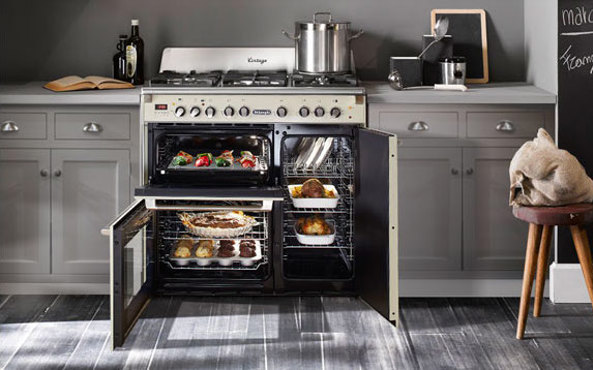 DeLonghi Vintage 90DF Cream, £1,195
Much like the DeLonghi Professional, the Vintage 90DF is a great price for the high-quality features shown throughout. This three-cavity model is not only visually appealing but has an equally pleasing specification. The main oven has eight different fanned and conventional cooking functions and includes a grill. The tall second oven is also fanned and includes a useful plate warming rack, making it perfect for batch cooking. The hob on top is made from a sheet of stainless steel, meaning this cooker is a dream to clean.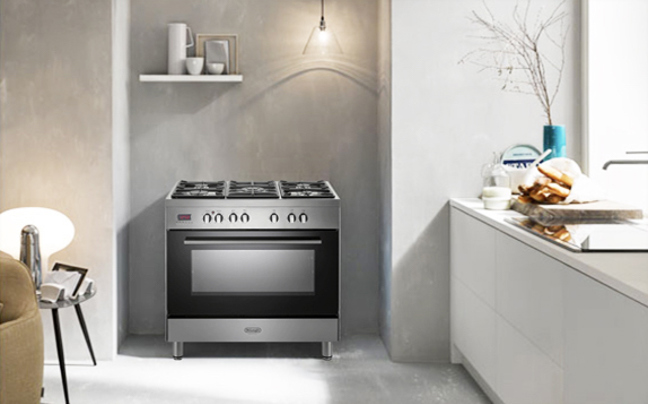 DeLonghi Professional 90DF Single, £675
DeLonghi range cookers are known for their clean lines and elegance, but they also offer well-considered design features for a very fair price. The Professional 90DF single cavity model comes in at the lowest price for all the cookers on our website, but it doesn't mean it lacks in quality. The specification is just as pleasing as the price, with the large programmable A-rated main oven featuring four different fanned cooking functions that also includes a grill, easy-to-clean vitreous enamel and an interior halogen light. Below the oven is also a drop-down door, uncovering a very useful extra storage space.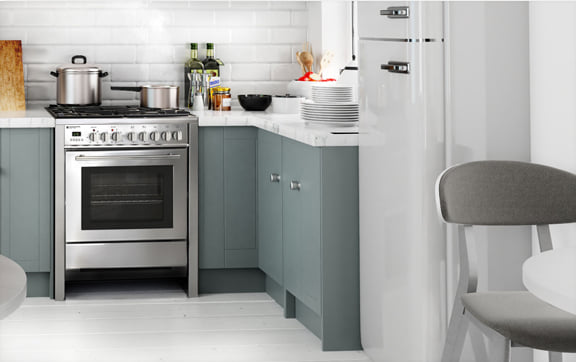 Rangecookers Select 70DF, £1,095
The Select series has been designed to appeal on both quality and style, with stainless steel t-bar handles and cast-iron pan supports. This nicely sized 70cm range allows smaller kitchens to still benefit from the increased cooking capacity of a range cooker but without the overpowering size. 70cm range cookers are a rare size and they are a great option for those looking for slightly more than the standard 60cm. This cooker offers a 53-litre programmable multifunction cavity, with variable grill, plus a drop-down double glazed door with removable inner door glass.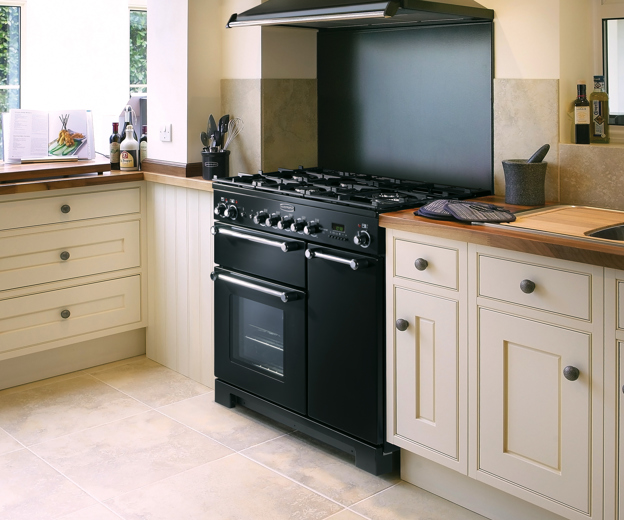 Rangemaster Kitchener 90, £1,495
The Rangemaster collection is aspirational but not over-expensive, with them delivering their usual high-quality specification and great cooking features but at a reasonable price. Known for their well-appointed kitchen appliances such as refrigerators and wine coolers, Rangemaster has become a respected brand in the homes of many. The Rangemaster Kitchener offers a simple design but with impressive features, such as its large gas main oven and tall fanned electric oven. The separate gas grill has a slide-out grill pan and lastly on top is a five-burner gas hob.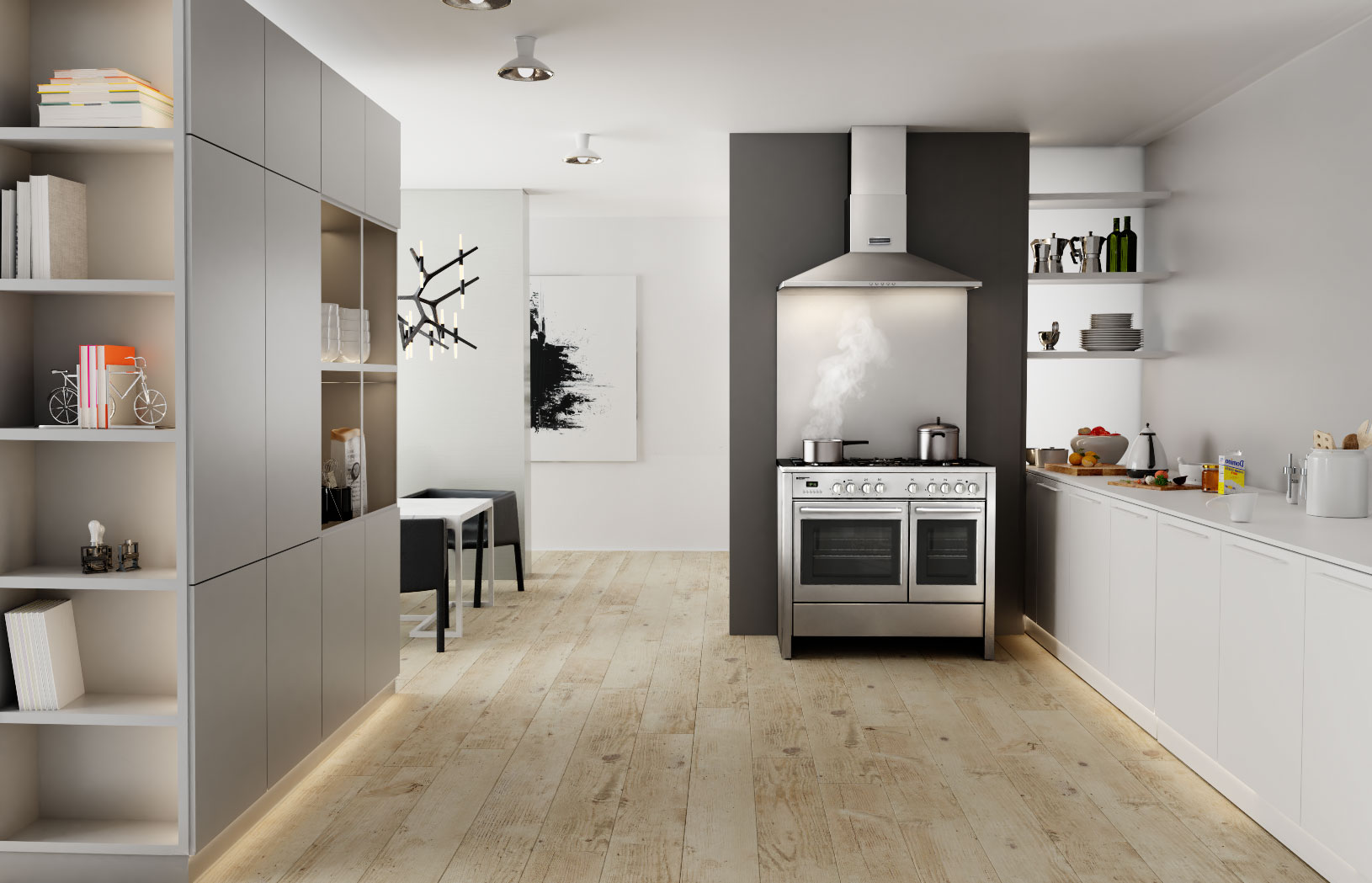 Rangecookers Select 100DF2, £1,395
The Select 100df2 range cooker is a good way of staying within your budget without compromising on the quality. It features a multifunction, programmable main oven and a conventional second oven. Alongside this are two integrated grills and single-handed ignition. This range cooker represents great value for money, with it being manufactured to Rangecookers' considered specification at a specialist Italian factory. With a two-year parts and labour warranty, this cooker is proven to be a sound investment for anyone.
When planning a complete kitchen renovation, money is often the only thing stopping you having everything you want. With these range cookers, however, money is no worry as the lower prices still mean you are getting everything you would need from a top-quality cooker for a fraction of the price!
Let us know your favourites and don't forget to tag us in all your photos!
If you have any questions about the cookers mentioned in this post or you need a bit of inspiration, head to our website here for more information. Or you can call our team on 01244 402 975 and they will be happy to help you!