Red, White and Blue...Range Cookers?
The Queen's jubilee week has arrived with an array of patriotic decorations and Union Jacks waving. Whether you're celebrating at home, joining a street party with your neighbours or enjoying a picnic in the park, we want to bring you some of our very own red, white and blue in the form of (of course) range cookers.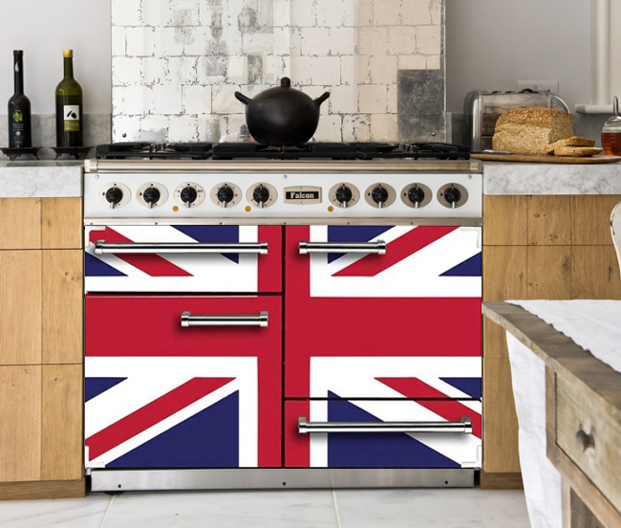 As we get closer to the highly anticipated four day weekend, we want to bring you some inspiration for your brand new range cooker with our pick of the best red, white and blue range cookers available here at Rangecookers.co.uk… 
Red
Rangemaster Elise in Cherry Red
The Elise model has the aesthetic feel of a traditional French style range cooker. Available in sizes 90cm and 110cm, this professional looking appliance allows flexible oven cooking with a multifunction main oven and a fanned second oven. All Elise range cookers also come with a handyrack and separate glide-out grill.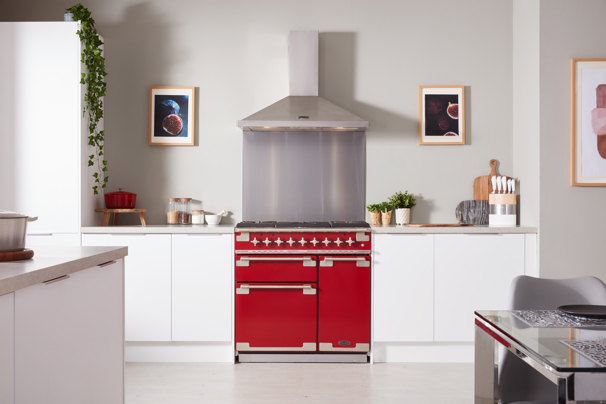 This 90cm model features geometrically designed solid metal control knobs with a brushed chrome finish, with a towel rail and plinth trim adding to the traditional look.  A multifunction main oven (with integrated grill) and fanned tall second oven are complemented by a separate slide out grill. In keeping with other 'gastronomic' range cookers, this model does not feature a clock/timer. On top a five burner gas hob is enhanced by some nicely detailed semi-gloss cast iron pan supports. This model is finished in Cherry Red.
The Stoves Richmond oozes elegance and desirability. The perfect choice for both modern and traditional kitchens, these range cookers are feature-rich and balance contemporary details with traditional character. Available in natural gas, dual fuel and all electric fuel types, as well as coming in 90cm, 100cm and 110cm widths.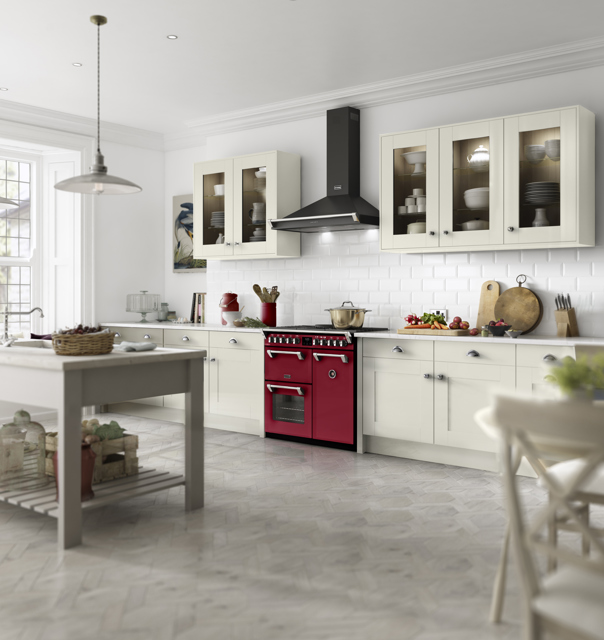 This 90cm dual fuel model is the perfect choice for both modern and traditional kitchens. With a multifunction Equiflow main oven, a handy second oven above with Maxi-grill, and a very impressive Quad oven on the right, with a characterful temperature dial on the door and useful ProFlex feature, which will split this copious cavity into two independent fanned ovens for maximum flexibility when occasion demands. With this Deluxe model you also get a superb Steam and Infuse oven accessory to give you healthier, more flavourful results. On top, five gas burners are housed beneath Pan-Glide cast iron supports within a single-pressing enamelled hotplate, and there is a powerful 4kW central Powerwok burner to give you brilliant quick-boil or wok cooking capability when you need it. The Stoves Colour Boutique range offers this stunning Chilli Red finish.
Bertazzoni Professional in Rosso
The Professional series offers premium Italian quality in the form of solid, functional design and all the most popular Bertazzoni refinements. All Bertazzoni models come with triple-glazed doors which minimise heat-loss and noise levels, and enhanced insulation materials to maximise energy efficiency. Featured on the Professional models are five shelf positions clearly lit by two oven lights, and ample storage for all your cookware and accessories in a handy compartment below. On top are high quality gas burners that provide both power and efficiency, with clean combustion providing quicker boiling times and reduced gas consumption. Available in the lovely Rosso red.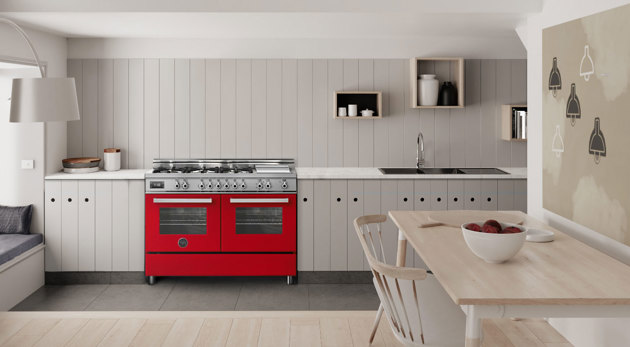 White
DeLonghi is a renowned and trusted brand and have been making range cookers in their Italian based factory for many years. Their Vintage collection is a particular favourite, available in stunning colours such as Slate and Burgundy. With their distinctive Italian styling and considered features, you can't go wrong with a DeLonghi.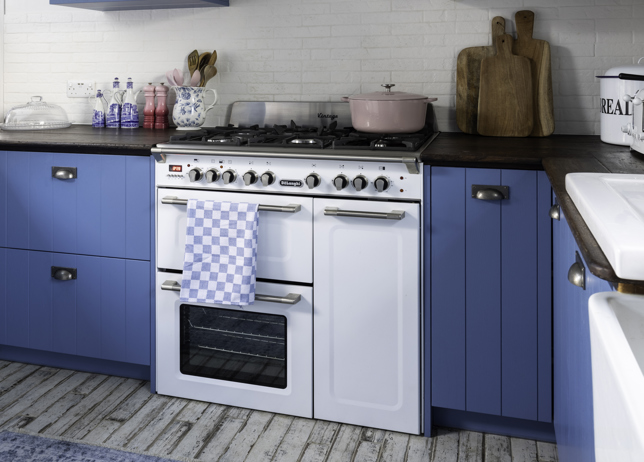 The programmable A-rated main oven has 8 different fanned and conventional cooking functions and includes a grill, and the tall second oven is fanned, making it perfect for batch cooking, and includes a useful plate warming rack. Inside the separate grill compartment there is a grill pan on telescopic runners for safe and convenient operation. The oven cavities are all coated with a special easy-to-clean vitreous enamel and the double glazed doors feature removable inner glass panels.
The eye-catching Smeg Portofino is perfect for transporting you to the Italian Riviera with a showstopping design inspired by the beautiful Italian village. With a bold and bright palette, this Smeg range offers a strong aesthetic in the form of fresh quality and performance. Stand out colour is not the only thing this range cooker has to offer, with a solid design and practical but stylish features. The 115-litre oven has 12 cooking functions, including an eco mode and a keep-warm and low power mode. Everything is digitally controlled using the large, professional style metal control knobs. The Portofino comes in widths 90cm and the larger 120cm, which includes a 70-litre multifunction oven and a second 63 litre multifunction oven that features 8 different cooking functions.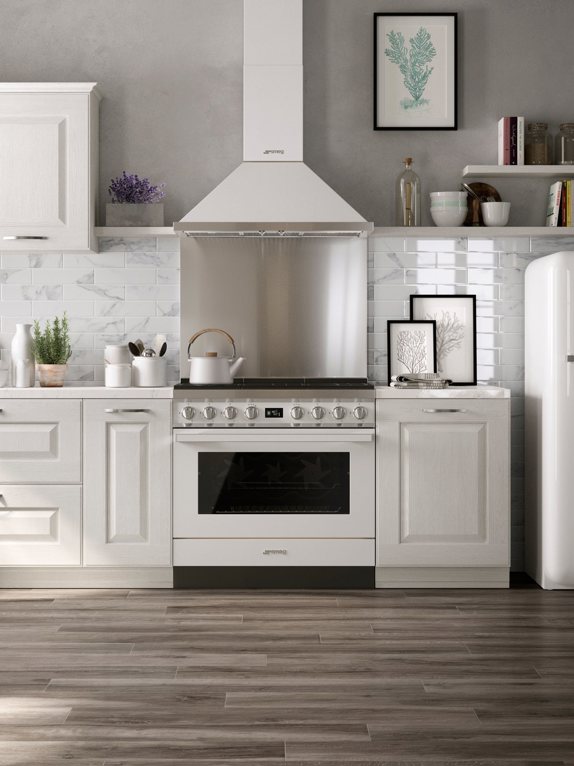 Rangemaster Classic in White and Brass
The Rangemaster Classic's traditional styling makes it a popular choice within many homes. Perfect for kitchens with wooden cabinetry, the Classic collection of range cookers combine smart bevelled doors and detailed arched glass windows, plus a handy towel rail for keeping both tea towels and oven gloves right where you need them most.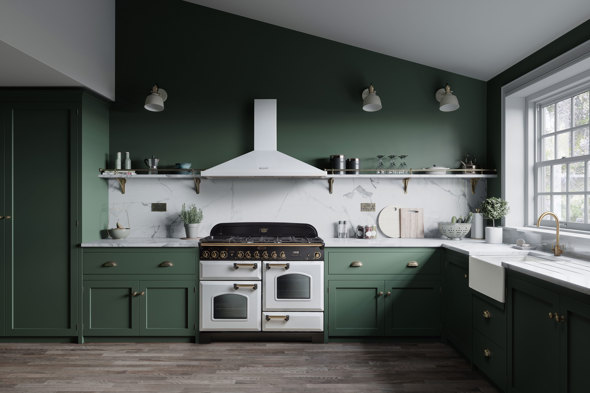 All Rangemaster models feature a handyrack, attaching to the main oven door so you can pull out your roasting tray with ease and safety. The rack can hold a joint of meat that is enough to feed up to 12 people, which makes it great for Christmas time. Available in three widths, 90cm, 100cm and 110cm and natural gas, LPG gas, dual fuel and all electric fuel types.
Blue
Rangemaster Classic 90 FX in Stone Blue
Perfect with its traditional styling, this large single cavity range cooker takes its aesthetic from the very popular Classic collection. This brand new range cooker features the recognisable baker-style window along with a full width towel rail, classic control dials and optional mini splashback.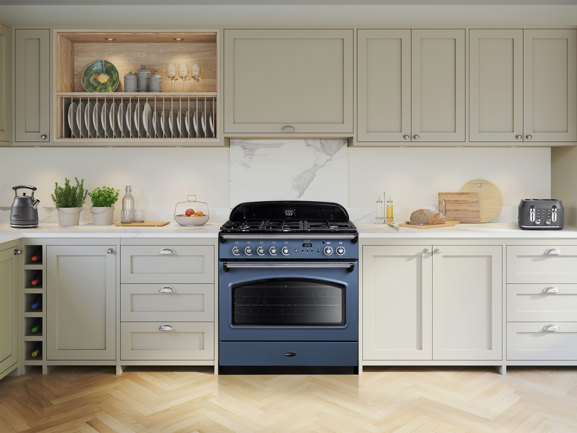 This new dual fuel model is available in five colourways: Black, Cream, Slate, Stone Blue and Mineral Green, all with a choice of chrome or brass finishes for the controls, handle and towel rail. In addition to this, it has a colour matched fascia and a premium white time display. This exciting new cooker boasts a 114 litre oven, featuring a unique Energy Saving Panel (ESP) that allows you to split the oven in half. A five burner hotplate on top also now includes the added feature of a new, removable Teppanyaki griddle plate, making this a truly flexible and energy conscious appliance.
The iconic Milano is one of ILVE's more traditional style range cookers. From its attractive metal control knobs and matching door handles to its soft close, cool touch triple glazed doors, this cooker brings quality and advanced technology.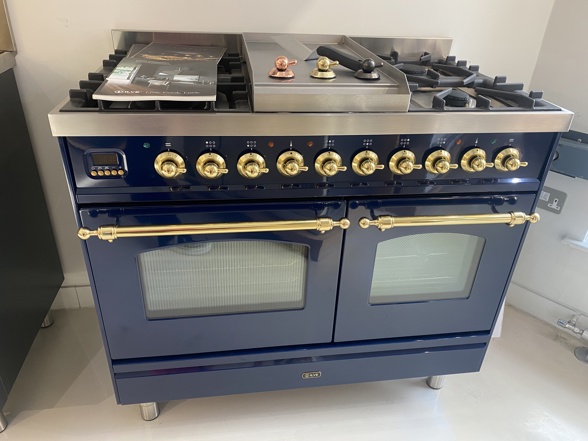 The versatile 65 litre multifunction oven gives you 15 fanned, conventional and grill functions, with the 57 litre second oven offering non-fanned cooking and grilling functions. A soft close full width storage drawer also provides ample room for all those trays and cooking accessories.
Lacanche Cormatin in Portuguese Blue
The Cormatin comes in both classic and modern models. This compact models offers just as much as those that are larger but, despite being on a smaller scale, can still provide professional performance. On the Cormatin Modern 70 is a 73-litre gas oven that is paired with a powerful three burner gas hob. The choice of cooking with or without a fan is all yours through the use of a simple switch. There is also a storage drawer below the oven. The Cormatin Classic offers the same compelling cooking credentials as the Modern but with a more traditional look.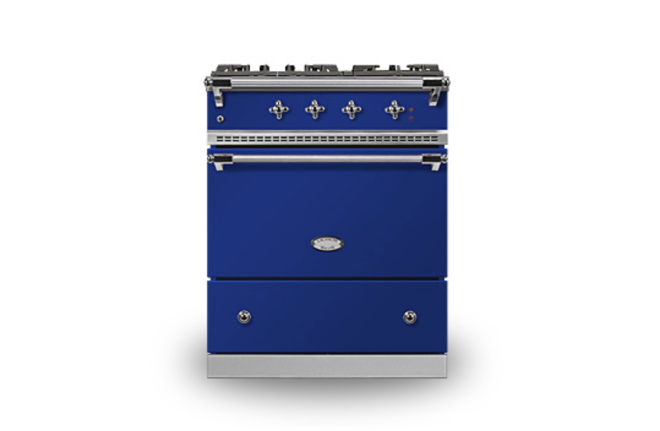 To find out more about any of these models, visit our website here or call our team on 01244 402 975, and enjoy the weekend's celebrations!