Spring has sprung and it is time for a new look. Not only a wardrobe needs a spring transition, your kitchen may be in need of one too. The best spring updates will also last you through summer and autumn too, with just some simple tweaks making it a warmer place in winter.
The latest kitchen trends are bursting with colour and practicality. Materials in rich colour and an endless choice can make it hard to discover the look you want to go for. If you are wanting to invest in a range cooker, but aren't sure which to go for or if it will suit your new décor, we are here to give you a helping hand with your decision. Here is some inspiration for your new spring refresh…
Pastel Dream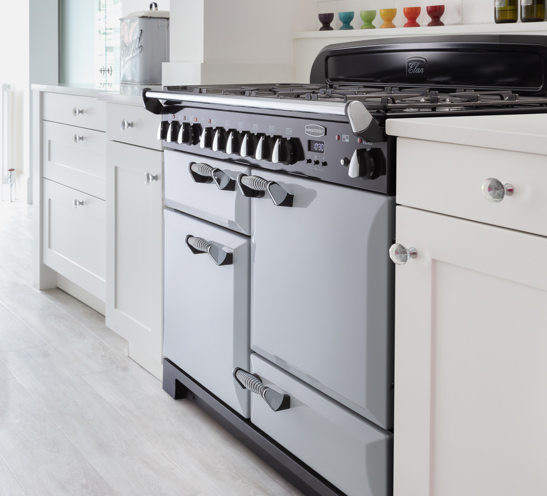 Bright seasonal shades and splashes of colour can work particularly well in a kitchen, especially when it comes to pastels. To energise the kitchen, pastels can be a striking way of adding colour to your interior. Added through certain features, such as your range cooker, and not as a solid colour around the room can help those features to stand out as a centrepiece. They are also a great contrast to dark colours, perhaps used on the cabinetry or the worktops. Use these colours to liven up your kitchen without ruining your colour scheme.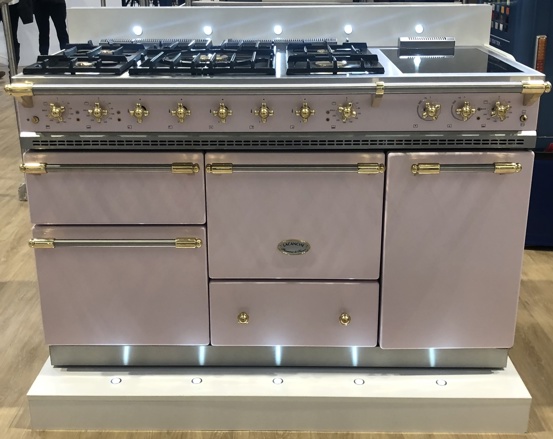 This Lacanche Chemin is an impressive four oven range cooker, and comes in the stunning pastel pink shade Rose Quartz. It features a 20 litre oven, one 55 litre oven, a 49 litre oven and a vertical 85 litre simmer oven on the right hand side. Plus a storage drawer, the five burner hob on top also allows for one optional integrated hob element for an additional price.
Monochrome Makeover 
Monochrome doesn't have to mean a completely dark space. By incorporating dots of black, greys and whites into your design adds to the rest of the kitchen. Whether you use it for your cabinetry, your splashback or your range cooker, monochromatic colour coordination makes a statement. Dark cabinetry or appliances contrasting against a white wall or surface create a bold piece, designed to draw focus to the appliances themselves.

This Bertazzoni Professional 90 Induction range cooker is finished in the brand new stunning colour, Carbonio. The main electric oven, on this 90cm single cavity model, has 11 functions ranging from convection and grilling to fast-preheat. A triple glazed oven door minimises heat loss, with the inclusion of soft motion hinges and an anti-slam closing system. On top you have the latest induction technology to give you ultimate power and controllability, and the added benefit of an easy-to-clean vitreoceramic surface, with five heating zone that include a booster feature, pot detection and residual heat indication for each zone.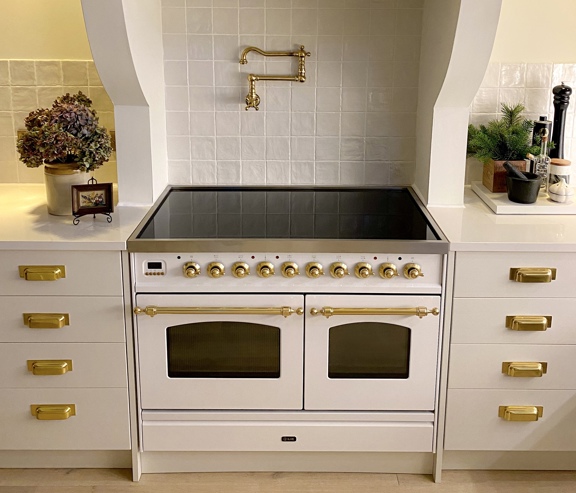 Hello Yellow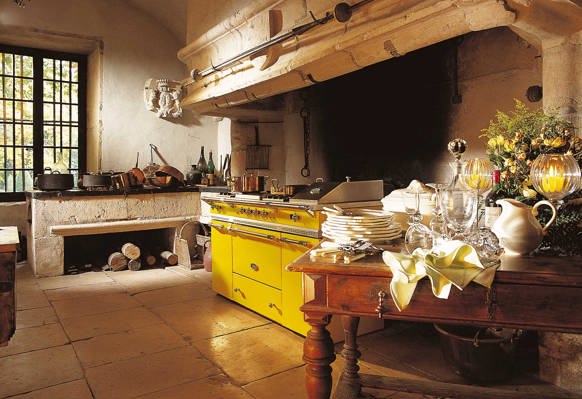 Whilst the colour yellow seems perfect for spring, integrating it into your kitchen can be hard. Too much yellow can be overwhelming, whilst not enough of it can make it pointless. Adding a block of colour, for example through your range cooker, is perfect for adding the colour you'd like without powering the room. Match with simple colours such as creams and whites and you will have a bright and warm room that will also take you through the months perfectly.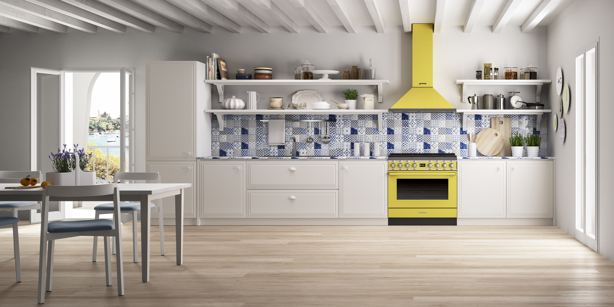 This Smeg Portofino in yellow is inspired by the hues from the yellow houses that line the shore of the dreamy Italian resort of Portofino. This cooker is a fantastic way of introducing colour into your kitchen with a bold and bright palette, offering strong aesthetic in the form of fresh quality and performance. The 115 litre oven has 12 cooking functions, including an Eco mode. The slick and very clear LCD display offers 20 automatic programmes (and a very useful at temperature alert), with everything digitally controlled via the large, professional style metal control knobs. On top beneath the crisp cast iron pan supports are six high-grade gas burners including an ultra-rapid 4.2kW burner at the front - great for fast boiling or wok cooking.
Trading Trims
You've found your dream range cooker and it's time to add the finishing touches. With a variety of trims to choose from, and chrome often being the trim of choice, there may be finishes you aren't even aware of.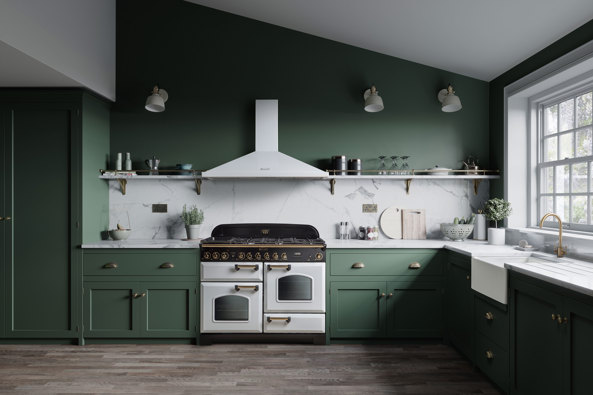 Brass is a standout choice for a range cooker. Available with premium brands such as ILVE, Lacanche and Rangemaster, this glamorous look highlights the warmth in a kitchen and particularly range cookers in colours such as red or green. Lacanche use natural, solid brass on their range cookers and this polishes perfectly to retain the beautiful look. We recommend matching with a Lacanche Bussy Classic 90 in Dark Olive or a Rangemaster Classic Deluxe 110 in Cranberry.
Copper is a chic finish to your range cooker and will stand out in your kitchen. A more elegant, delicate touch, this trim will match well with lighter hues such as white or pale colours such as blues and pinks. Matching copper kitchen accessories look great with this trim, blending your cooker in to create a traditional aesthetic throughout the room.
To find out more about all of the products mentioned, visit our website here or call our team on 01244 402 975.