Stoves Colour Boutique 2020 - Stunning Finishes Available Now
What better way to add a splash of colour to your kitchen than at its focal point - the range cooker? Stoves have championed this idea for years now with their Colour Boutique collection, and their latest 2020 revision of this is truly delightful.


Colour is a very subjective thing, especially when we are adding to our homes, and it is true to say that not all the colours in the previous Colour Boutique palette were big sellers. However, it looks like Stoves have put an awful lot of thought into their 2020 palette, and there is not a single dud to be seen. Much more tonal subtlety is in evidence, whether you want your colour to pop or to blend-in, and we think the reception to the range will be very evident in subsequent sales. Colour science is quite an industry, with specialist companies predicting and guiding trends in fashion and household products from year to year. No doubt the design team at Stoves have made use of this data, but making sure these colours have a long shelf life requires broader consideration, and we would say they have come up with an inspired and thoughtful selection.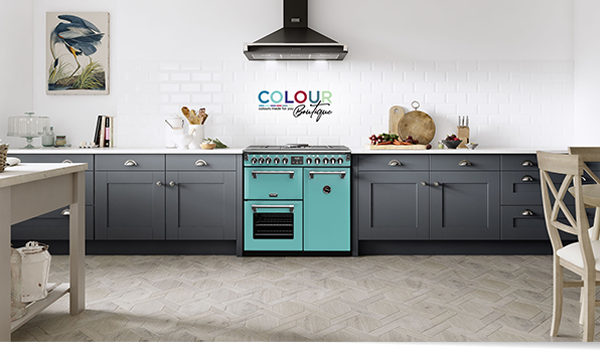 The Colours
By far the best seller previously was Jalepeño Red, now replaced by a pleasingly richer Chilli Red which really hits the mark - adding warmth without the glare. There is a choice of four stunning blues, each with its own gorgeous lustre, from the moody Midnight Blue and contemporary Thunder Blue to the deliciously retro flavours of Country Blue and Kingfisher Teal. If you want even more pop then there is the amazingly fresh Mojito Mint, which brings so much character to the party.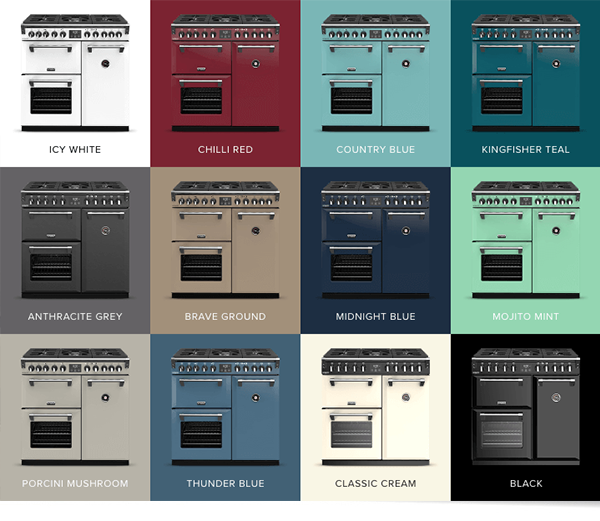 For those with simpler needs there is always Anthracite Grey or Icy White, or for some really stunning natural warmth take a look at Porcini Mushroom or the Dulux™ 2021 Colour of the Year - Brave Ground - luxuriously spectacular alongside walnut or other timber-finished kitchens or as a complement to dark grey, the choice is yours. Colour Boutique allows you to add so much individuality.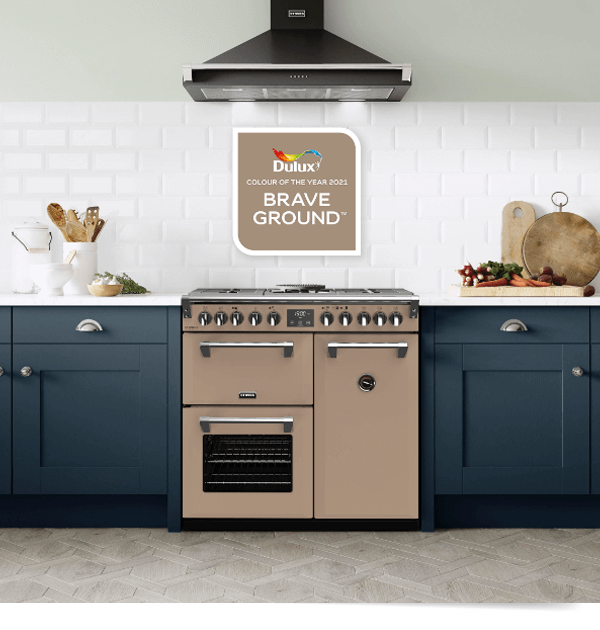 The Stoves Richmond Deluxe
Colour Boutique finishes are available on Stoves Richmond Deluxe range cookers, in 90, 100 and 110cm widths and gas, dual fuel and electric formats. A truly sophisticated product range, the Richmond Deluxe not only looks incredibly good in both traditional or contemporary settings, its feature-rich specification and rock-solid build quality makes it one of the best mid-range cookers you can buy.  Four-oven cooking capacity (even on 90cm models), powerful gas and induction hobs and Bluetooth connectivity are all part of the package, making the British-made Richmond Deluxe stand out from the crowd. As you might expect, you do pay more for the Colour Boutique models over the standard Black or Classic Cream, but it could be argued that this adds to the exclusivity, and you do end up with something you and your jealous visitors will admire for many years to come.


The Full Stoves Impact
For the complete look you should pair your Richmond with the matching Stoves Richmond Chimney hood, available in black to complement your cooker. There are also Colour Boutique models, but available in Classic Cream only currently. Stoves also supply glass splashbacks in Black for a very polished full presentation.


Stoves have always got it right with their Richmond and Sterling range cooker collections, and the story just gets better and better. The inclusion of this revised Colour Boutique selection is very good news for design-conscious UK cooks, whether loyal Stoves customers or new converts. Well-engineered, solidly-built in Britain, with sophisticated good looks and brilliant specifications it seems very apt that in their centenary year Stoves have put the icing on the cake with these stunning new finishes.