Stoves Colour Boutique Sets the Tone
If you are the kind of person who likes a little colour in their life then you may well extend this to your choice of cooker, and of course there are some manufacturers which do offer some more eclectic shades. One such is Stoves and their Colour Boutique collection.
Stoves Colour Boutique is available on their elegant Richmond Deluxe models - richly appointed British-made range cookers bristling with cooking features and oozing with quality and class. Stoves is a brand at the top end of the mid-market, so prices range from around £1500 to around £2500, depending on size and fuel format, taking into account the £300 premium you pay for the seven Colour Boutique finishes. Visually, the Richmond is a beautifully balanced range which manages to allude to all the tradition and heritage of range cooking, with its softly bevelled door fronts, full width towel rail and thermostat gauge on 90 models, but this is all achieved with a very contemporary flair, so this is a cooker which looks perfect in a whole variety of kitchens.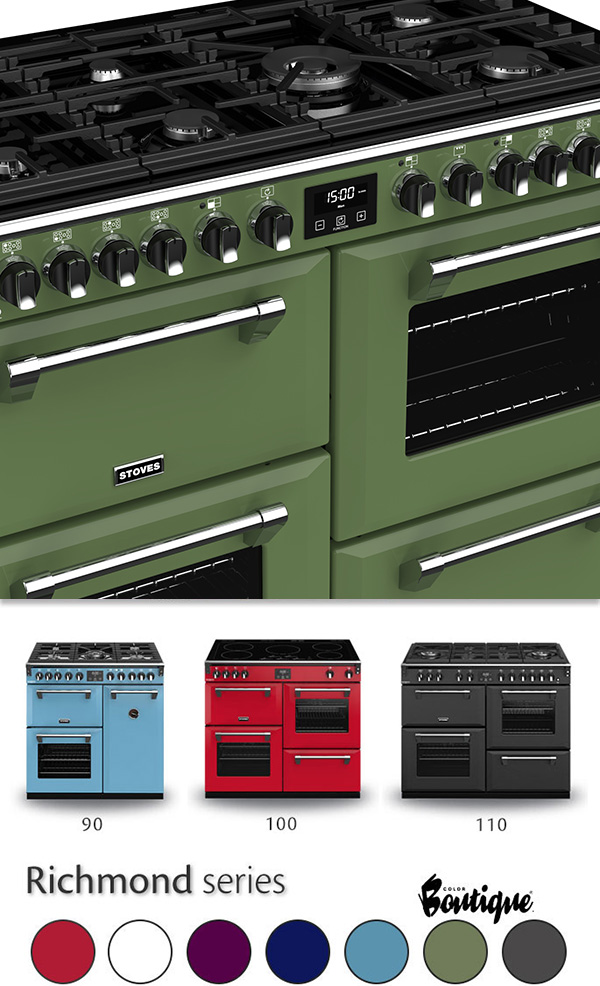 Unlike the standard Cream models, which retain a black control panel, the Colour Boutique models carry your chosen colour all the way up to the hotplate, which is always black enamel. The most popular choice is the Jalapeño red, a bright and cheery shade which people clearly love, and the new Anthracite matte grey is very on-trend. For our showroom display we chose Soho Green, which was originally introduced as a limited edition for Soho House & Co, a private members' club for people in the creative industries, but this lovely colour is now available to all, and looks terrific in white or off-white kitchens. Wild Berry is another of our favourites - a rich and plummy purple - but whichever colour you choose you can be sure your new range cooker will be a real show-stopper of an addition to your home and bring you many years' culinary and visual pleasure.
Formats
You have a choice of 90, 100 or 110cm widths, and four formats - all gas, all electric (with induction hob) or a choice of dual fuel formats: a conventional gas hob with enamelled steel hotplate and seven burners, or an innovative and practical gas-thru-glass hob which gives you the cleaning and visual benefits of a ceramic surface but with six gas burners (or five on 90 models). A feature of this format is its ability to deliver increased power, so on the 100 and 110 there are two 5.0kW burners as opposed to one 4.0kW burner on the standard hob (90 models have one respective wok burner).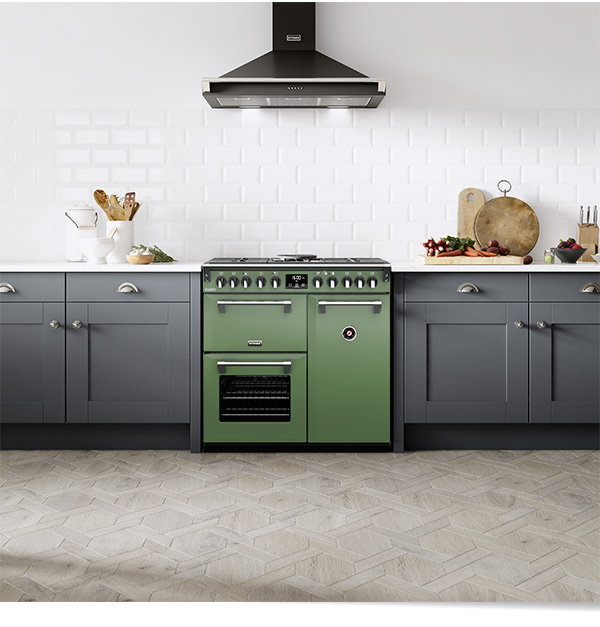 Every Richmond Deluxe features four independent ovens - even the 90cm models, which include a splitter panel for the tall fanned oven. The grill cavity doubles up as a conventional oven, and all main ovens are multifunction, with fanned, non-fanned and grill settings. The Deluxe spec gives you extras like thicker oven shelves (with telescopic guides), Bluetooth connected timer, a cast iron wok support and a Steam and Infuse oven accessory. The solid stance of the appliance, thanks to a strong Unicast chassis, speaks volumes, and the doors close with a satisfying clunk. Everything looks and feels great.
Matching Hood
The matching Stoves Richmond hood features the same decorative rail along the front edge, but as only one of the Colour Boutique finishes is available - Jalapeño red - you may have to be content with the standard but still very nice black.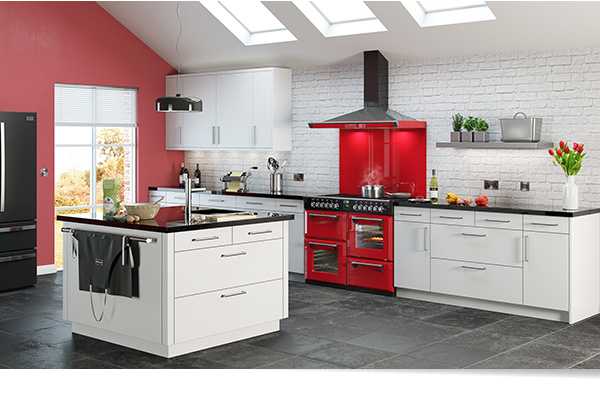 Kitchens offer a great opportunity to define the character of both your home and its occupants, and because we can spend so much time in this space it is important to get it right. Whether you play relatively safe with Anthracite or White, or push the boundaries with a big hit of Floral Burst, it is great to have a palette like this available. If Stoves have your chosen cooker in stock then you can have it in 10-14 days, but you should allow 4-5 weeks as it is more likely to be built to order - a short time to wait for something this special. Go on, you know you want to.