Stoves Deluxe vs Core Models
The current collection of Stoves range cookers is superb, with the three distinct styles (Sterling, Richmond, Precision) defined by two spec levels, the standard spec referred to as Core, and the enhanced Deluxe spec. We are often asked about the differences, so here we try to get some clarity to allow you to make the best choice.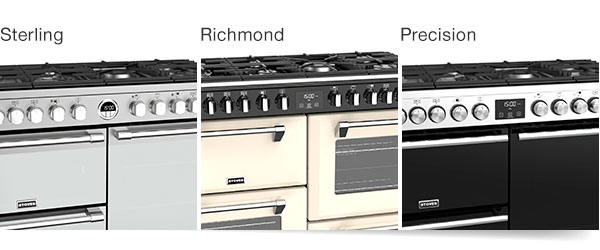 Stoves launched the latest generation of their flagship range cookers at the end of 2018, having comprehensively reworked and re-engineered the whole platform based on consumer feedback and a desire to continue to make things better. They were pretty good before this, but the resulting ranges are sturdy and feature-rich, as well as lovely to look at. Cosmetically the two established and very successful styles, Sterling and Richmond, are broadly unchanged, and both share the same specs and formats. The Sterling's sharp contemporary look is still as stunning as ever, and the Richmond's beautifully balanced traditional styling manages to work just as well in a modern kitchen as it does in a characterful country setting. The newcomer, the Stoves Precision, shares the same door construction and specs as the Sterling, but its more restrained styling will suit those looking for a clean, more pared-back look, with its black Umbra™ glass doors looking solid until turning transparent when the oven light is on. Precision is the only one of the three styles without a Core spec, so is available in Deluxe guise only.
In 90, 100 and 110cm widths, all of these desirable range cookers are available in dual fuel (LPG convertible), all gas and all electric formats, the latter with the latest induction technology cleverly designed to work on a standard 30 amp supply.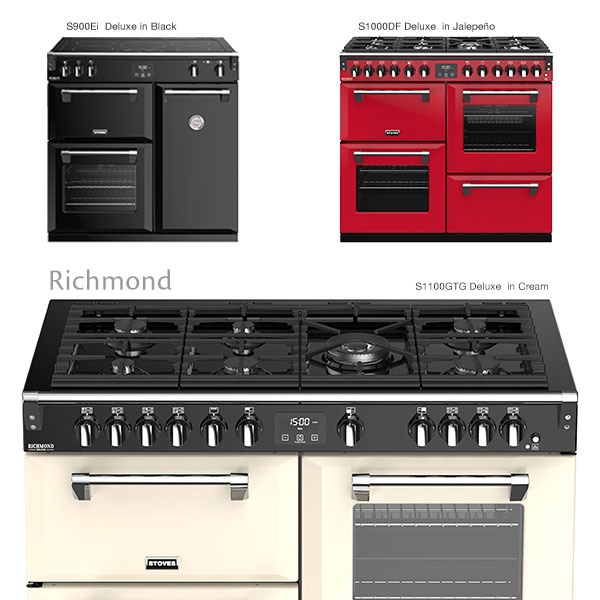 So, what do you get with Stoves Deluxe ranges that you do not get with Core models? It is important to say that the high build-quality is identical whichever model you go for, but let's start with what features you get on all models:
Multifunction main oven with grill
Grill cavity is also an oven
Slow cook oven (100 & 110 models)
Maxi-grill wide grill tray on sliders
Pro-trac telescopic shelves
Unicast one-piece frame for stability and strength
MaxiClock touch control timer (Richmond/Precision)
Easy-clean oven interiors
Cast griddle (dual fuel and gas models)
Deluxe adds:
Premium Heavy-gauge Shelves
A nice addition, although the standard shelves are chunkier than the norm to begin with.
Zeus Bluetooth Connectivity
This allows you to set, monitor and control the timer and oven performance from the comfort of your armchair using a Stoves smartphone or tablet app.
Steam & Infuse
This involves some wire accessories for the oven tray which allow you to benefit from the steam cooking of poultry and vegetables.
Cast Iron Wok Support
A handy thing to have to position and stabilise a wok over one of the powerful wok burners (dual fuel and gas models).
Pro-flex Oven Splitter
Stoves' Quad Oven philosophy on their Deluxe models means that the tall oven on 90cm formats is a great upgrade, giving you a total of four independent ovens on this compact range format - amazing versatility on those occasions when you need it.
Colour Boutique
For those who love it this gives you, for a further cost, an extended choice of colours on Richmond models.
Gas-thru-glass
An innovative hybrid approach from Stoves, which combines the wipe-clean convenience of a ceramic hob surface with more powerful gas burners, so slick looks with high performance.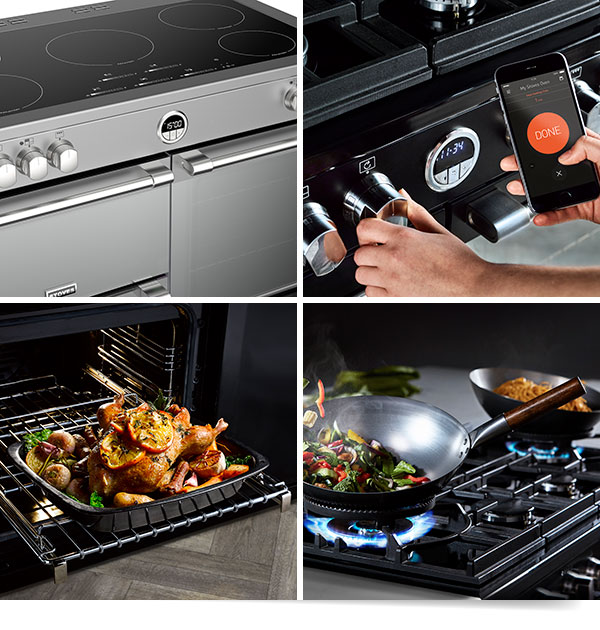 Many people will find the Core offering gives them ample cooking capacity and all the features they need, but if you like the sound of the extras that Deluxe gives you these can be yours for around £150 more. The choice is yours, but it all adds up to an exceptional product range from this most refined British brand, which manufactures your chosen model at their dedicated factory on Merseyside. Their 5 year parts warranty is usually paired with a 1 year labour warranty, but when buying through Rangecookers.co.uk you are entitled to an additional one year labour cover, upon registration. Prices range from £1445 to £2695*, and whichever Stoves range cooker you choose it will give you many years cooking pleasure and attract many an admiring comment.

*Prices January 2020