Stoves Precision Range Cookers - a Touch of Class
We were a little surprised by the launch of the Stoves Precision range, having become so accustomed to the perfect partnership of the Sterling and Richmond over the years, but this new introduction by one of Britain's favourite brands makes perfect sense.
Sleek, smooth and gorgeous kitchens are very much the norm these days, and if you add monochrome finishes to that formula then this all lends itself towards a particular style of cooking appliance. Built-in appliances are strong competition to a freestanding range, so to compete against this Stoves have come up with the Stoves Precision. Clean lines, crisp details and a cracking Deluxe specification are all designed to appeal to the kind of consumer looking for something highly competent but visually more understated, and we think the quiet confidence of the Precision fills the brief and is an inspired recipe for success.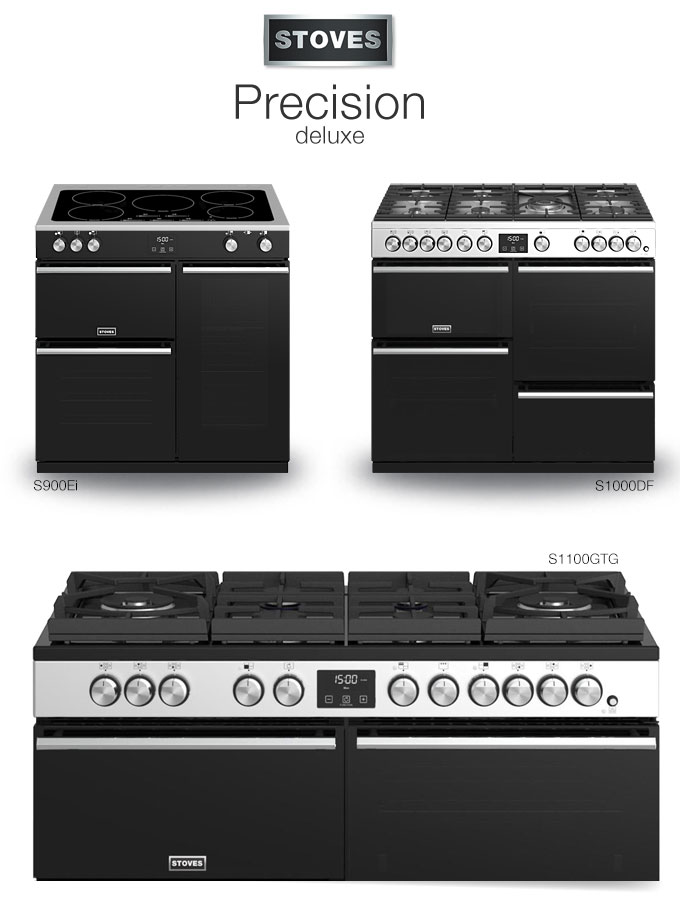 The specifications and build quality are identical to the equivalent Stoves Sterling or Richmond model, but the Precision's Umbra™ glass doors and black enamel hotplate, with either a black or stainless steel control panel, lend it a stealthy sophistication that modern kitchens will love. The clever black glass looks pretty solid when not in use, but becomes almost transparent when you get down to business and an oven light is on. The simple but nicely designed door handles and lovely hifi-style control knobs are a delight, as is the MaxiClock touch control timer with its intuitive three button controls and bold white LED display.
Three Hob Choices
The choice of hob is down to you, and you can go for a conventional gas hob with gas or electric ovens, a five zone induction hob or gas-thru-glass with electric ovens, the latter being an innovative hybrid which combines the wipe-clean convenience of a ceramic hob surface with gas burners offering increased power. These are all available in 90, 100 and 110cm widths, all bristling with Deluxe cooking features. Prices range from around £1700 to £2300*, depending on size and format.
Unicast one-piece frame for stability and strength
Multifunction main oven with grill
Grill cavity is also an oven
Pro-flex Oven Splitter (90cm models)
Slow cook oven (100 & 110 models)
Maxi-grill wide grill tray on sliders
Zeus Bluetooth Connectivity (app needed)
Pro-trac telescopic shelves
MaxiClock touch control timer (Richmond/Precision)
Easy-clean oven interiors
Cast griddle and wok support (dual fuel and gas models)
Premium heavy-gauge shelves
Steam & Infuse oven accessories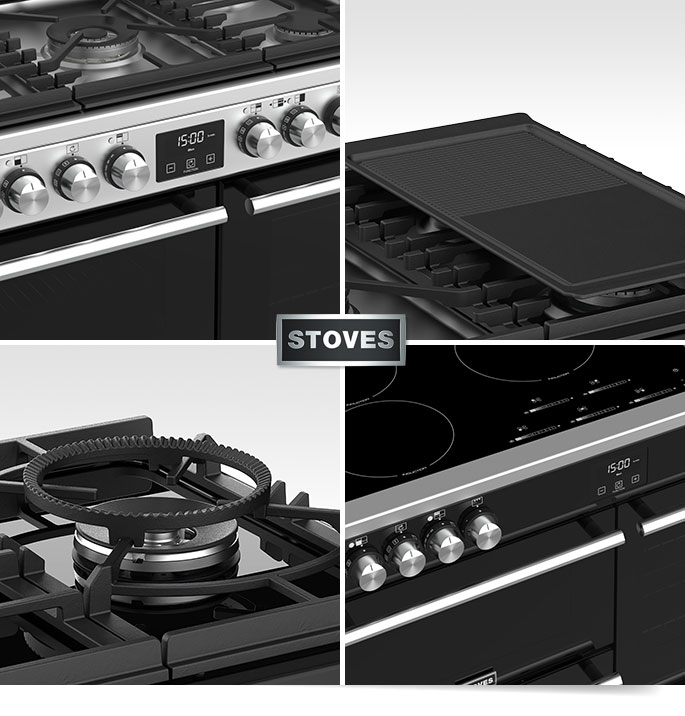 As a brand Stoves has always been a pioneer, and has gained a very strong reputation for the quality and integrity of its appliances - none more so than its range cookers. The current collection is stronger than ever, and the Stoves Precision can sit proudly as the latest in a long line of ever-evolving range cookers designed and made by a British team which thoroughly understands the needs of its customers. The competition is strong, but in making these range cookers as sturdy and feature-rich as they have, Stoves have set a high bar, and when customers do turn their heads in their direction they are very hard to beat. If you are looking for a new range cooker you should take a closer look.
*Prices February 2020