The sunshine is finally here, and with the typical British weather we want to make sure you can still party all summer long with the best appliances and cookware.
We may like the thought of sitting outside and summer cooking whenever possible, however the weather in this country doesn't always allow this. Prepare for all weather with some of the best products around, including how to keep your wine perfectly chilled and ready to keep those glasses topped up, plus griddles that bring the BBQ flavours all year round.
Your choices will of course depend on the amount of kitchen space you have, but if you are getting ready to host the summer's best gatherings, look no further than some of the products we have to offer here at Rangecookers.co.uk…
Grills and Griddles
Providing you with flexibility for various different dishes and solutions for both gas and induction, grills and griddles indoors are great for when the weather takes a turn for the worst and puts a pause on the family BBQ.
Rangemaster Teppanyaki Griddle
Cook some delicious food on Rangemaster's unique Teppanyaki style flat griddle plate. This versatile accessory can be used for pancakes to burgers to stir fry's, and is also super easy to clean with a non-stick coating. Designed to fit over two burners, this lightweight cast iron grill features a large cooking area that includes a drip tray at the front to catch all liquids, ensuring a healthier way of cooking. The Teppanyaki griddle is compatible with a number of Rangemaster models and is already included on a selection of others, including the all new Classic 90 FX.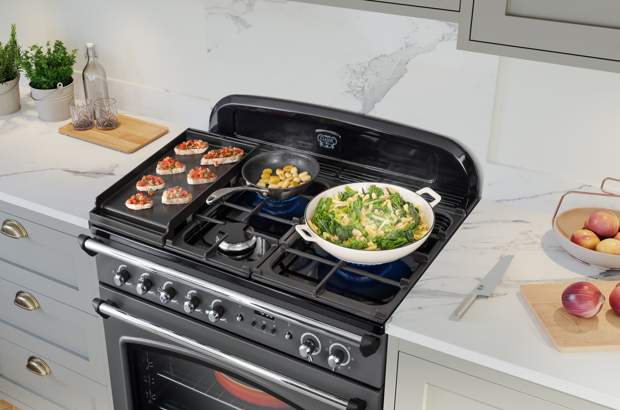 The Classic 90 FX is a large single cavity range cooker, taking its aesthetic from the very popular Classic collection. This brand-new range cooker features the recognisable baker-style window along with a full width towel rail, classic control dials and optional mini splashback. This new dual fuel model is available in five colourways: Black, Cream, Slate, Stone Blue and Mineral Green, all with a choice of chrome or brass finishes for the controls, handle and towel rail. In addition to this, it has a colour matched fascia and a premium white time display. This exciting appliance boasts a 114 litre oven, featuring a unique Energy Saving Panel (ESP) that allows you to split the oven in half. A five burner hotplate on top also now includes the added feature of the removable Teppanyaki griddle plate, making this a truly flexible and energy conscious appliance.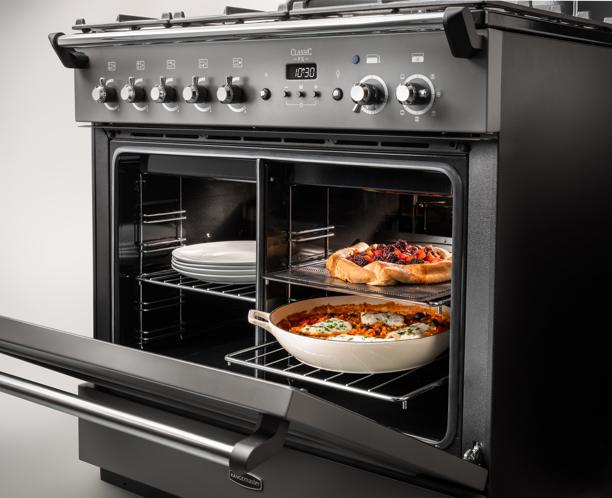 Lacanche Gas Chargrill
This is a very effective indoor BBQ, which can be used for all the usual food items you would use on your outdoor BBQ. Includes a drip tray for catching all grease and fat, and enamel burner housing for easy cleaning.
Lacanche range cookers are authentic and highly capable. They make the perfect addition to any kitchen, which is why it is not surprising that they are used in some of the world's best commercial kitchens. These range cookers are all about the cooking, with them being specially designed by this historic and impressive French brand.
Wine Cooling
Investing in a high-quality wine cooler is the best way to store your wine. Traditional or contemporary, wine cabinets are designed to incorporate many features that will keep your wine in perfect condition throughout the summer.
Wine storage is crucial for the taste of the wine. Whether you love to buy good quality wine, store it and bring it out for special occasions, or you buy a bottle to enjoy within a day or two, a wine cooler will not only maximise refrigerator space but also maintain a constant temperature and chill your wines so they are ready to serve any time. 
Smeg Wine Coolers
Smeg built in wine coolers make a perfect addition to your kitchen, blending in seamlessly within your counter or in column. Smeg set the standard for range cookers in the nineteen nineties, and these classic yet chic products still retain that enduring and imitably Italian Smeg style, making them as popular as ever.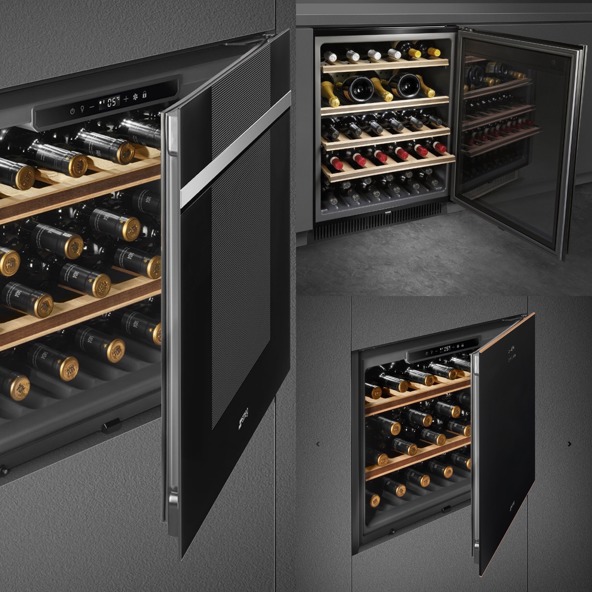 The Classic wine cooler range is finished with stainless steel, with the capacity to hold 38 bottles of wine in total. The Dolce Stil Novo range is Smeg's most advanced collection to date, with a monochromatic look and copper or stainless steel trims. The Linea collection combines contemporary design with the latest built in appliance technology.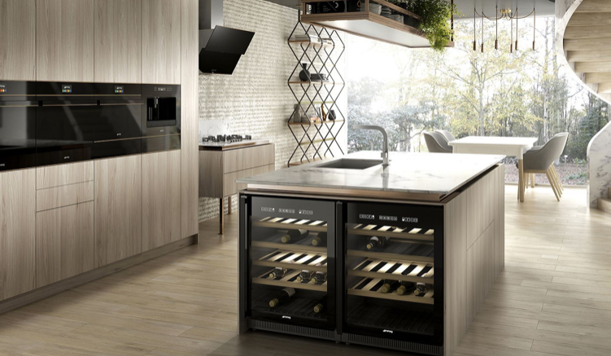 Rangemaster Wine Coolers
Rangemaster's wine cabinets have been designed to keep your wine in the best conditions possible.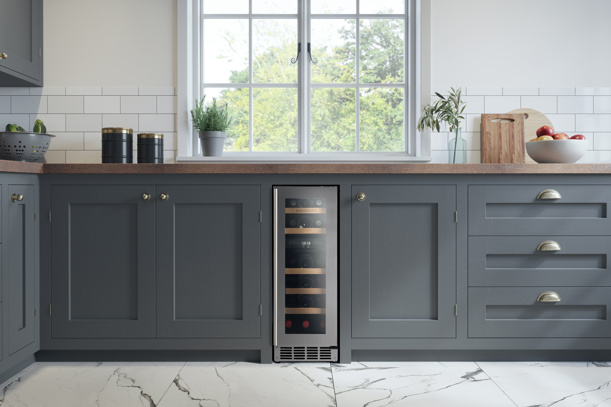 Dual temperature zones create two different internal temperatures that allow you to store white and rose wines in the upper section (4°C-12°C) and reds in the lower section (12°C-22°C), therefore creating enjoyment of any wine at the right temperature. Bright white LED lighting offers instant illumination as soon as the door is opened, as well as having a door open warning to prevent the door being left open and causing the temperature to rise.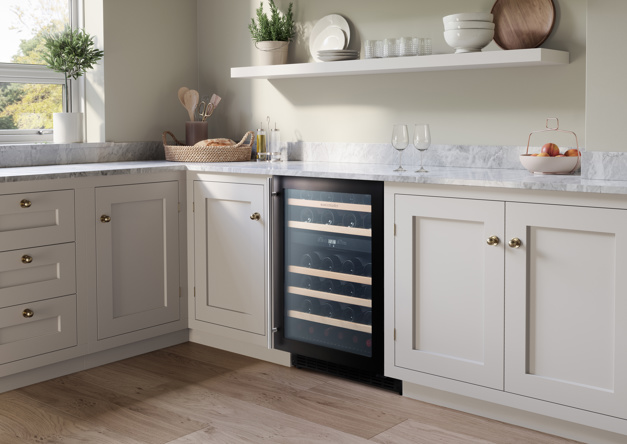 Bertazzoni Wine Coolers
In keeping with their other appliances, the Professional, Master and Heritage series wine coolers highlight the high quality design from the Bertazzoni team. Behind the stainless steel and glass front doors, with anti-UV treatment to protect the bottles from light damage, is a spacious cavity which can hold up to 52 bottles of wine. With two temperature zones for red and white and rose, you have full control to set the temperature between 4°C to 18°C.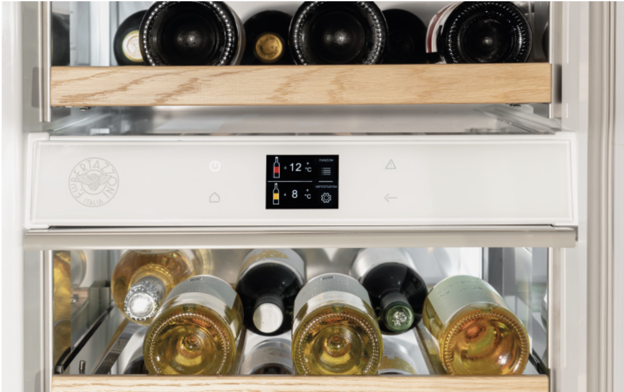 Refrigerators
A number of the brands we work with at Rangecookers supply some superb refrigeration products, which will keep all your summer party food perfectly prepped. A fridge is a key component of any kitchen, and whether you are looking for something matching or just an impressive fridge with large volume and high-quality style these appliances are designed to make sure your food stays in the best condition possible. From the brands Rangemaster, Bertazzoni and Steel, these fridges are a great choice with the latest technology taking these products to another level.
Rangemaster
Rangemaster offer not only a stylish collection of range cookers, they also provide excellent refrigeration to complement these. With the DXD and SXS models to choose from, there is a style to suit your kitchen. The DXD is a contemporary model, offering family-size storage and freezer space in the form of two easy access drawers. The SXS is an American style fridge freezer with a four-door format instead of freezer drawers.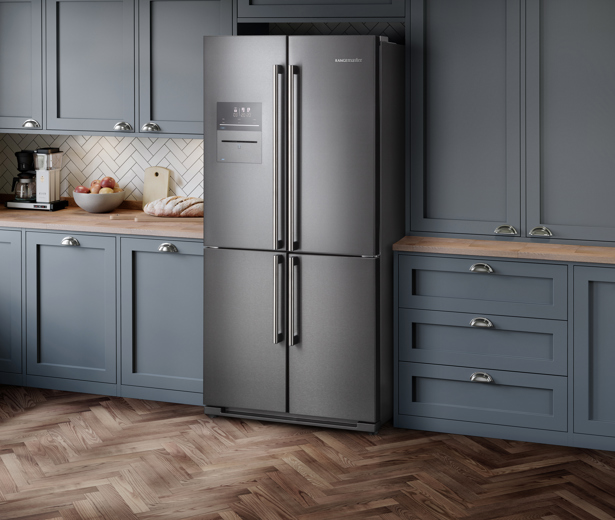 Bertazzoni
Matching their range cooker and wine cooling collections with Professional, Master and Heritage models, the Bertazzoni refrigerators are built using first class components. Featuring French doors and freezer drawers, their functional design and purposeful styling creates this impressive range of products.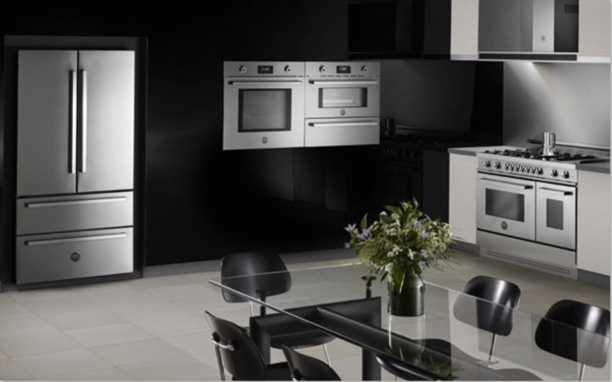 Steel
Much like Bertazzoni, Steel have matched their refrigerators perfectly to their range cooker collections. With Genesi and Ascot models, this modern refrigeration collection shares the same high-quality standards as their cooking appliances. Available in a variety of colours, including Bordeaux Red and Mineral Blue, there is a style to suit all interiors.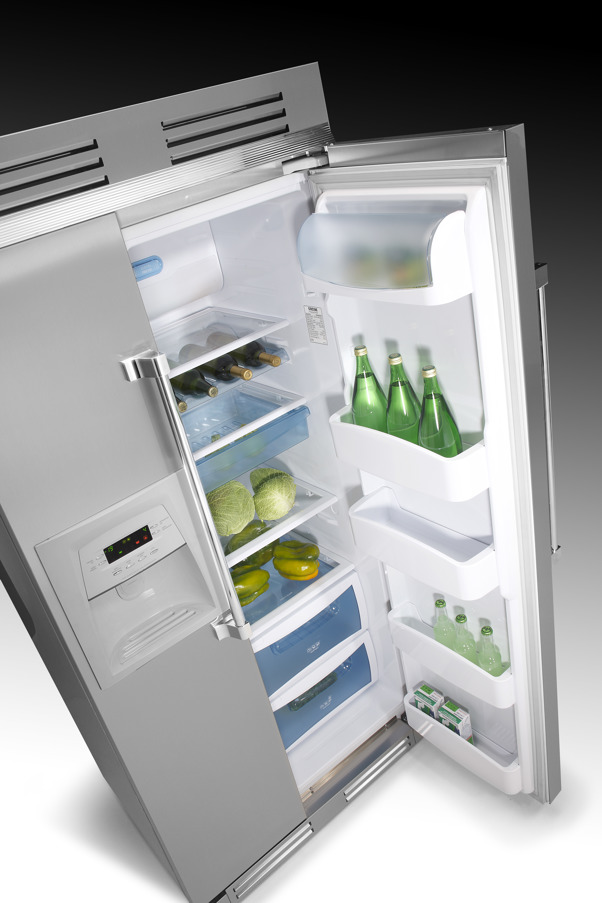 Enjoy the summer and become the best host around with any of these appliances. To find out more, contact our team on 01244 402 975 or visit our website here.