Traditional or Contemporary?
In the world of interior design, traditional and contemporary styles offer very different things. Traditional designs usually offer a sense of elegance and, whilst using on trend colours, can create a timeless space. Contemporary designs bring a sleek, modern appearance, focusing on things such as the latest technology and storage and space concepts.
There are some factors to consider when choosing the design of your kitchen:
Your own personal taste
The time frame in which you plan to stay in the property – will your design still be appealing in 10 years time?
The style or period of the house and other houses surrounding yours
How much you wish to spend on the interior design of your home – it can sometimes be expensive to achieve the look you want, but this can also be achieved on a budget
Matching your appliances, particularly an item as large as your range cooker, to the design of your kitchen is so important as it will be one of, if not the most, eye-catching sections of your home. With varying looks and trends it can be difficult to choose a particular style and finish, so we are here to give you a helping hand…
Traditional Kitchens
Traditional style kitchens are ideal for creating a cosy and charming vibe within your home. They are also often known as period kitchens, taking inspiration from a particular era such as Victorian or Georgian. Combining the charm and character of a traditional farmhouse or a country kitchen, the use of traditionally styled appliances and decorative pieces can create a lived in look and feel that has always been a part of a traditional home.
Design features in a traditional kitchen such as a chimney breast or wooden beams can be used to accentuate your appliances. Just like this Falcon 1092 Deluxe placed within the chimney breast of this kitchen, creating a smooth fit whilst also saving space.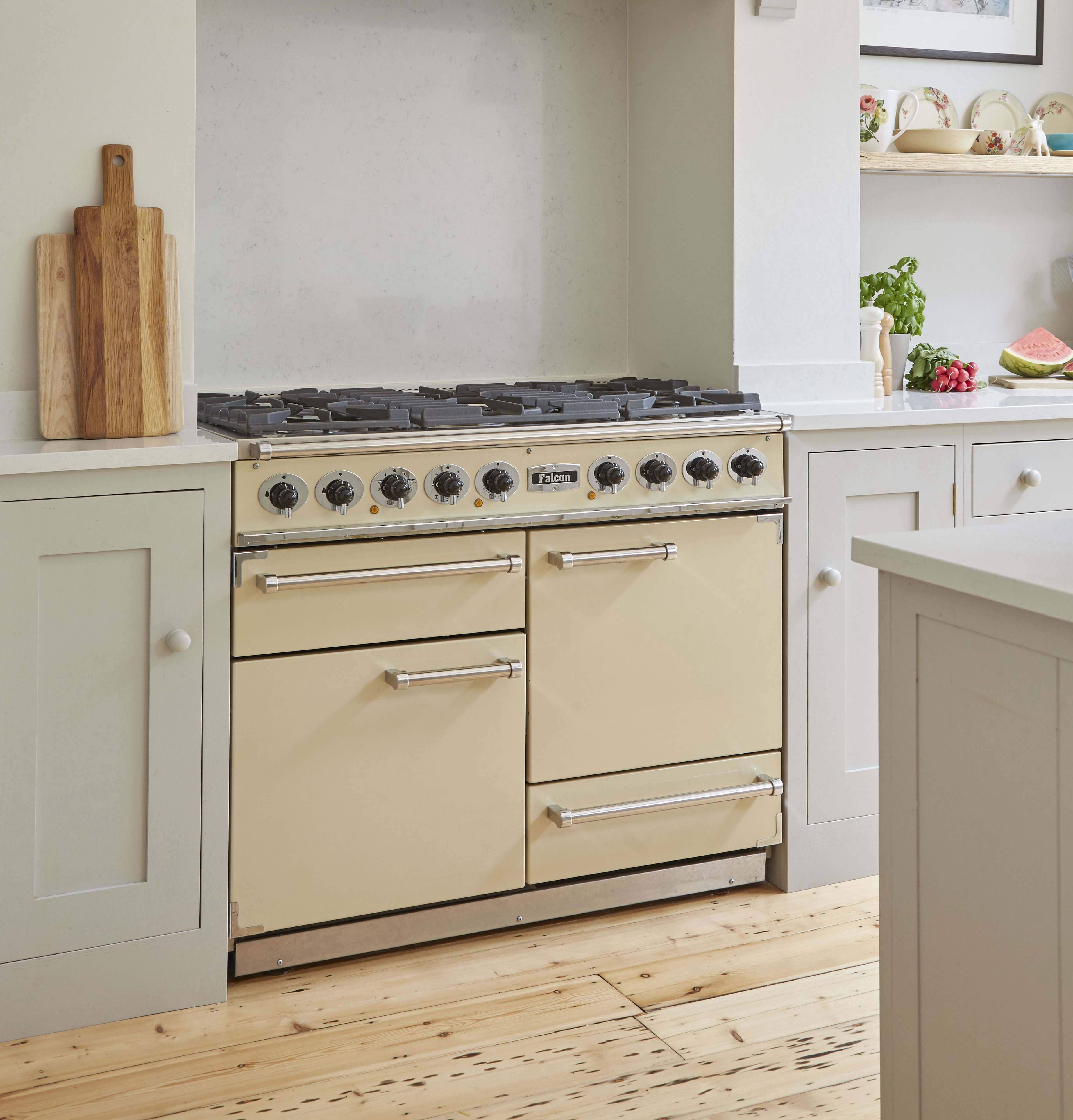 Take a look at…
The Rangemaster Classic's traditional styling makes it a popular choice within many homes. Perfect for kitchens with wooden cabinetry, the Classic collection of range cookers combine smart bevelled doors and detailed arched glass windows, plus a handy towel rail for keeping both tea towels and oven gloves right where you need them most.
This 110cm model gives you an upgraded multifunction oven offering eight different settings, with a fanned second oven on the top right. Both ovens are A-rated for energy efficiency and the dedicated grill includes a glide-out grill tray.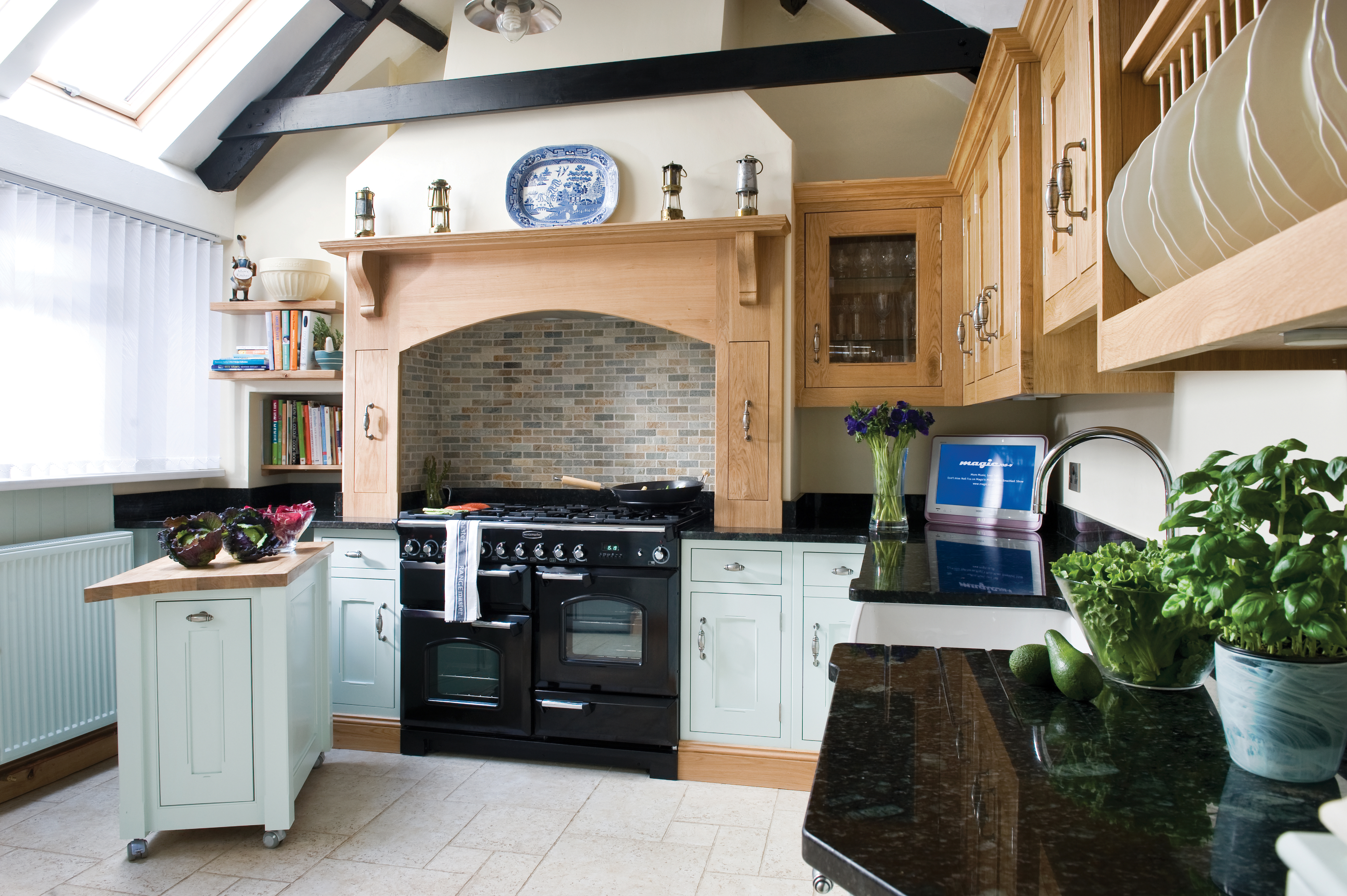 The Deluxe 110 also features a dedicated proving drawer and an enhanced and very practical multi-zone hob, with a cast aluminium griddle which removes to reveal two ceramic cooking zones beneath, all of which makes this an iconic traditional range cooker with the modern cooking functionality you need.
One of Lacanche's best-selling range cookers is the Cluny Classic. With a choice of different hobs and six different oven configurations, the Cluny offers you the choice to select a range cooker that suits your style of cooking perfectly.
The entry-level configuration features a five burner Classic hob on top, a 55-litre static electric oven with integrated grill and a 49-litre convection (fanned) oven with grill. Other oven and hob variants are available to suit your personal cooking preferences.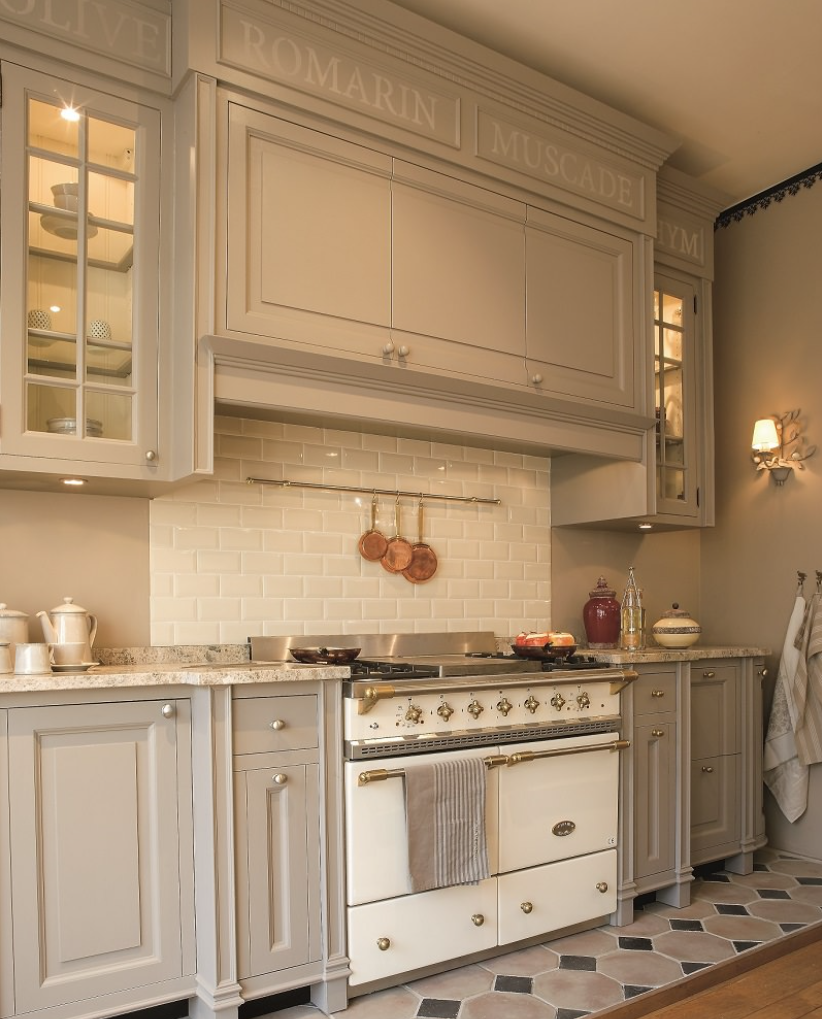 Lacanche Classic series has been specifically designed for those who love a traditionally styled appliance within their kitchen. The simple symmetrical design of the Cluny remains ever popular, and with the choice of an amazing array of deep lustre enamel finishes you can create a very special range cooker.
The Bertazzoni Heritage series takes its inspiration from their original wood burning stoves. The newer models suit a traditional kitchen with contemporary living, cleverly combining the classic appeal with the technology and advanced engineering of the other Bertazzoni collections.
This 100cm double oven range cooker offers a main electric oven with 11 functions, ranging from convection and baking to fast-preheat, plus a second auxiliary oven with six different modes.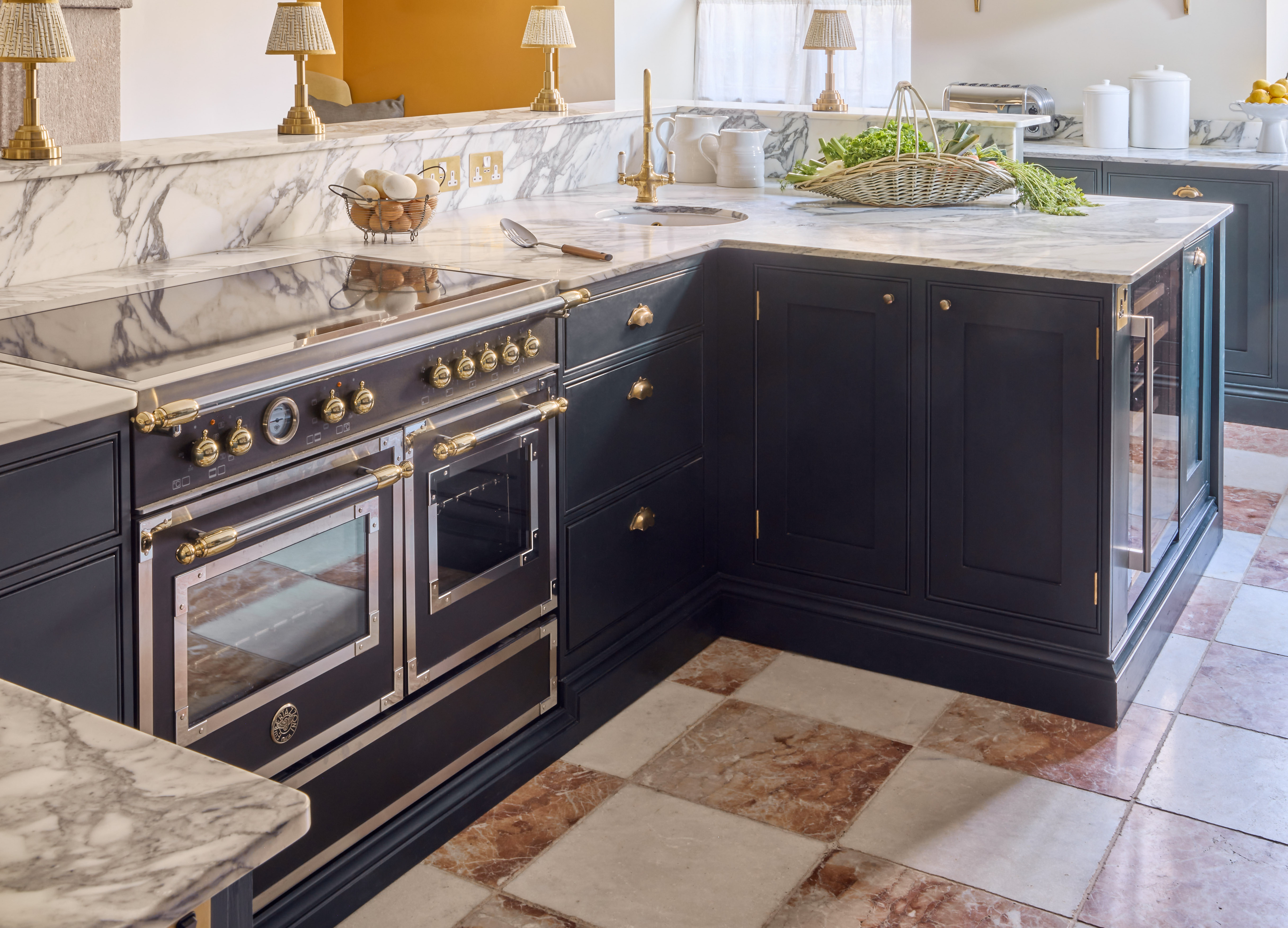 Image: Nico Wills Photography
Whilst on top is a five-zone induction hob delivering easy-to-control cooking power via rotary controls and digital display under the glass surface. The handy bridging function also allows you to use the two cooking zones on the right and left as one single cooking zone.
Continuing the traditional appeal is the characteristic temperature gauge and a choice of two subtly stunning colours, Nero Matt and Avorio (ivory).
The grand, traditional aesthetic of ILVE's Majestic collection really demonstrates the brand's deep Italian heritage. With characterful, bevelled doors and matching control knobs and finials, the Majestic collection is not only visually striking but also focuses on the professional cooking features needed to create some truly great dishes.
This 150cm model not only brings an increased size and a stunning appearance, it also offers an array of options for the enthusiastic cook. The twin oven cavities offer a superb cooking environment, with all of the functions and refinement you could need. The multifunction main oven can be timer-controlled using the auto programmer and there is also an added meat probe for achieving consistent results.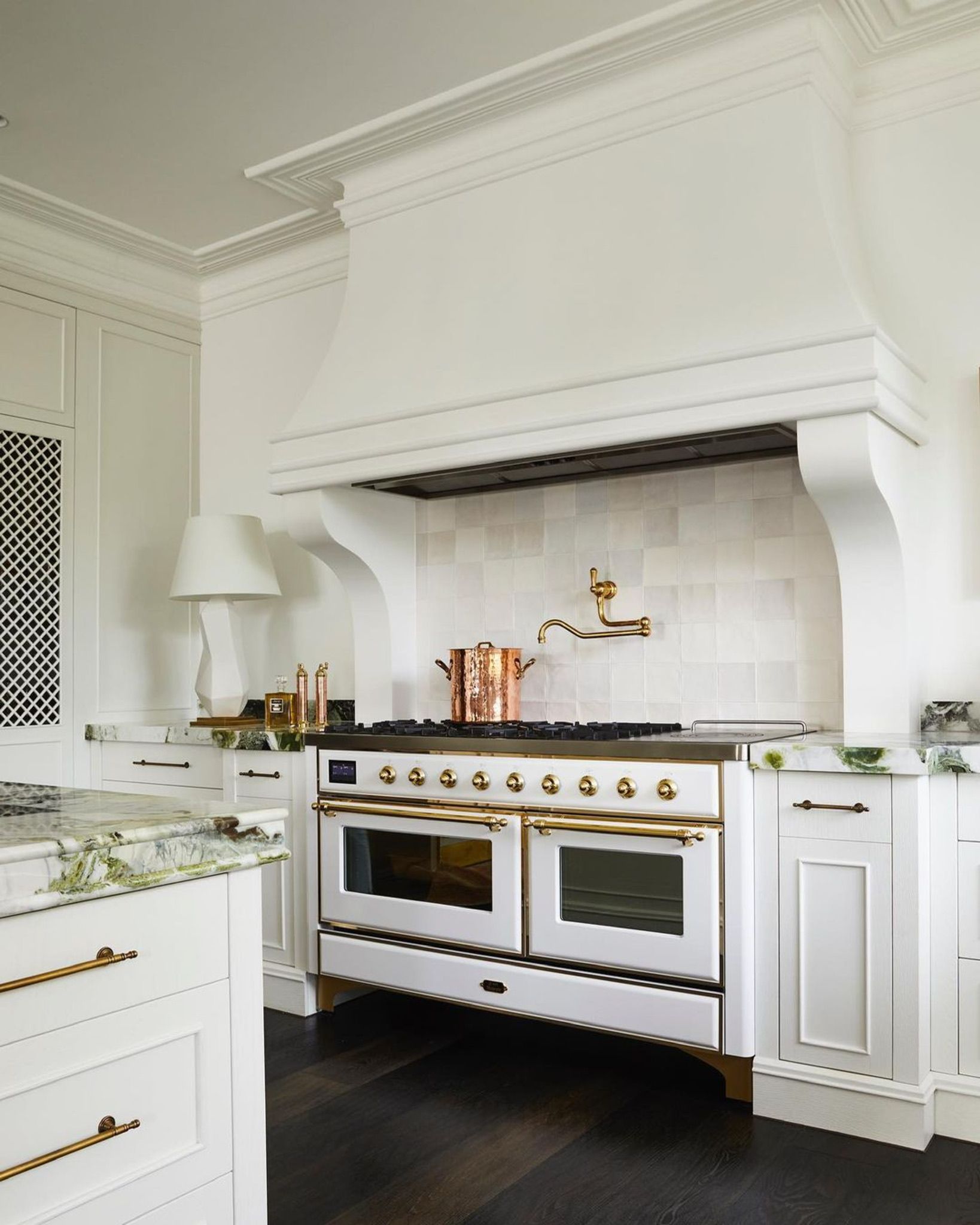 Image: Kate Walker Design
On top are seven solid brass gas burners. Also included is the impressive cast iron coup de feu feature, loved by many professional chefs, offering varied and evenly conducted heat from a central 3kW gas burner.
The TFT touch screen display/control panel acts as the oven temperature and function indicator for ILVE's excellent E3 technology. This precision temperature control system allows you to select the oven function, then set the desired oven temperature.
Contemporary Kitchens
Most modern kitchens are full of innovative features and clever storage solutions. Newer kitchen ideas explore the wide range of materials and finishes, whilst also considering the latest technology to enhance the whole room. Modern solutions enjoy clever hacks meaning you can hide things away behind a tall cupboard door or integrating an appliance into a kitchen counter, whilst also making the most of your space.
Contemporary range cookers are available with the latest state-of-the-art cooking technology, including features such as steam cooking and self-clean solutions…
Contemporary by name, contemporary by nature. This 90cm range cooker adds a modern touch to this classic brand. With a 30-litre top oven, a 64-litre fanned bottom oven and a tall 67 litre fanned oven on the right, there is more than enough capacity within this range.
On top is a ceramic hotplate, featuring five electric zones for ultimate flexibility when boiling or frying. The glass doors are made using Back to Black glass, appearing black with little transparency but becomes fully transparent when the oven light is on.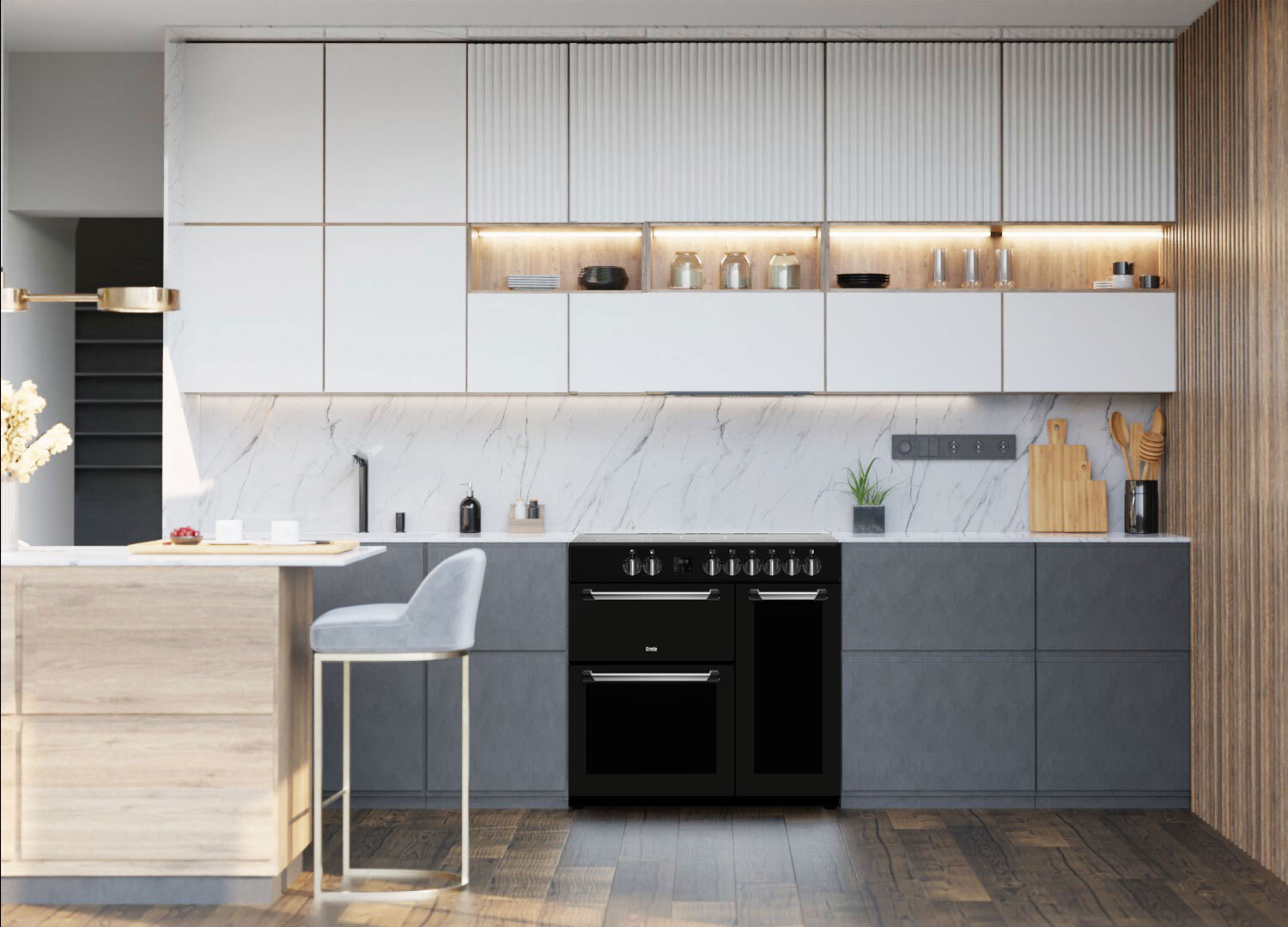 Creda is a historic appliance manufacturer but have developed their products to create the perfect modern-day addition.
The Stoves Precision's aesthetic brings stylish door handles and understand 'hi-fi' controls to underpin that modern look. This look is emphasised by the innovative black glass, which like the Creda becomes transparent when cooking, allowing a perfect view of what is going on inside.
On this particular Precision model, the already feature-rich hob has been pushed ahead with a range cooking first – a fully zoneless induction hob. The typical induction zones have been removed to offer a full surface cooking area that can accommodate up to six pans of any shape or size. It intelligently manages to remember the heat settings of any pan should it need to be moved to another position. This huge leap in induction functionality will no doubt appeal to those of you who want an efficient and cutting edge all electric range cooker.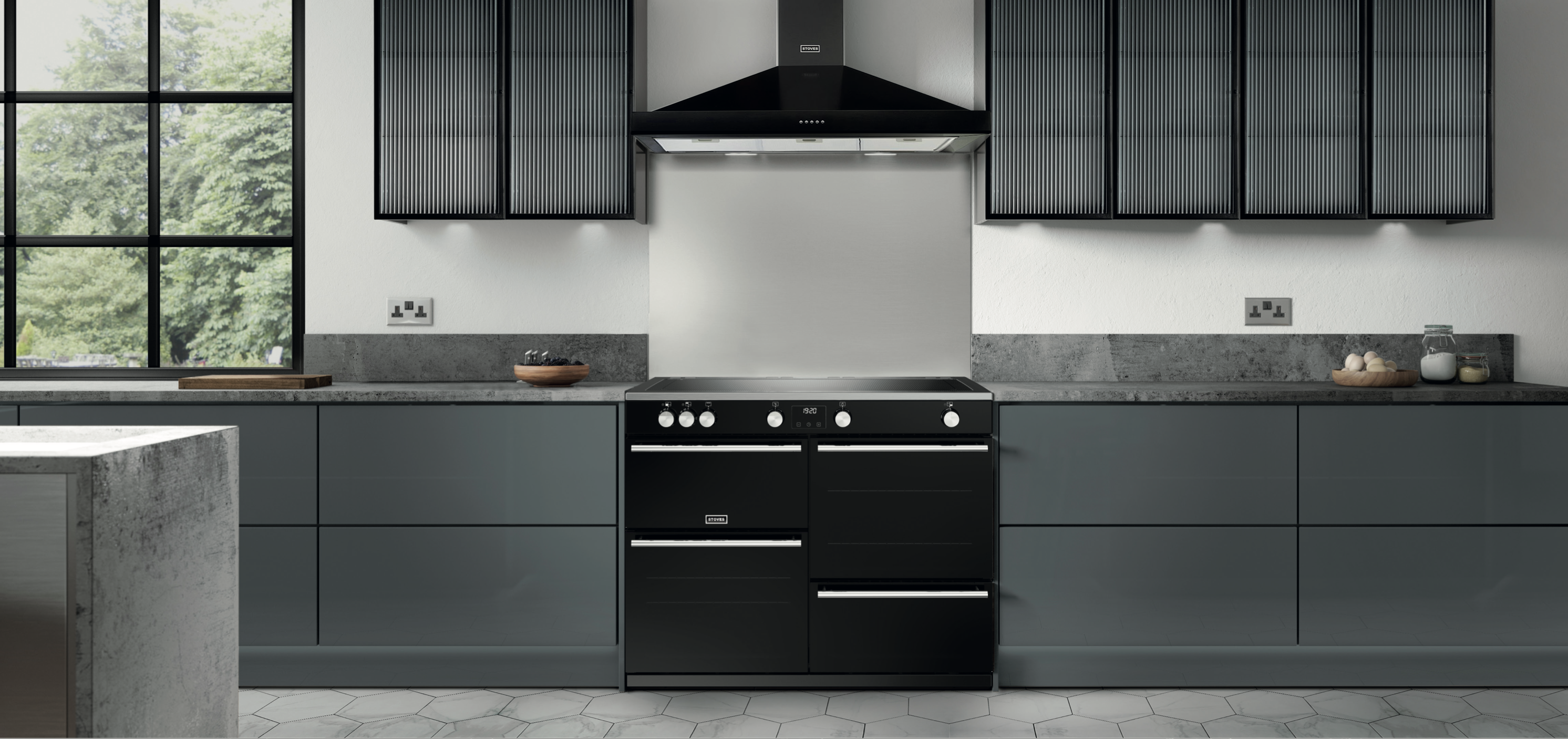 Below this is an impressive 13 setting multifunction main oven with TrueTemp digital thermostat and rapid pre-heat. There is also a fanned secondary oven with Stoves' Equiflow system to ensure controllable, consistent cavity temperature. Above this fanned oven is a third conventional oven with Maxi-Grill. An electric slow cook oven in the fourth cavity completes Stoves Quad oven offering.
Built in the UK by AGA Rangemaster, Mercury range cookers represent the performance end of the manufacturer's spectrum and bring enhanced construction and a very contemporary appearance.
Two large, powerful ovens feature heavy stainless steel telescopic shelves and self-clean catalytic linings. Subtle branding details and close attention to detail make this cooker a very impressive appliance.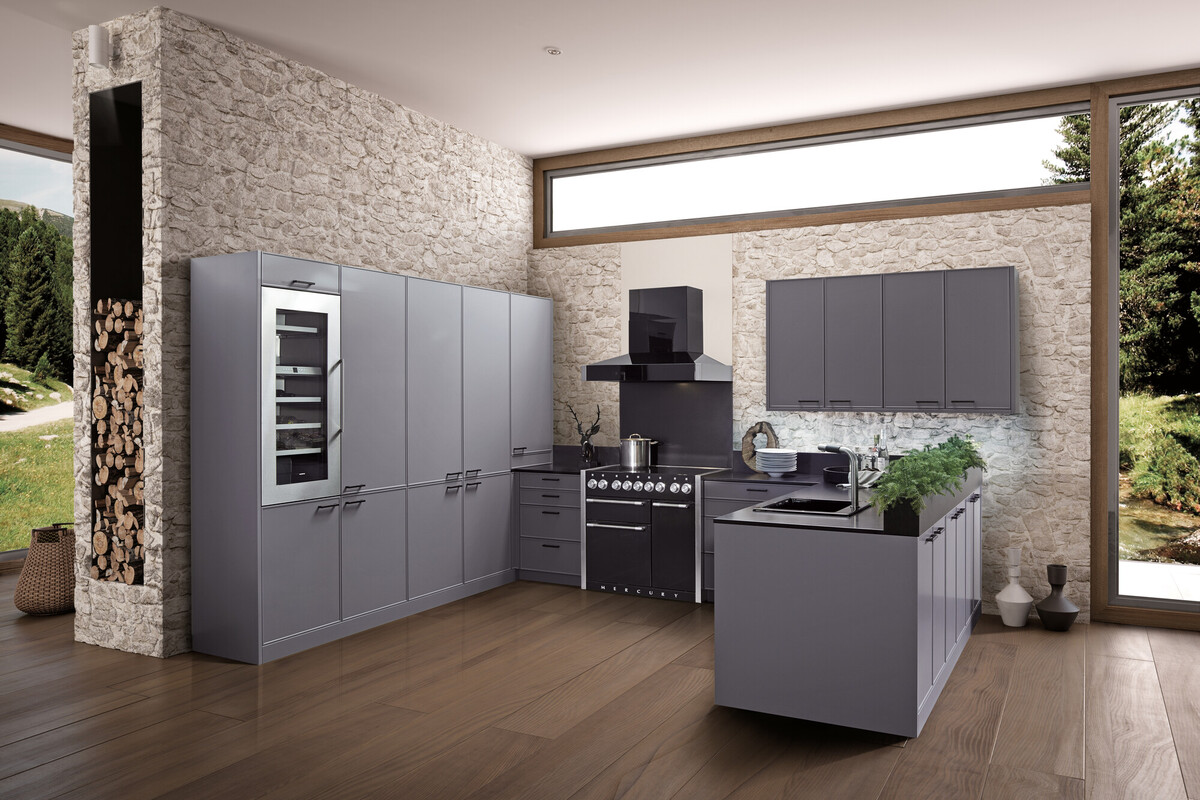 On top is a powerful five zone induction hotplate, which includes a pan detection system, power boost on all zones and residual heat indicators. Colour is also a strong part of the appeal of this brand, with the carefully chosen pigments used in their vitreous enamel contributing to the overall high-quality design this range cooker showcases.
The special hi-fi control dials adds to the stunning, modern appearance but top performance when it comes to the cooking process makes this a perfect addition to any kitchen.
Traditional and Contemporary?
Using modern appliances as part of a traditionally styled kitchen can be a clever way of combining styles.
Pick out beautiful vintage inspired lighting to add that charm to a modern kitchen or introduce traditional lighting with a minimalistic vibe throughout the room. Similarly, there are range cookers that take a classic style and add a hint of modern technology to offer you the best of both worlds…
The Rayburn Ranger brings a perfect retro style just like the classic Rayburn and AGA models, but offers it with a modern twist.
This all-electric range cooker is a totally flexible and controllable cast-iron range cooker. Although it has the layout and the style of a traditional cooker, the bright and bold shades allow you to integrate this cooker into a more modern styled home. Alternatively, if you do have a more traditional kitchen design, this range offers some shades that are a little more subtle.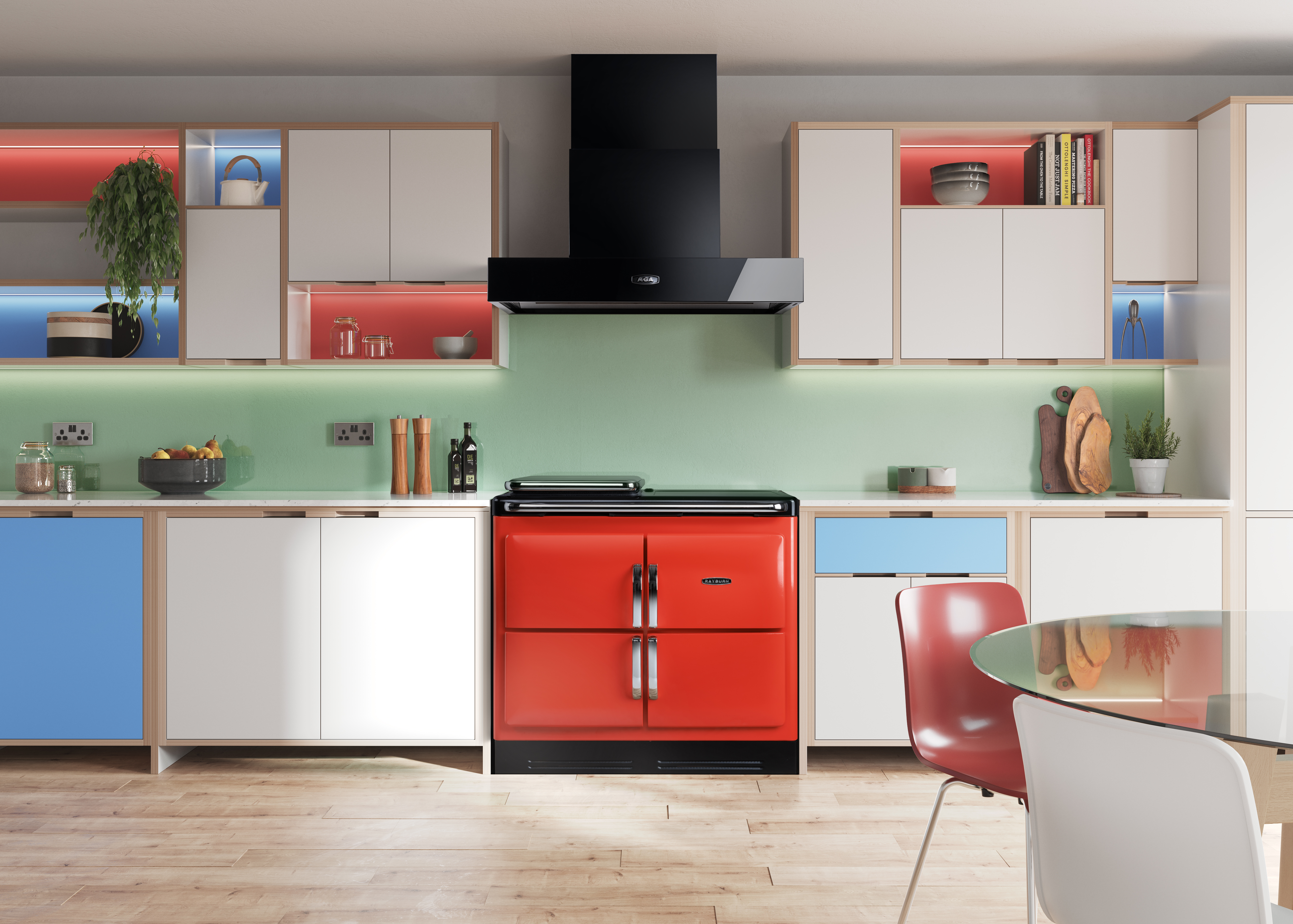 Every Ranger comes with a sense of history built in, with manufacture continuing at Rayburn's factory in Telford, Shropshire. They are engineered here to the same typically high standards as ever to that ensure the brand keeps its place as one of Britain's most trusted and respected.
The DeLonghi Vintage 90DF is a great price for the high-quality features shown throughout. This three-cavity model is not only visually appealing but has an equally pleasing specification.
The main oven has eight different fanned and conventional cooking functions and includes a grill. The tall second oven is also fanned and includes a useful plate warming rack, making it perfect for batch cooking. The hob on top is made from a sheet of stainless steel, meaning this cooker is a dream to clean.
DeLonghi is a renowned and trusted brand that is very familiar to UK customers and their popular Vintage style looks perfect within a modern, classic or shaker-style kitchen.