Winter Warmers: Choosing The Right Range Cooker For The Season
With the clocks going back and the sudden (gigantic) drop in temperature, winter is well on its way, so it is time to warm yourselves up with some hearty winter dishes in your brand-new range cooker…but which cooker should you choose?
Your range cooker is the heart of the kitchen, providing a warm and cosy feel as well as looking great and creating delicious treats. A good range cooker will serve you well any time of the year, but in winter there is a much greater need for one. Creating slow-cooked stews and roaring roasts is the main thing, but having a beautiful focal point can be just as important. Available in a variety of colours and finishes, as well as fuel types and additional cookware, the range cookers we offer are a host of glorious winter warmers.
Here are our Rangecookers top picks to give you some much needed seasonal inspiration…
Lower Budget
With over 120 years of experience, New World's range of cookers is impressively varied in style and colour and with a model to suit any kitchen design. Designed here in the UK, they are focused on putting both family and food first with a value for money, no frills approach to manufacture.
A household name, their beautifully simple approach to appliances puts the joy into cooking and entertaining. This 90cm dual fuel range cookers offers a 60 litre fanned oven in the bottom left cavity, a 66 litre fanned oven on the right and a 30 litre grill top left.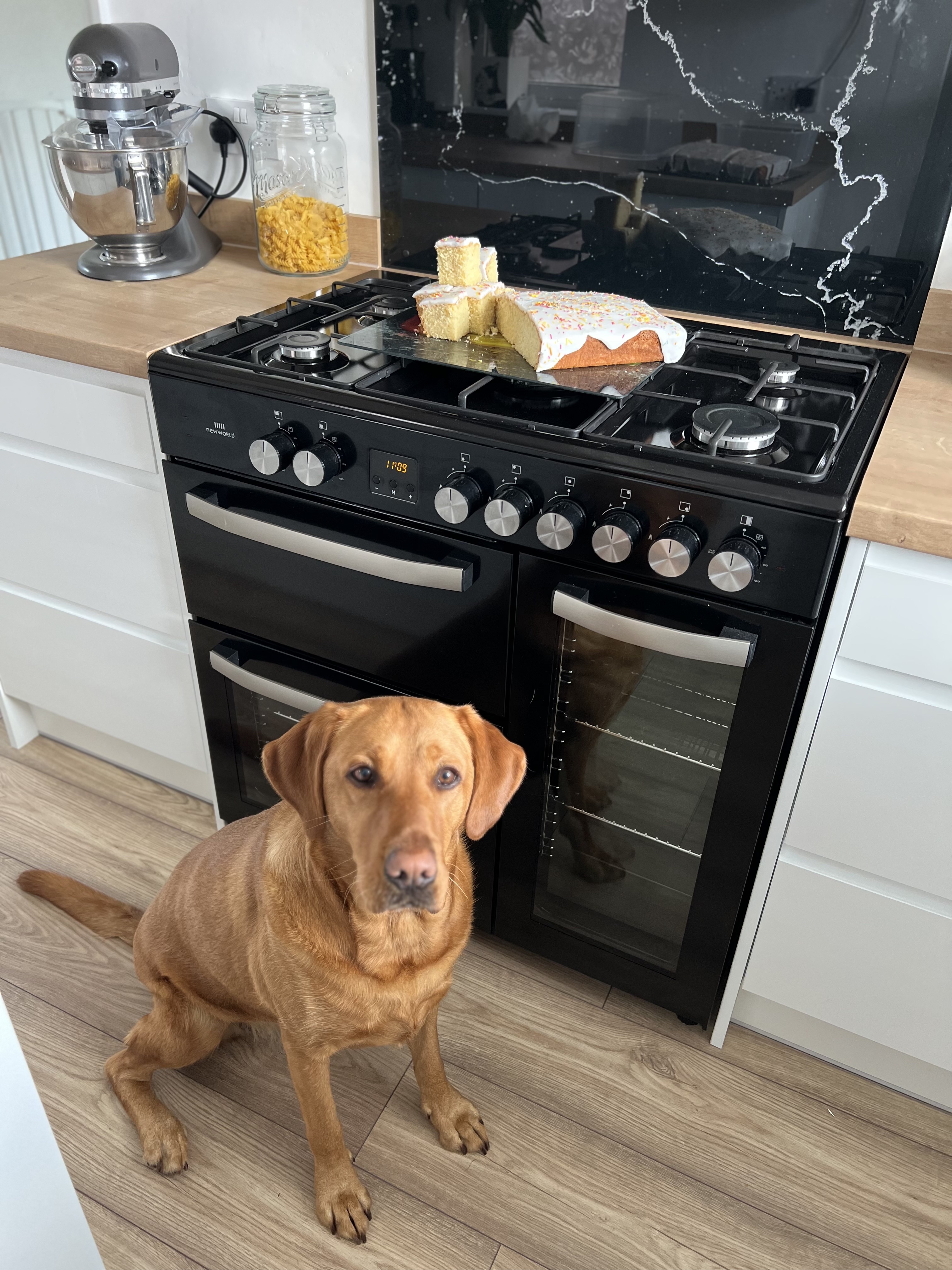 The 5 burner gas hob on top features hardwearing matt enamelled supports, keeping your pots and pans stable and safe, plus a powerful 3.8kW central wok burner for making the perfect stir fry. Aluminium handles and inox control knobs lend a sleek, understated appearance and make it at home in any kitchen environment.
Perfect for…baking crispy sausage rolls and spongy cakes, whilst also cooking some crispy bacon in the handy grill
Belling Farmhouse 100DFT, £1,235
Belling cookers continue to be a familiar sight within many kitchens across Britain. The current collection offers a style to suit all, from the contemporary Belling Cookcentre models to the more traditional Belling Farmhouse series. The brand offers style and quantity at a family-friendly price. Boasting a range of functions and features, Belling range cookers are built with hi-resistance hotplates, precision controls and A-rated ovens to bring an energy efficient and low-cost collection of appliances.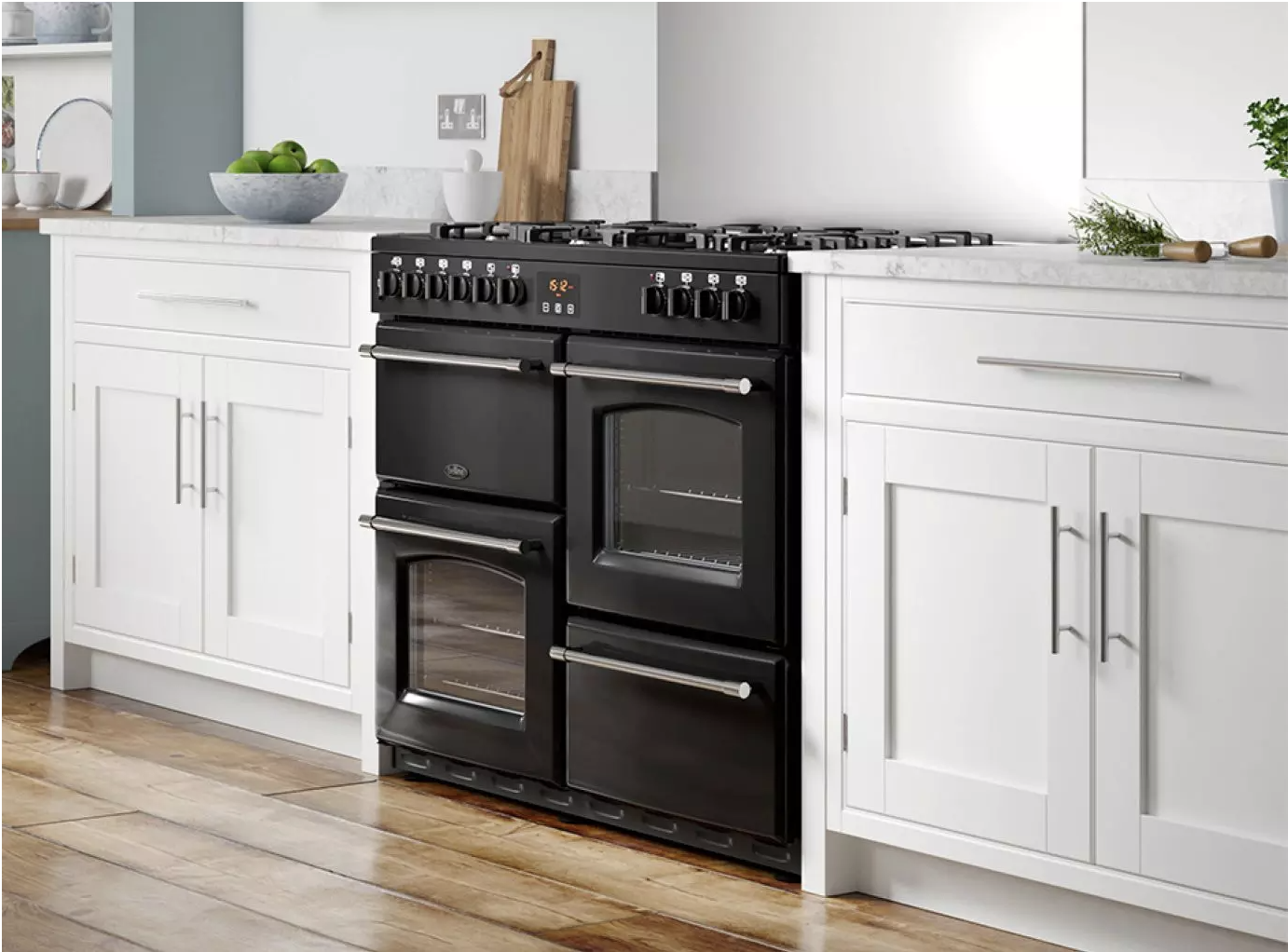 The Farmhouse model brings a classic appearance, with gently bow fronted doors that will fit perfectly into a traditionally styled kitchen. Charming looks combined with Belling's long-standing reputation for reliability gives you a cooker that can give you strong performance with each use. 
This 100cm model harmonises perfectly with classic style kitchens, but with enough of a modern twist to work well in a contemporary setting too. Featured is an A-rated fanned oven, a programmable main oven and also a separate variable grill, enabling you to time meals to perfection. On top is a seven-burner hotplate with a powerful 4kW wok burner. Belling's sturdy build quality should ensure that this range cooker has a long and loyal life.
Perfect for…batch baking some yummy brownies and cookies in the various ovens, to pair with a lovely hot chocolate
Rangecookers Select 90df3, £1,495
The Rangecookers Select 90df3 is part of our very own collection, so of course we think it is a great choice for you. With a brilliant three cavity format, this range cooker offers the optimum balance of style, reliability and value. The straightforward but elegant design makes it a very versatile, modern range cooker for a wide range of kitchens.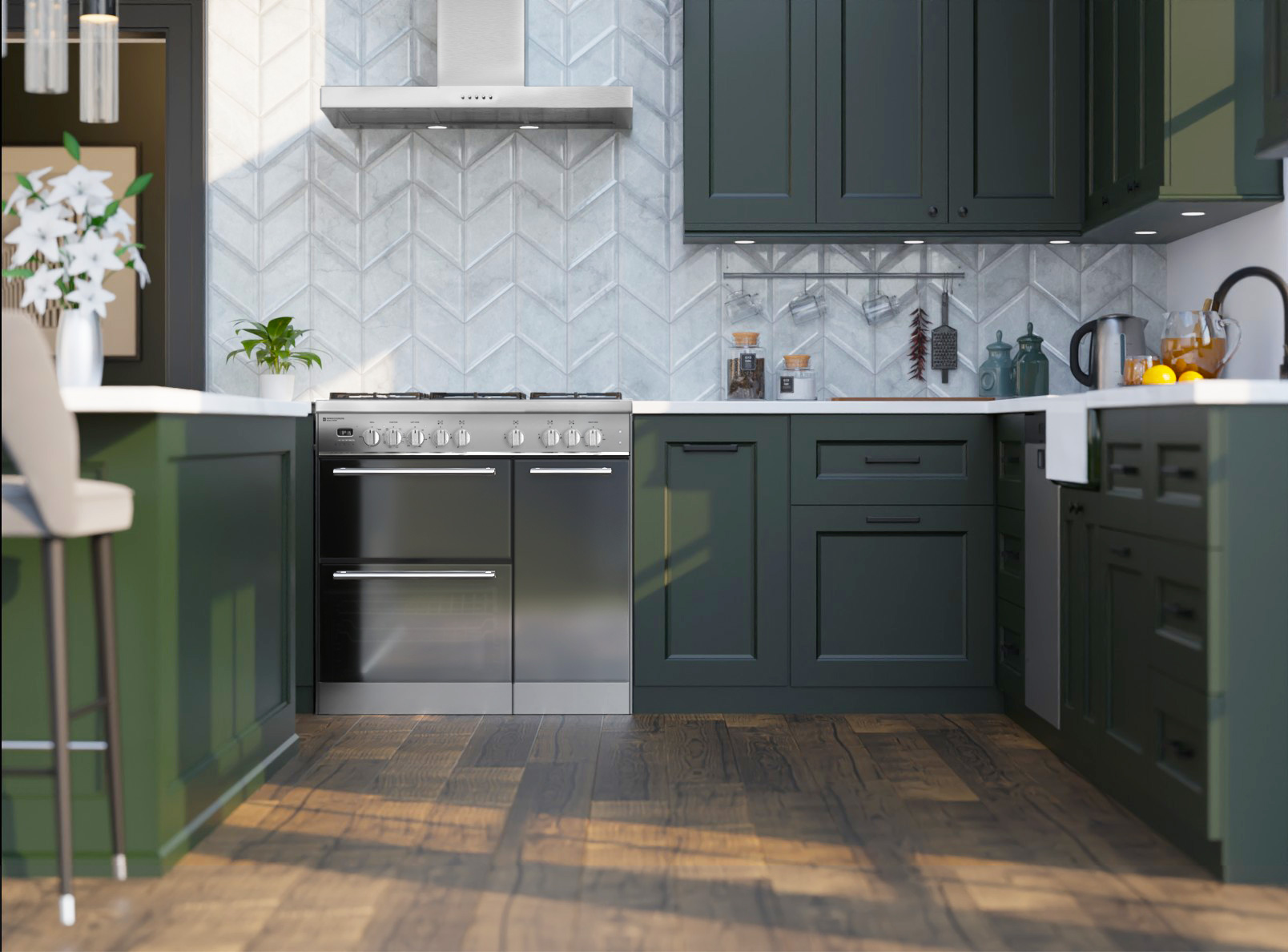 The Select 90df3 offers a 59-litre main oven, with fanned, conventional and grilling functions, and the large, 73 litre fanned oven on the right is ideal for batch baking, general cooking or just for plate warming. The third cavity is a dedicated, variable electric grill with a glide-out grill tray and plenty of height adjustment. The main oven door is windowed, allowing you to keep an eye on what's going on, and a tastefully translucent mirroring effect ensures this range looks good even when not in use.
On top are five gas burners, with a powerful 3.5kW wok burner in the middle. Our Select range cookers are manufactured in Italy to a considered specification, by a manufacturing partner chosen for its engineering credentials and a great track record.
Perfect for…a tasty stir fry using the powerful wok burner and one of our Bigblue wok support rings (see here)
Mid Level Budget
Stoves Richmond D1100Ei Deluxe Touch Induction CB, £2,995
Also designed and built in the UK, Stoves range cookers have spent years of research and development to create the newly evolved Stoves Deluxe collection. Introducing new steps within cooking technology with their ground-breaking zoneless induction, these ranges are available in different styles, different fuel types and a selection of stunning Deluxe models.
Stoves have been a respected and popular brand for many years, with their innovation and manufacturing of very desirable cooking appliances. The Richmond collection simply oozes elegance and desirability, bringing a classic look balanced with contemporary details.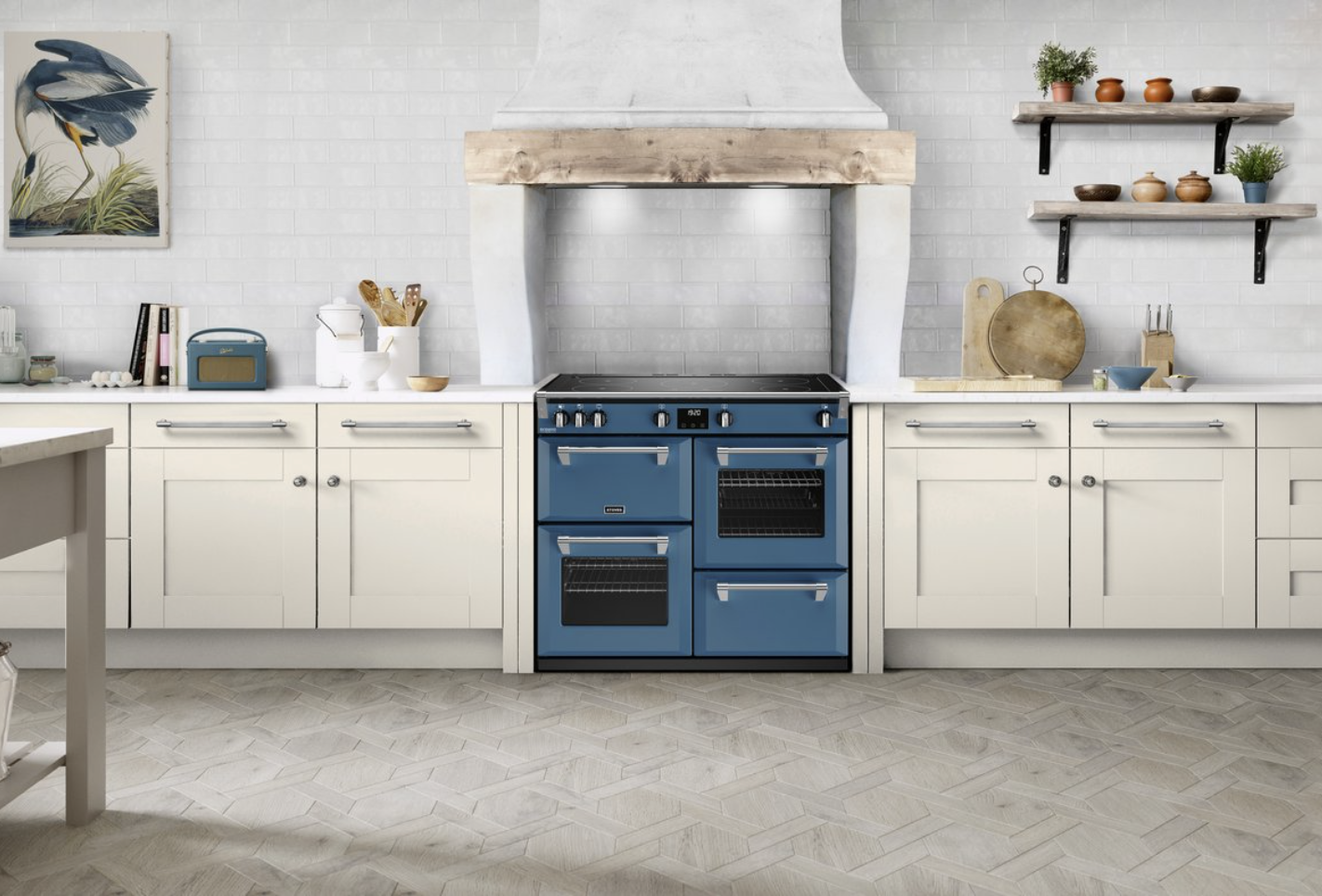 Bristling with features, the Stoves Richmond D1100Ei is the perfect choice. A multifunction oven with 13 settings works excellently with the TrueTemp digital thermostat and rapid pre-heat function. The fanned secondary oven with Stoves' Equiflow system ensures controllable, consistent cavity temperature. Both main and secondary ovens offer telescopic sliders and above the fanned oven is a third conventional oven, with Maxi Grill.
On top of this impressive cooker is a sleek, efficient induction hob that offers five zones, with 10 power settings operated by touch control sliders. These include boil-dry detection, hot hob indicators and child safety lock, taking the worry away from cooking. It is also available in the wonderful Colour Boutique colour range, allowing you to truly match your cooker perfectly with your kitchen's design.
Perfect for…some hot and spicy kebabs, full of flavour using the exciting Steam and Infuse oven accessory
Rangemaster Nexus Steam 110, £4,250
The Nexus Steam 110 is great for those of you who love healthy, delicious food, with a dedicated steam cavity included.
The versatile multifunction oven on the left it great for all of your traditional cooking needs, and on the right is the brilliant injection steam oven. Steam is highly sought after in today's modern cooking, with it maximising and retains foods true goodness.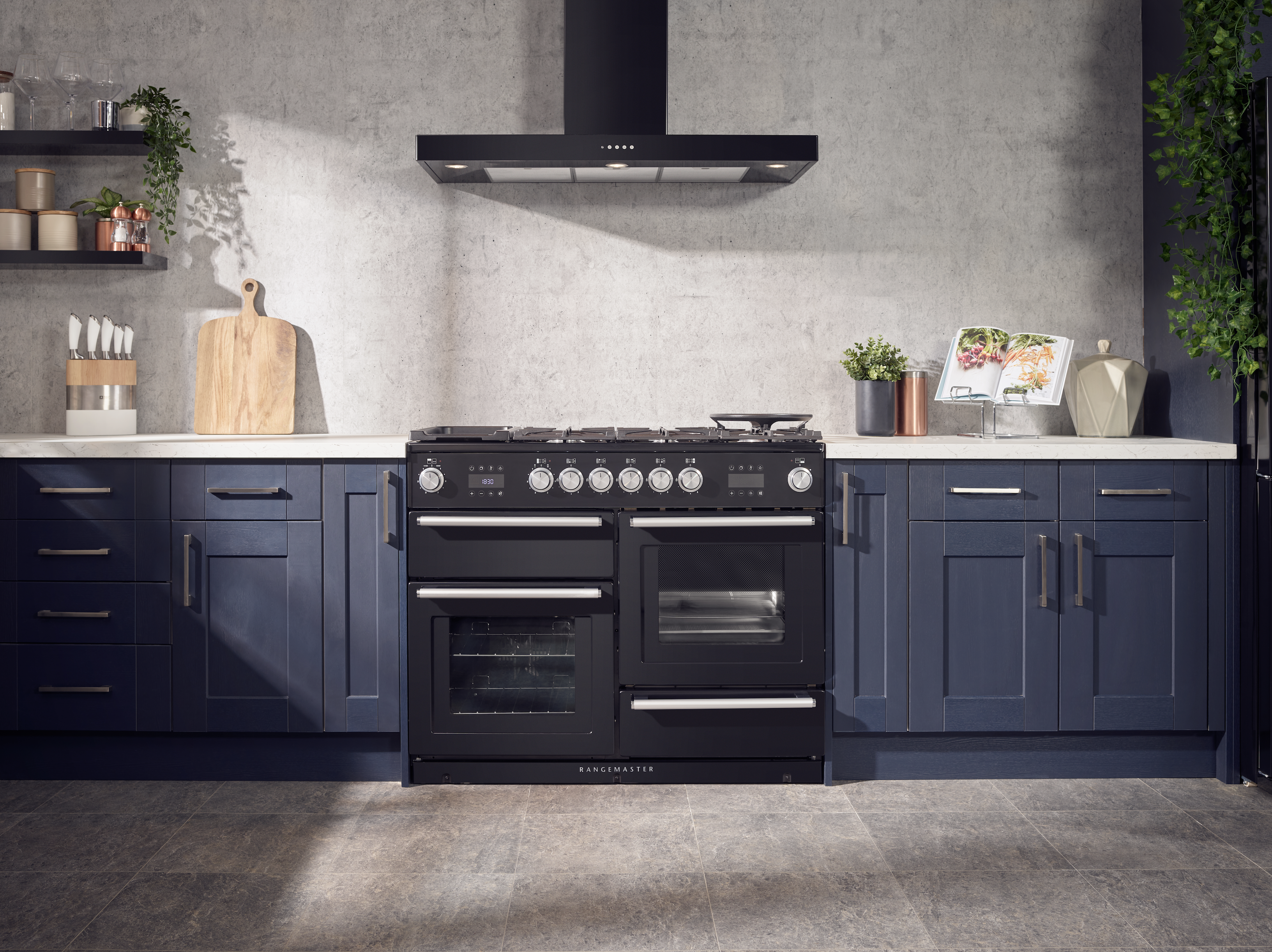 Why use steam cooking?
Retains the vitamins, nutrients, texture and taste of your food
Precise temperature control
Effortless cooking – just pop the food in, set the time and temperature, press play and let the steam cavity do the work for you
Versatile – a great way of cooking a wide range of foods from eggs and meat to porridge and cheesecakes
Easy to clean and includes dishwasher safe trays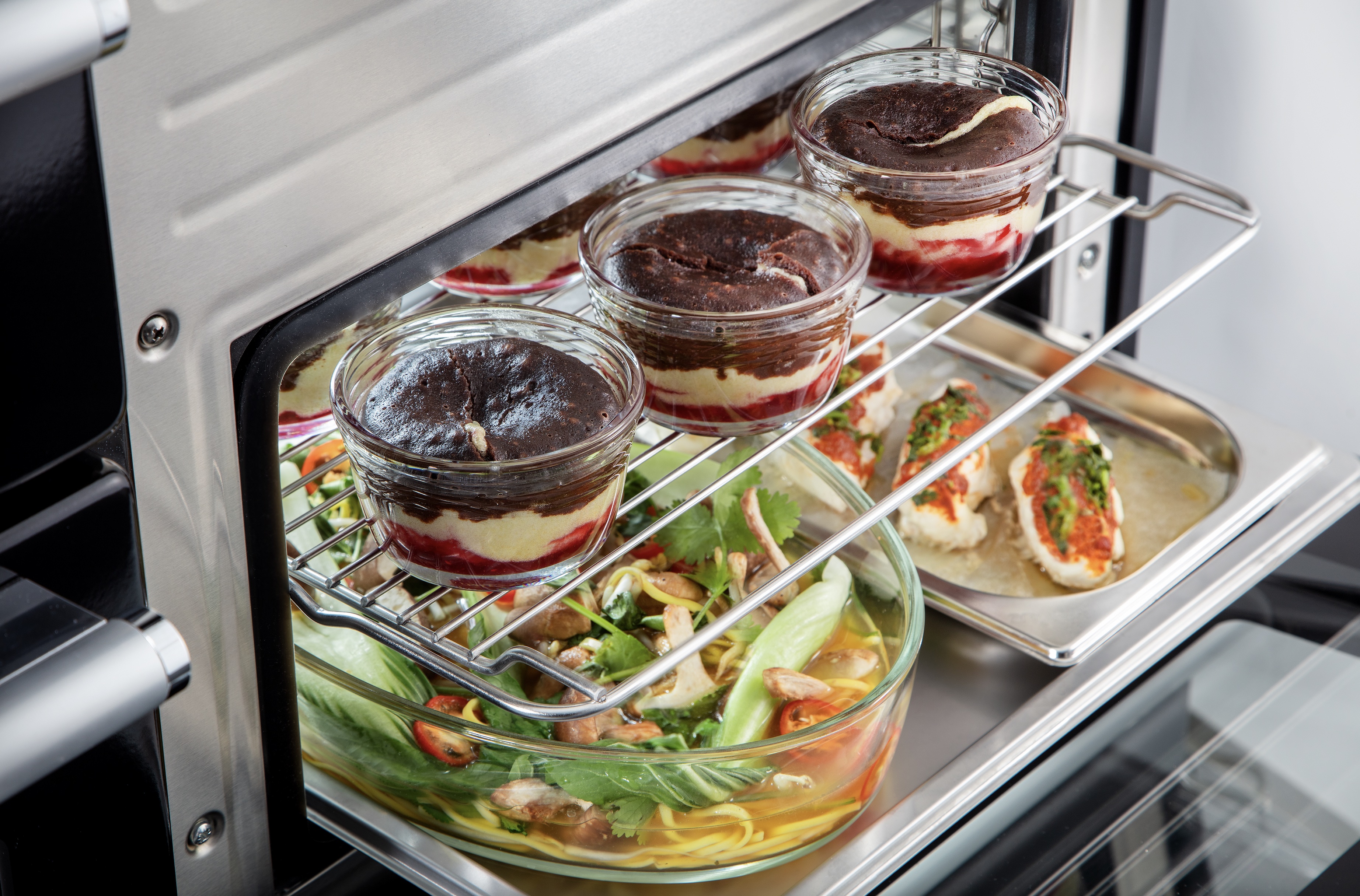 The Nexus Steam also comes with a dedicated dual circuit electric grill, which offers even more cooking flexibility and capacity thanks to its deeper pan design. The performance continues on top with a special seven burner hob, with five gas burners, a triple ring wok burner and two ceramic cooking zones that act as a heat source for the removable griddle. There is also the choice of a smooth five zone induction hob.
Perfect for…creating healthy salads, seafood and even making some homemade porridge using the healthy steam cavity
For those of you looking for a straightforward, solid and reliable range cooker, there is nothing quite like a Falcon. Built to appeal to those aspiring to a more professional standard, a Falcon range cooker uses heavier-grade materials, giving a robust and focused user experience.
This 110cm range cooker has become something of a classic. It does away with the more domestic features such as a programmer/timer and windowed doors, but retains an appealing design.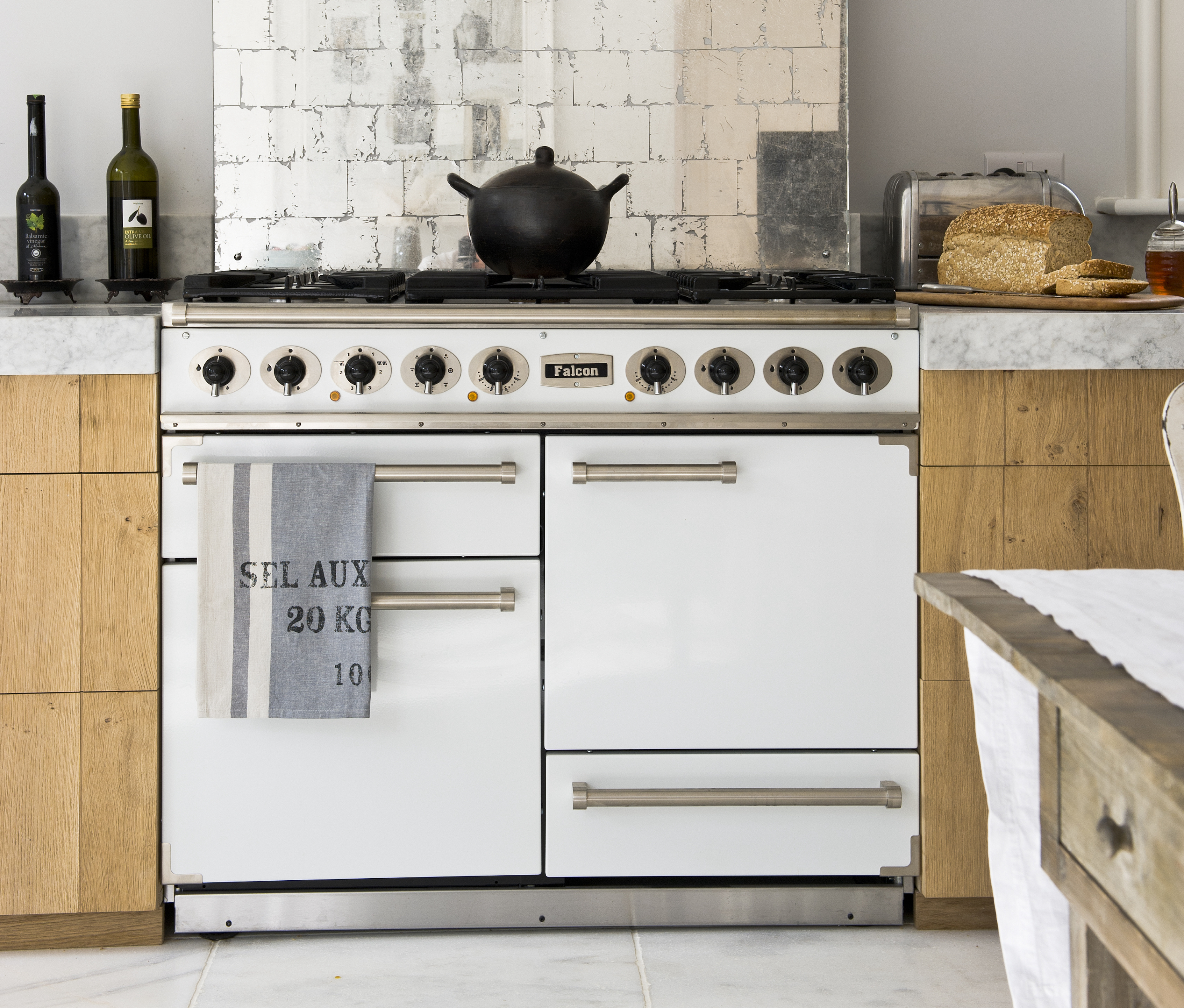 The oven doors reveal an 80 litre multifunction main oven on the left and an 80 litre fanned oven on the right, plus a dual circuit electric grill in the top left. The main oven includes catalytic self-clean oven liners on the rear and sides, with a removable panel on the floor.
On top is the choice of five professional grade gas burners, including a 5kW central burner, or a spacious induction hob, providing an easy to clean surface. All of this is controlled by the clear and simple Bakelite-style control knobs.
Perfect for…a hearty stew or curry, slow cooked by the relevant function and ready for any cold evening
Higher Budget
Bertazzoni Heritage 100 XG Induction, £5,930
The Heritage series takes its inspiration from their original wood burning stoves. These newer models suit a traditional kitchen with contemporary living, cleverly combining the classic appeal with the technology and advanced engineering of the Pro series.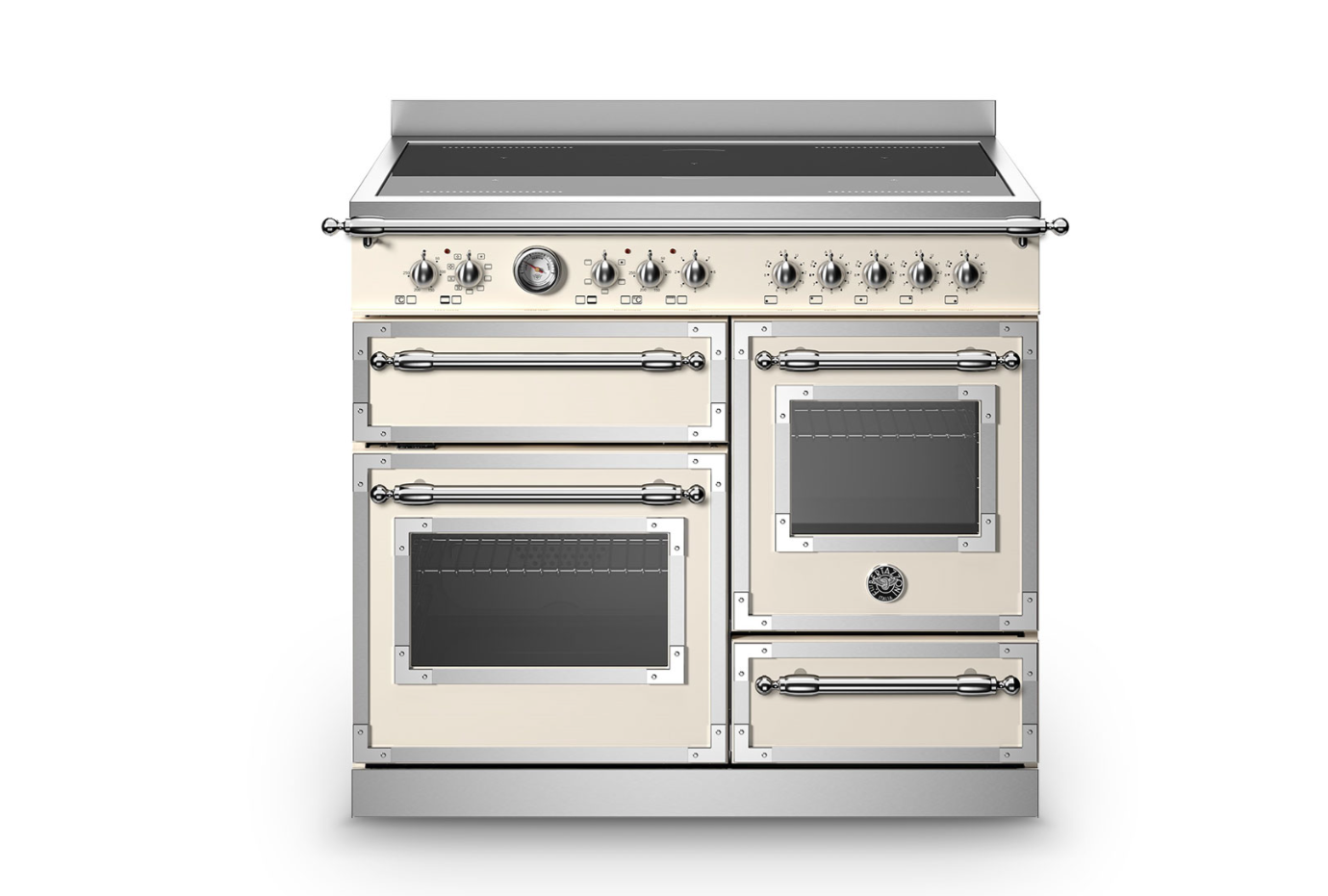 This 100cm triple cavity range cooker offers a main electric oven with 11 functions, ranging from convection and baking to fast-preheat, plus a second auxiliary oven with six different cooking modes. Both ovens feature triple-glazed doors to minimise heat loss, whilst on top is an energy efficient five zone induction hob that delivers easy-to-control cooking power via rotary controls and digital display under the glass surface. The impressive bridging function allows you to use the two cooking zones on the right and left as one single cooking zone.
Finishing this range cooker is a characteristic temperature gauge and a choice of two stunning colours, Nero Matt and Avorio (pictured above).
For over 70 years, Rayburn by AGA has been the warm, beating heart of many British homes. Leading the field in central heating range cookers, with its iconic design and reliability, it is easy to see why the Rayburn has gone from strength to strength.
The Rayburn Ranger is a totally flexible and controllable cast-iron, all electric range cooker. Every Ranger comes with a sense of history built in with manufacture continuing at Rayburn's factory in Telford, Shropshire.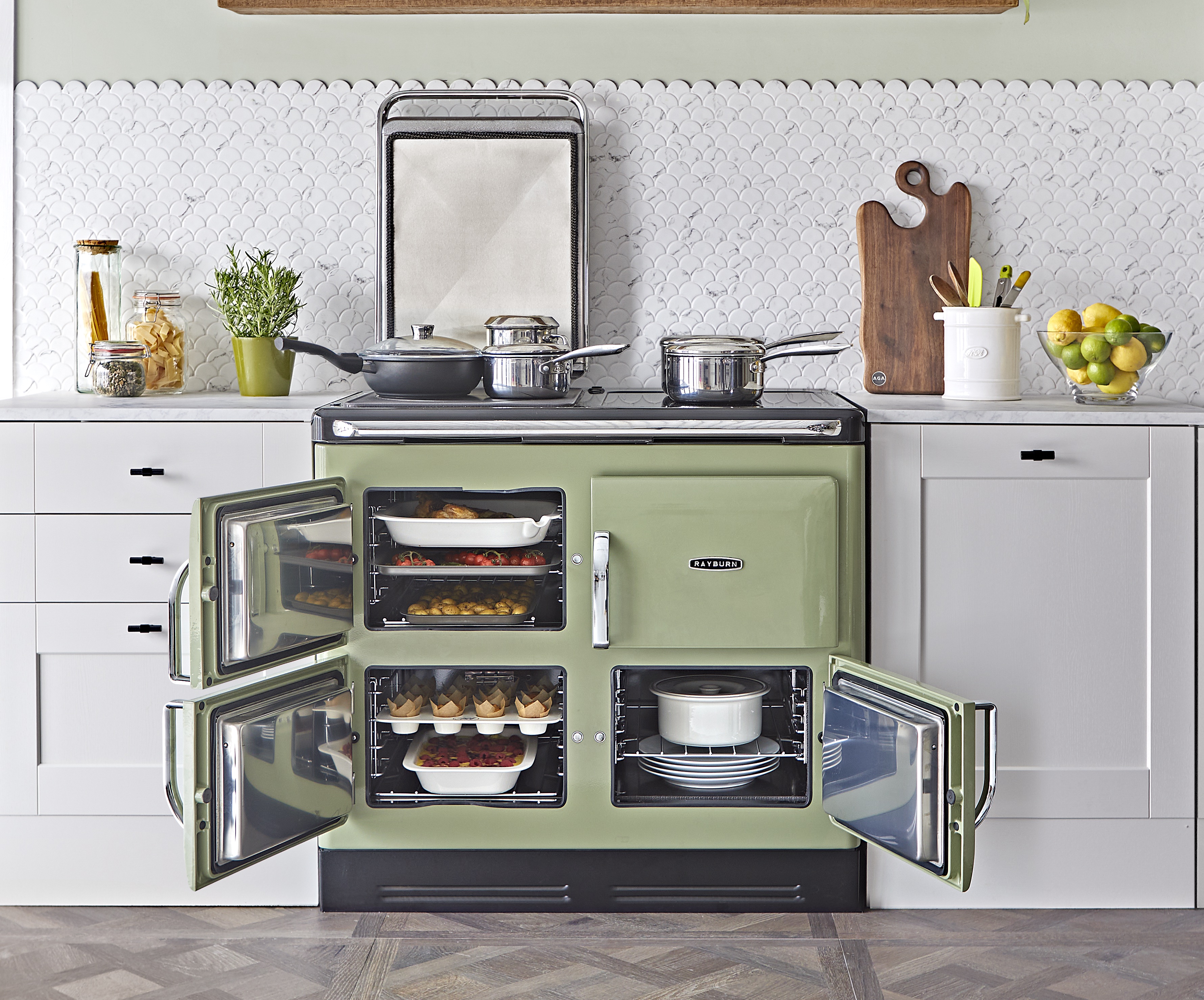 This range cooker benefits from three large ovens, which can be operated independently to help you control the energy you use. This electric range cooker requires no servicing, no plinth and no flue – running on just 2x13amp supply and at 100cm wide, can be easily slotted into an already existing kitchen design or a brand-new project.
Its beautiful styling brings eight charming colours to choose from, adding a retro feel to your home with the bright, bold shades or alternatively something a little more subtle.
What's even better is this all-electric cooker still brings so much warmth, without overpowering the house as a traditional Rayburn or AGA model would. You could still place your damp socks on top of the hotplate cover and make them nice and toasty warm!
Perfect for…cooking crispy pizzas with all your favourite toppings on the base of the radiant ovens