Hoods: What You Need To Know Before Buying One
With different elements that can be matched to your cooking requirements, some cooker hoods are designed to be perfectly integrated into your kitchen's design.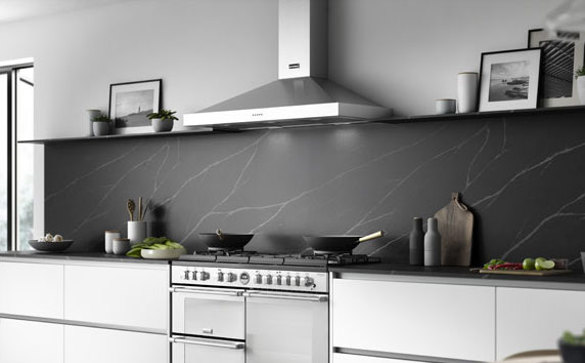 Cooker hoods are a long term investment piece that need to be the best in both visual appeal and the job it does. Depending on where your cooker is going to be placed, this will determine what happens to all of the moisture, grease and aromas from your cooker. When this air is extracted from your kitchen it needs to go somewhere, so it can either be sent outside or recirculated back into the kitchen using carbon filters.
Here is what you need to know before buying a cooker hood…
How can I calculate the extraction rate my kitchen needs?
Your extractor hood will clean the air around the whole room, not just near the cooker, so you need to factor in the size of your kitchen space before buying. This is particularly important if you have more of an open plan living space.
To work this out you will need to take the volume of your kitchen (length x width x height), then multiply this by ten to work out the minimum extraction rate you will need. For example, if you have a kitchen of 70m3, you'll need an extraction rate of around 700m3/hr.
How wide should my cooker hood be?
Cooking aromas and moisture spread differently on the hob style. If you have an induction hob, they travel sideways as well as upwards, so you will require a hood that is wider than your cooker.
With gas, the steam often rises out then up, meaning you should choose a hood that is the same width as your cooker.
What is the difference between extraction and recirculation?
An extraction hood simply sends the air outside through an external wall. Extraction requires access to an external wall in order to place the vent. This can sometimes be a problem as certain kitchen layouts won't allow this. When using the extraction method, air is drawn into the cooker hood where this will trap fats by using the grease filter and release the rest of the fumes outside. Although extraction hoods are more effective than recirculation hoods, they are more expensive to install due to all the extra requirements.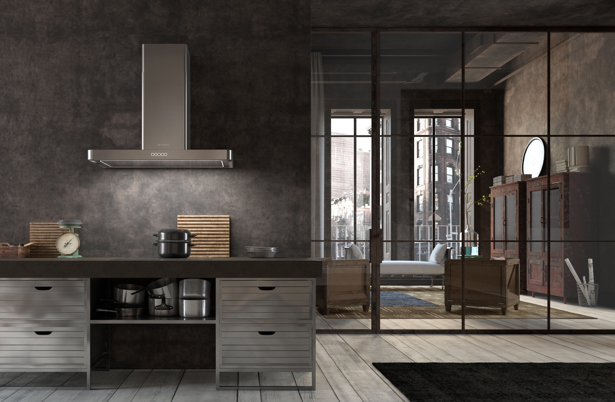 A recirculation hood pushes the air up through filters inside, which then remove any moisture and smells before the air is then reintroduced into your kitchen. Most recirculation hoods also feature a grease filter as well as a charcoal filter, which both work together to remove the food smells and any smoke from the air. A charcoal filter is required if you want to neutralise the odours whilst you're cooking. Recirculating cooker hoods are often cheaper than extraction hoods as you don't need to consider the ducting that would be used for an extraction hood. However, what needs to be considered is the cost of replacement filters, as these do not last forever. A recirculating hood is perfect for someone who wants to redo their kitchen without worrying about the design features if your hood is not able to be situated close to an outside wall.
How much does a cooker hood cost?
Cooker hoods here at Rangecookers.co.uk cost from £375 up to £3,590.
What styles of cooker hoods are there?
Wall mounted hoods often resemble a chimney in shape, being wide at the bottom and narrow at the vent. They add a style statement to your kitchen and powerfully extract any odours. They are typically more expensive than integrated hoods but often look more aesthetically pleasing in a kitchen and the more logical choice to install. At Rangecookers we offer a variety of types when it comes to wall mounted hoods, from the traditional to the super modern.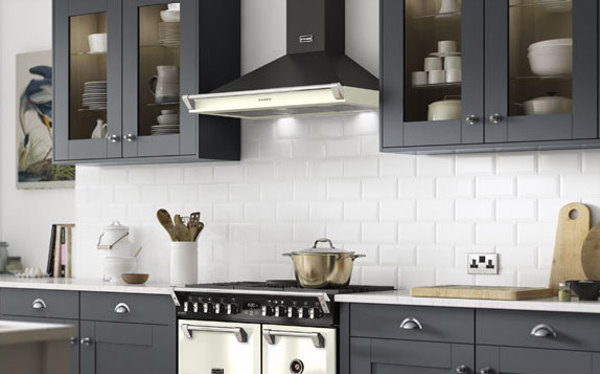 This Stoves Richmond chimney hood enhances both your cooker and your kitchen's design. The use of satin black on the upper part of the hood prevents the colour from being too overpowering, but has a hint with the cooker's colour and distinctive towel rail design. This hood offers 645 cubic metres per hour extraction performance and three speeds which are supplemented by a booster for the times when you need a burst of power. There is also the illuminated electronic buttons and there is a very useful 15 minute delayed stop feature to allow the air to clear once you have sat down to eat.
For cookers placed as part of an island in the centre of the kitchen, an island hood is a great choice. You are free to position your cooker wherever you want it, with all sides of the hood being visible as it is suspended from the ceiling. One of the more glamorous of the hoods available, an island hood is one of the biggest and more expensive hoods to choose from. They attach directly to the ceiling, or are suspended from above, so you will need the height space within your kitchen for this. A lot of island hoods are now made to look more like a lighting feature to create a more visually appealing look.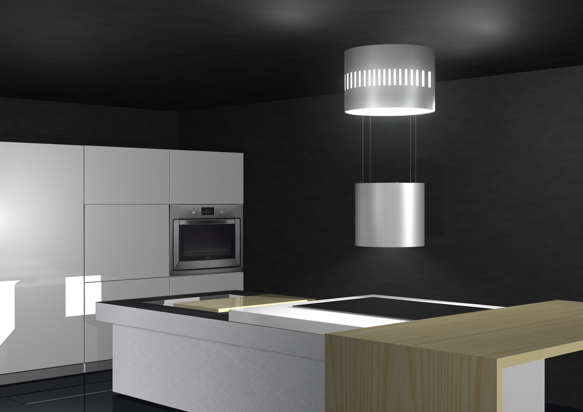 If you are looking for a special kind of hood, look no further than the Rangemaster Vesper. When not in use, the inner cylinder is tucked away at ceiling height and acts as a stylish ceiling light, but when activated via the supplied remote control or a wall switch it delicately descends on thin wires to perform its task. The Vesper can be used for recirculating via the charcoal filters supplied or for extraction using an additional flexible ducting kit (specific to this hood), which is visible when the hood is lowered. With a 520m3/h maximum extraction rate and three speeds plus intensive boost. There is also a useful timer delay for when you have finished cooking but still need to clear the air for a while, and a 24 hour setting which quietly runs the hood for 10 minutes every hour to keep things fresh.
A hidden cooker hood is perfect for those who do not want to make it a design feature. They are integrated either into a cabinet or underneath the cabinet and can be disguised as any other wall cupboard. They are very simple to use and are ideal for smaller hobs rather than the larger models. These hoods are seamless, compact and will not impact on your kitchen's aesthetic. Under cabinet hoods can either include ducts that will transport the smoke and air out of the kitchen or without ducts that will recirculate the air back into the kitchen.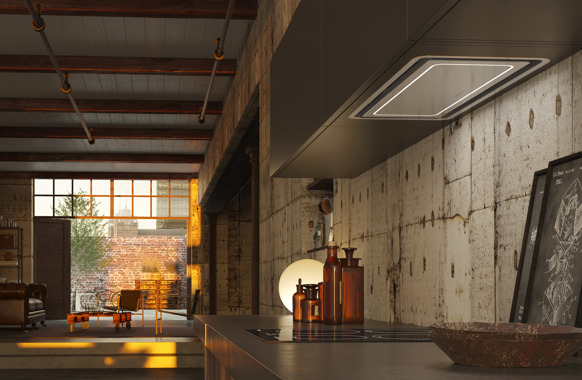 The Faber In Light is a truly elegant and discrete integrated hood. For installation in a chimney breast or within an overhead unit the In-Light's stunning contemporary, curved design really does look superb. There are clever features like a highly efficient Evo Diffuser blower to get the optimum balance of efficiency, silence, and power consumption (this hood is A-rated), and Perimeter Aspiration which exploits the Venturi effect to give 25% less perceived noise (equivalent to 3dB(A). Delayed switch-off, filter alarm and Faber's Connection function (allowing you to operate the hood via compatible Faber hob controls) are there for daily convenience, and you can even set this hood to run in virtual silence for 24 hours a day if you like to keep your kitchen fresh.
Ceiling hoods are ideal for open plan kitchens, giving a clear and unobstructed view. Similar to integrated hoods, they save valuable kitchen space and eliminate unwanted odours and steam from all around the room. Simply mounting directly to the ceiling, these hoods are very powerful and are ideal for those who large gas hobs or do more intense cooking.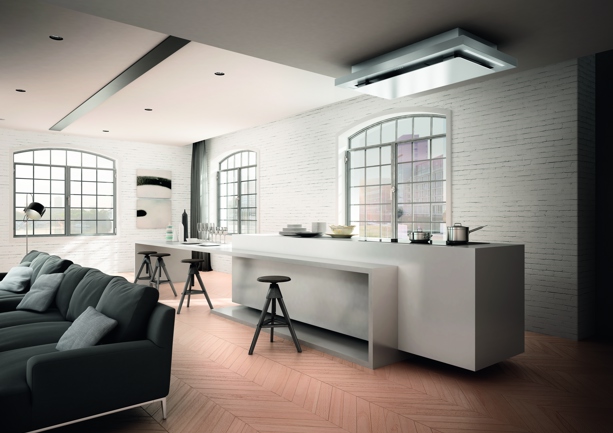 The Faber Skypad 2.0 will recirculate clean, filtered air with maximum efficiency. In crisp stainless steel and white glass, with smart LED lighting strips, the twin brushless motors gives you amazingly quiet and energy-efficient performance, with the addition of Perimeter Aspiration which exploits the Venturi effect to give 25% less perceived noise (equivalent to 3dB(A). Delayed switch-off, remote control and Fabers Connection function (allowing you to operate the hood via compatible Faber hob controls) are there for daily convenience, and there is a Comfort Light mode for pleasant ambient lighting. The remote control unit controls the three high performance motor speeds, plus an even more powerful Intense mode, as well as the elegant linear LED lighting.
Depending on which model you choose, you may need to purchase additional parts like extraction kits or filters. If you would like to discuss which cooker hood would be best for your kitchen or have any questions about any products mentioned, please call our team on 01244 402 975 or visit our website here.