New Year, New Range Cooker?
The festive period has finished and it is the beginning of another year. We are all making the usual resolutions: doing more exercise, saving some money and eating healthy. So why not help yourself and get a brand-new range cooker to start well and cook yourself some healthy treats…
Now everything has settled, you may notice it is time for some sprucing up of your kitchen, maybe even a full transformation. Getting the most out of your kitchen and ensuring it is a space that you can enjoy being in all year round is important, and a huge focal point within your kitchen could be a brand-new state of the art range cooker.
Not only do range cookers boast more advanced features than a standard oven, they also come with a variety of cooking settings. There are different fuel types to choose from, including gas, dual fuel and electric, that will also be determined by your cooking method. When it comes to choosing your new cooker, and there being many different factors to consider, we are here to show you some great options here at Rangecookers…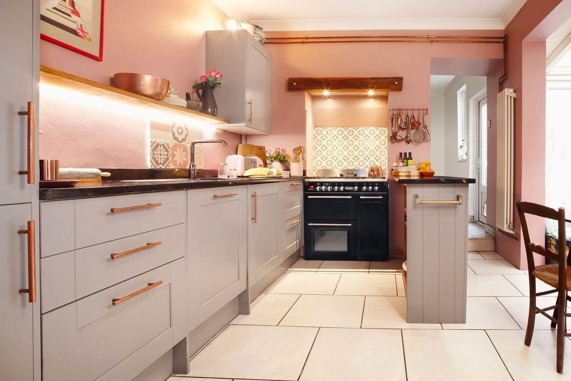 DeLonghi Vintage 90DF
The DeLonghi Vintage 90DF has a great price point for the high-quality features shown throughout. This three-cavity model is not only visually appealing but has an equally pleasing specification. The main oven has eight different fanned and conventional cooking functions and includes a grill. The tall second oven is also fanned and includes a useful plate warming rack, making it perfect for batch cooking. The hob on top is made from a sheet of stainless steel, meaning this cooker is a dream to clean.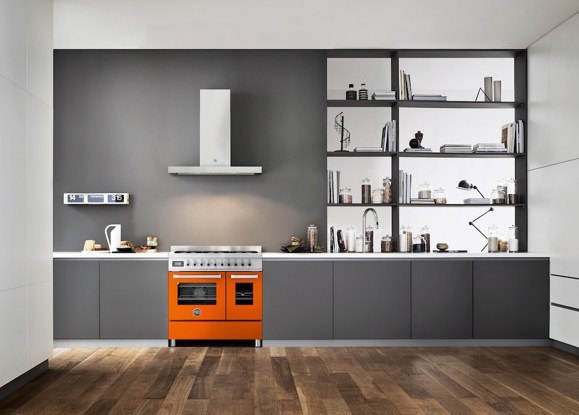 Bertazzoni Professional
The Professional series offers premium Italian quality in the form of solid, functional design and all of the most popular Bertazzoni refinements. All Bertazzoni models come with triple-glazed doors which minimise heat-loss and noise levels, and enhanced insulation materials to maximise energy efficiency. Featured on the Professional models are five shelf positions clearly lit by two oven lights and ample storage for all your cookware and accessoires in a handy compartment below.
Choose from six colours: Aranci, Vino, Giallo, Nero, Rosso and Bianco. The coordinated design of this particular series continues with the iconic controls and handle design. On top are high quality gas burners that provide both power and efficiency, with clean combustion providing quicker boiling times and reduced gas consumption.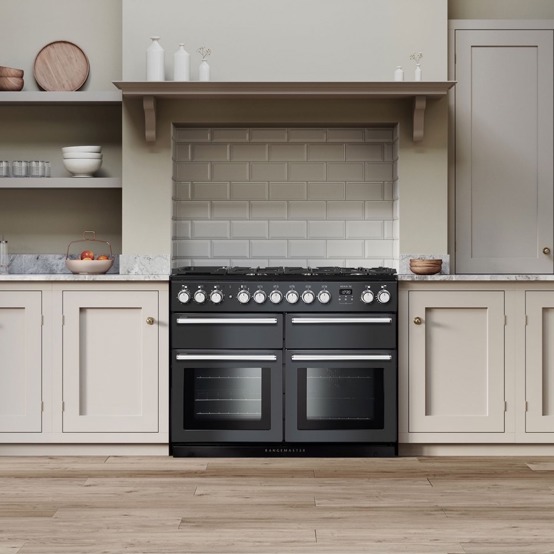 Rangemaster Nexus
The Nexus from Rangemaster is a contemporary style range cooker, with its sleek and modern appearance making it unique from the rest. The Nexus models are available in two widths and two fuel types – 90cm and 110cm with dual fuel or induction.
The Nexus SE mixes traditional cooking methods with modern styling. The controls are made from diamond turned aluminium for durability and not only do they look good, they feel good too with a rubberised ring design providing an ergonomic grip. This enhanced Rangemaster model features a multifunction oven with impressive specifications, a fanned second oven and a slow cook oven.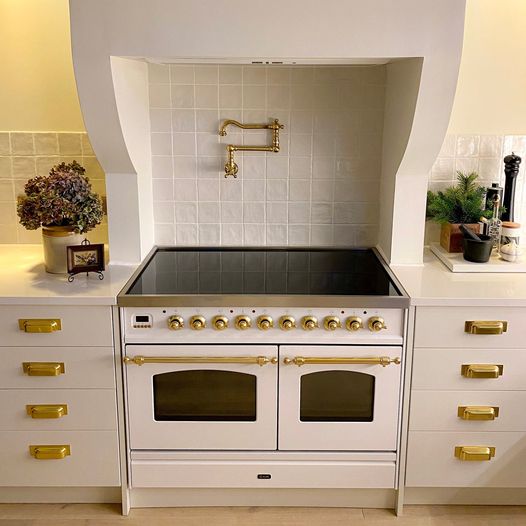 ILVE Milano
The iconic Milano is one of ILVE's more traditional style range cookers. It has the perfect blend of elegance and intricacy with a design that creates quite an impact. This beautiful range cooker is a powerful package.
With premium trims to choose from, including Antique Bronze and Copper, it is easy to integrate this cooker into your kitchen design and colour scheme. The Milano 90 Twin 6 Burner is an enticing heritage style range cooker. This dual cavity range cooker offers attractive metal control knobs and matching door handles to create a polished look. Also featured is ILVE's unique E3 control that allows you to digitally adjust the temperature using a control dial to nudge the setting in five-degree increments.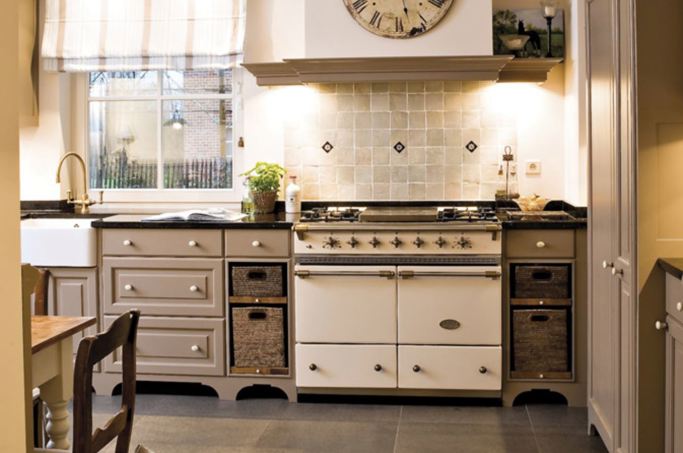 Lacanche Cluny
One of Lacanche's best-selling range cookers is the Cluny Classic. The aesthetically pleasing symmetrical configuration offers versatility with two 55-litre conventional gas ovens and a five-burner classic hob. Both the Cluny Classic and the Cluny Modern offer ample storage space in the form of twin drawers and can be ordered in natural gas, LPG gas or all electric.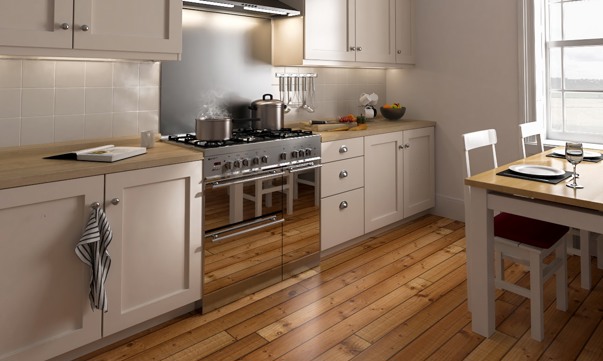 Rangecookers Select 90df3
The three-cavity Select 90df3 gives the perfect mix of reliability, style and value for money. This modern cooker is ideal for all types of cooking, from batch baking to general cooking. The main oven door is windowed and a translucent mirror effect on the rest of the cooker helps the machine look good even when it's not in use. The third cavity is a variable electric grill with glide-out tray and on top are five gas burners with a powerful wok burner in the middle.
All of the brands we offer are trusted and established. To find out more take a look on our website or call our team on 01244 402 975.