Range Cookers For Larger Spaces
A high-quality range cooker is centre of any kitchen. The collections we offer here at Rangecookers come in a variety of sizes, layouts and finishes to suit your needs. 
The size of your cooker is very important as it makes your design layout easier if renovating your whole kitchen, whilst also depending on your cooking requirements. You should consider things like how many ovens do I need? How many burners or zones should I have? It also depends on what will be surrounding your cooker, such as cabinetry and worktops.
Range cookers most commonly come in sizes 90cm, 100cm and 110cm. At Rangecookers, we bring you models from 60cm right up to 220cm. If you have a larger kitchen, you will want to fill the space with an eye-catching and powerful piece of equipment. Here are some of the best range cookers over one metre that might just do the job...
The Nexus from Rangemaster is a contemporary style range cooker, with its sleek and modern appearance making it unique from the rest.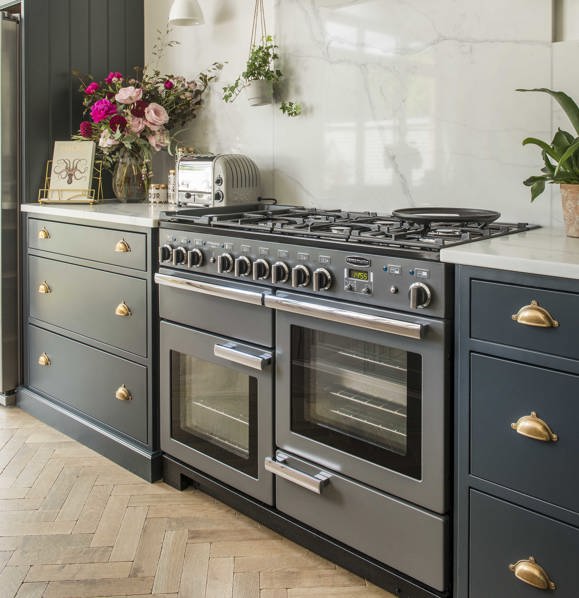 This enhanced Rangemaster takes performance to a new level with a versatile multifunction oven, which includes impressive specifications, a fanned second oven and a proving drawer. This unique feature enables a controlled, warm environment for proving dough perfectly. The Nexus also comes with an improved dual circuit electric grill, which offers even more cooking flexibility and capacity thanks to its new deeper pan design. The special seven burner hob on top has five gas burners, including a triple ring wok burner, and two ceramic cooking zones which also act as a heat source for the well-designed removable griddle. 
Due to their larger size, 220cm range cookers have spacious ovens and a larger hob allowing you to bake, simmer or cook more food at one time. They usually include two spacious ovens and are perfect for larger families. 
The Lacanche Vezelay is a standout range cooker that could be the perfect focal point within a large kitchen. This superb four oven range cooker features a 73 litre oven and a 69 litre oven, with storage drawers beneath them, plus two vertical 85 litre simmer ovens on either side. This stunning range cooker is the largest of the Lacanche collection but continues to be an elegant and well-proportioned cooker. This model also offers up to four additional hob elements, such as a chargrill, extra burners, multi cooker, fryer, plancha and induction plates. The Vezelay is available in natural or LPG (bottled) gas or all electric fuel types. 
Falcon 1092 Continental - 110cm
Falcon range cookers have always appealed to cooks with a no-nonsense approach to life, looking for a straightforward and reliable cooking platform which will look great in their kitchen and provide years of robust service.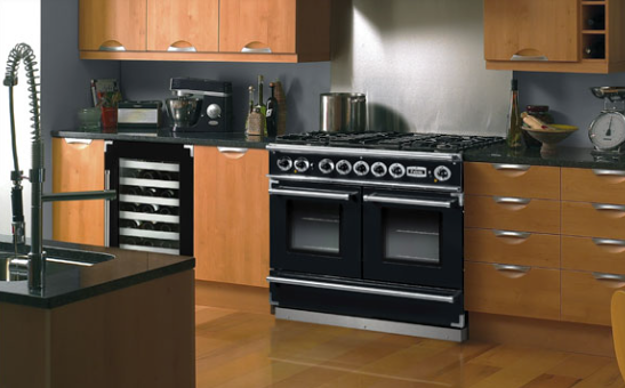 The Falcon 1092 Continental is a simple and reliable range cooker that has been designed to appeal to those who want a more professional standard within their kitchen. The Continental represents something of a bargain at over £1000 less than the 1092 Deluxe, but with no compromise on the quality. Featuring two 73 litre ovens side by side (one multifunction oven with grill and one fanned oven) and five professional grade burners on top, including a more powerful 5kW central burner, this Falcon range is built using heavier-grade materials than its Rangemaster cousins.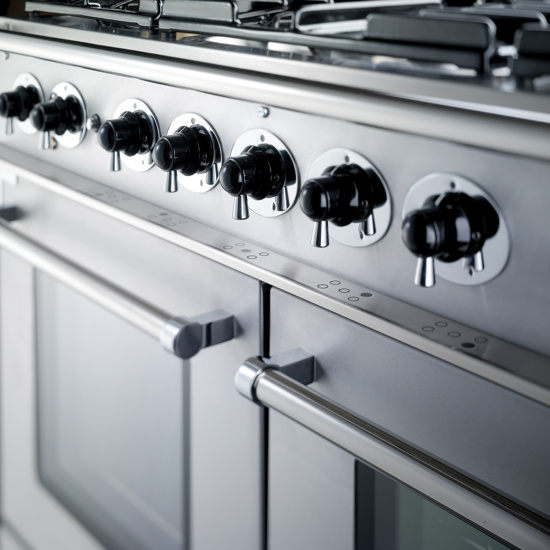 The stunning Bertazzoni Heritage collection now boasts a whole new style with door trims, enhanced controls and an additional towel rail. The Heritage series was originally introduced to celebrate Bertazzoni's 125th anniversary, with it taking inspiration from their original wood burning stoves. The classic appeal of a Heritage makes it a perfect addition to a more traditionally styled kitchen.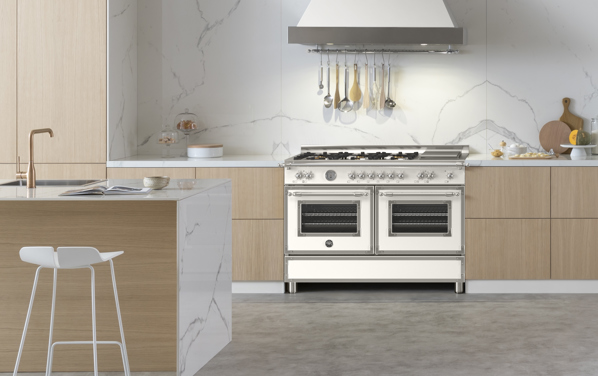 This 120cm double-oven range cooker offers a main electric oven with 11 functions, ranging from convection and baking to fast-preheat, and a second auxiliary oven. Both ovens have triple-glazed doors to minimise heat loss, whilst on top are six versatile gas burners including a dual-ring power burner and a stainless steel electric teppan-yaki griddle. Clean combustion allows pans to be placed closer to the flame, giving quicker boiling times and reduced gas consumption. Finishing this well-executed range cooker is a characteristic temperature gauge and a choice of two stunning colours, Nero Matt and Avorio.
The Smeg Symphony features a unique staggered oven format, which is different from the usual symmetry of Smeg's products and makes it particularly appealing to those who prefer a separate grill compartment.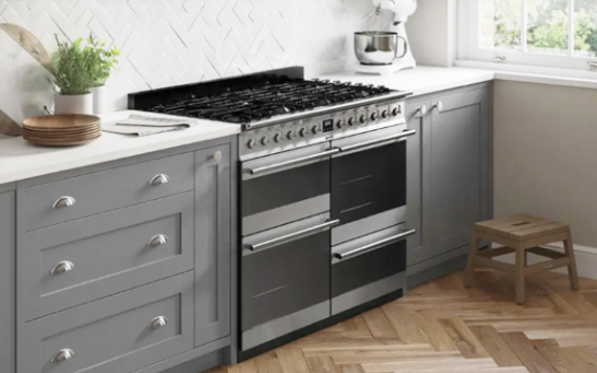 Having gone through several aesthetic changes since the model first arrived in the UK, this latest edition includes a new 7 burner gas hob, A energy rating, vapour clean function and the welcome addition of the Eclipse dark grey door glass. This 110cm model features a multifunction main oven and auxiliary oven, both offering conventional and fan cooking. They each have a generous capacity of 61 litres, 4 shelf positions and feature side opening doors. In addition to this, there is also a separate 36 litre fully variable grill for controllable closed door grilling on two levels, as well as a convenient storage drawer below for all of your cooking equipment.  
The Roma is the most contemporary model of the ILVE range cookers collection, and comes in this very impressive 150cm model.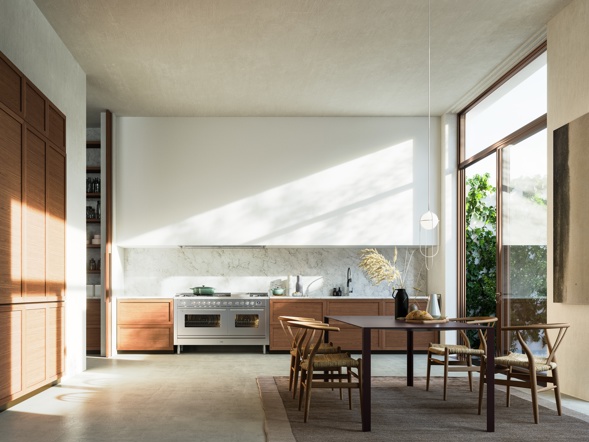 This fantastic dual cavity range cooker offers copious cooking capacity and A+ rated energy efficiency in a premium and refined package. From its metal control knobs to its soft close, cool touch triple glazed door, this cooker exudes quality and advanced technology. The versatile large 97 litre multifunction oven includes a rotisserie and gives you 15 fanned, conventional and grill functions, with a 65 litre second oven offering non-fanned cooking and grilling functions. There are even steam discharge vents to allow you to control the humidity or condensation levels to let a little out for wetter dishes or keep it in for baking – a lovely touch that shows ILVE's consideration of culinary detail.
The Roma's fresh finish creates a sleek look that can be integrated into any kitchen interior design. Includes easy to clean enamel interiors and two-height halogen lighting to view what is going on inside your oven.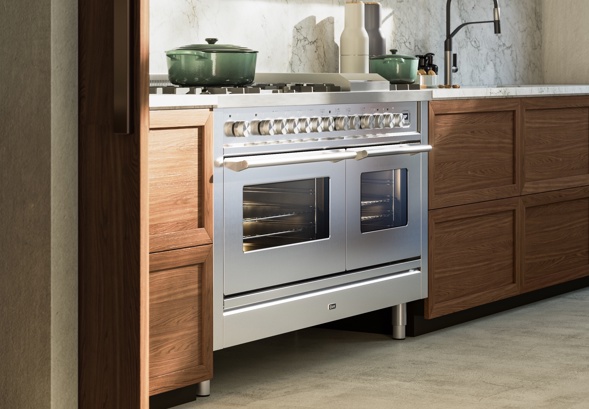 With lots of different choices, the final decision can be hard. It is vital to get the size of your cooker right, without having to stick to the standard sizing. If you have questions about the sizes or the range cookers mentioned, please call our team on 01244 402 975 and they will be happy to help you! Or visit our website now to find out more…