Rangecookers Guide To Choosing The Perfect Range Cooker
Here at Rangecookers we know a thing or two when it comes to choosing the right cooker for you and your home. We can help you decide which size is best for your kitchen or what fuel type is best for your cooking experience, as well as telling you exactly why a range cooker is the perfect choice for you.
A range cooker is the perfect choice whether you're a future Masterchef winner, a budding baker or simply just a beginner. At Rangecookers we have a number of premium brands such as Rangemaster, Lacanche and Bertazzoni but no matter which brand you choose, there is a range cooker out there to suit any cooking requirements. In a variation of fuel types, colours and finishes, it is hard to know where to begin. Here is a guide to all the things you should consider when making your range cooker purchase...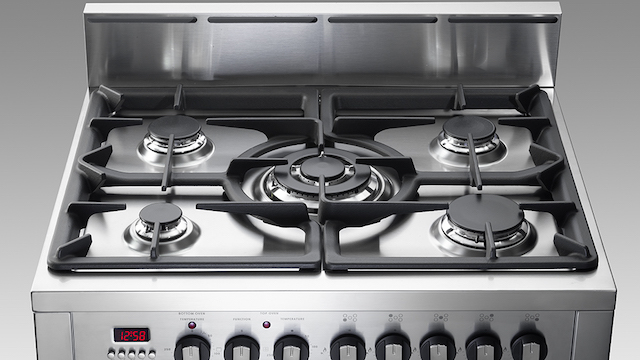 Fuel Type
Range cookers come in a variation of fuel types such as gas, dual fuel and electric. Each has their own advantages and disadvantages, so the final decision comes from your personal cooking preferences...
Gas
Gas cookers are very versatile. Precision and practicality within the controls gives you exactly what you need to make beautiful dishes. Gas cookers are often favoured by commercial chefs due to the ability to control the heat and cooking speeds instantly. Using gas can be cheaper to run than an electric cooker, however with electric ovens often having fans, your food will cook evenly and take less time. A gas cooker is generally the more environmentally friendly option when considering overall carbon emissions. 
Dual Fuel
The dual fuel option offers the best of both worlds - a precise gas hob and fan-assisted electric oven create a great duo in terms of cooking power. They provide modern, efficient cooking, with the gas hob allowing you to quickly make heat adjustments whilst the electric oven will cook your food evenly and accurately, giving you great results every time. A dual fuel range cooker gives you all the benefits of both fuel types as adding an electric oven into the design provides more high-quality oven heat controls than many other ranges.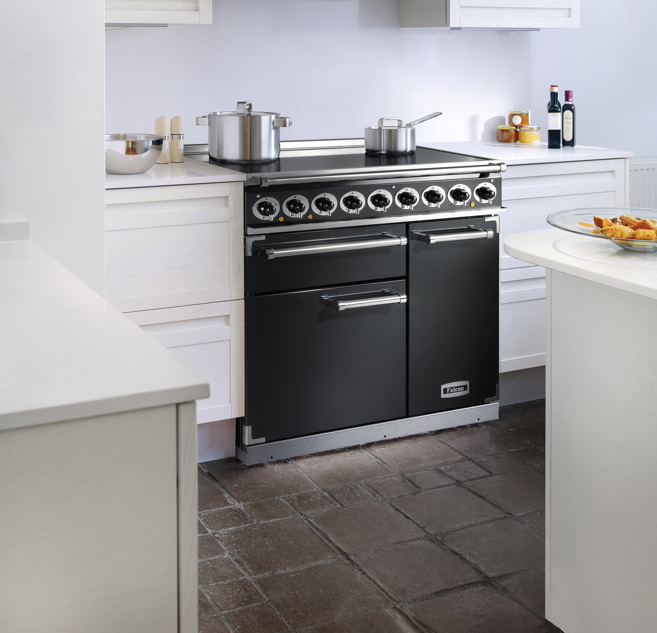 Electric
Electric range cookers are a very popular choice for many homes. Electric ovens tend to offer a more even distribution of heat throughout the oven cavity, helping to cook food more meticulously. There are two types of electric cooktop to consider: ceramic and induction. Both offer great similarities, especially when it comes to cleaning. The smooth surfaces of both, with no pan supports and burners to scrub, make them simple to wipe down with a damp cloth after any accidental spillages. A ceramic top is often cheaper than an induction, but the entire cooking is heated which means a lot of heat can escape around the sides of the pan and the zones can remain hot for a while after. An induction hob uses magnetism to heat the pan not the hob, so it means the heat can cook the food faster and minimise the risk of burns during and after cooking. To find out more about induction cooking, read our previous blog post here.

Size
The size of your cooker is very important as it makes your design layout easier if renovating your whole kitchen, whilst also depending on your cooking requirements. You should consider things like how many burners (or zones) do I need? Or, do I need a large oven or two ovens? It also depends on what you will have surrounding your cooker, such as your cupboards and worktops. At Rangecookers we have cookers available in a variety of different widths: 60, 70, 80, 90, 100, 110, 120 and 140cm. If you have a smaller space a standard 60cm is perfect or you could opt for the 70cm as it is a rare measurement for a range cooker and offers the increased cooking capacity but without the overpowering size. The wider range cookers offer more to those who like to cook larger meals and wouldn't look out of place in a professional kitchen.
Oven Type
Multifunction Ovens 
Multifunction ovens are built with multiple heating elements behind the oven walls - a top one, a bottom one and one coiled around the electric element. Many of the brands available at Rangecookers feature multifunction ovens on their ranges. If you enjoy cooking this will be a great choice for you as they offer great flexibility. A multifunction oven essentially takes a conventional oven and a fan oven and combines them. This means it is great for all types of cooking, whether it be a Sunday roast or for baking some cakes.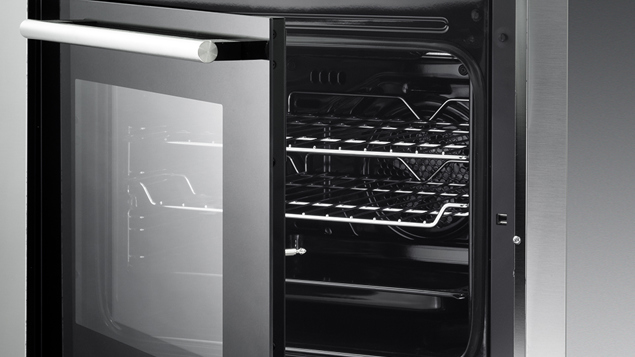 Conventional Ovens
With a conventional oven, there are two heating elements that heat air inside the oven to cook the food. There are certain areas of temperature in the cavity of a conventional oven, with the top being the hottest and the lower parts being slightly cooler in comparison. A conventional oven is great for baking as it allows you to cook foods at the same time but different temperatures. It means pockets of hotter and cooler air can cause dishes to either cook faster or slower, depending on where they are placed within the oven. 
Fanned Ovens
If your range cooker has two ovens, it will include at least one fan oven. Fan ovens are great for batch cooking, as the heat is evenly spread though the cavity. Cooking times can be quicker, and you can find a consistent temperature regardless of where you place your food in the oven. Due to their efficiency, they often heat up a lot quicker than a conventional oven, saving both time and money in the long run.
Cleaning
Behind the fun of a range cooker is the cleaning. It is best to try and keep your cooker as clean as possible after use to prevent the oven cavity and cooking surfaces from having piles of dirt and dust build up, making them even more difficult to clean. If there are excessive spillages in the oven, wipe the affected areas with a warm, damp cloth and a mild detergent. Any of the more stubborn stains can be removed gently with a non-abrasive scourer and cream cleaner if needed. If something spills or boils over on the hob, try and wipe it up as soon as possible to prevent it from burning onto the cooker. It is often more time-consuming cleaning a gas cooker as they have pan supports and burners being more susceptible to dust collection and excess food from spillages. 
With hundreds of different choices when it comes to range cookers, the final decision can be overwhelming, but hopefully this guide will help you to find the perfect range cooker for you. If you're still in need of some inspiration, take a look at our website here or call our team on 01244 402 975 and they will be happy to help you!