Investing in a high-quality wine cooler is the best way to store your wine. Traditional or contemporary, wine cabinets are designed to incorporate many features that will keep your wine in perfect condition.
Wine storage is crucial for the taste of the wine. Whether you love to buy good quality wine, store it and bring it out for special occasions, or you buy a bottle to enjoy within a day or two, a wine cooler will not only maximise refrigerator space but also maintain a constant temperature and chill your wines so they are ready to serve any time.  
Here at Rangecookers we offer a stunning selection of wine coolers, complementing your appliances in any style kitchen…
We are very excited to now stock these stylish Smeg wine coolers. Smeg built in wine coolers make a perfect addition to your kitchen, blending in seamlessly within your counter or in column. Smeg set the standard for range cookers in the nineteen nineties, and these classic yet chic products still retain that enduring and imitably Italian Smeg style, making them as popular as ever.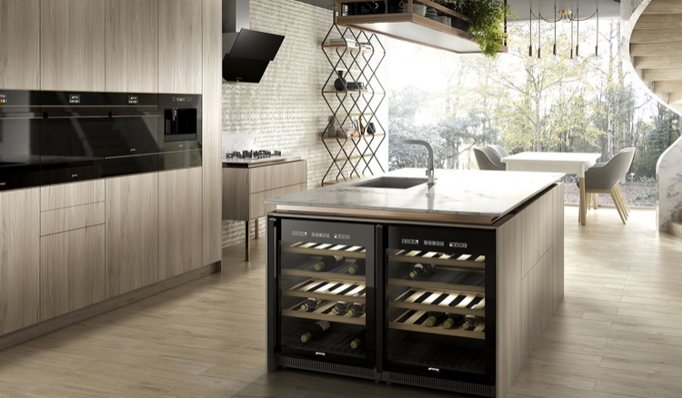 Each Smeg aesthetic offers different options, allowing you to have sleek, coordinated appliances throughout the room. Different models offer a variety of features for your wine cooling:
Classic Collection
The Classic wine cooling range is finished with stainless steel and available in both 45cm in column and 82cm under counter models. This Classic wine cabinet has the capacity to hold 38 bottles of wine in total, making it a very handy feature in your kitchen.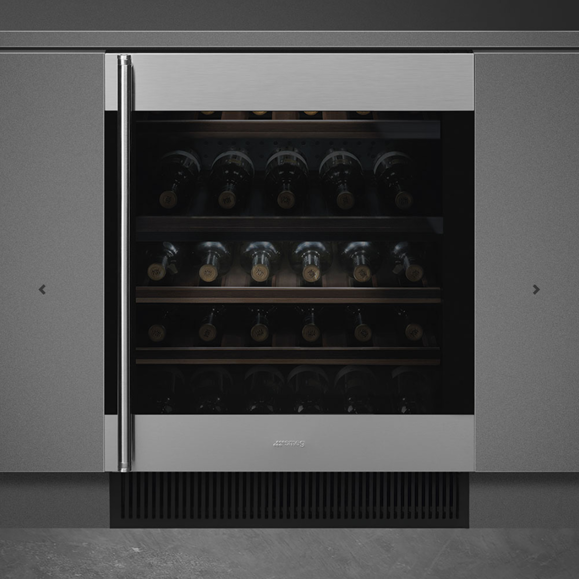 Inspired by architect Guido Canali, Smeg's Classic collection remains as timeless as ever thanks to its understated style, with black eclipse glass and industrially designed look. With so much choice to coordinate, the range is amongst the most versatile in the market.
Dolce Stil Novo Collection
The Dolce Stil Novo wine cooler range is Smeg's most advanced collection to date, constructed from the best materials for a monochromatic look with copper or stainless steel trims. This Smeg wine cabinet has the capacity to hold 21 bottles of wine in total and has all of the features you would expect from a Smeg product.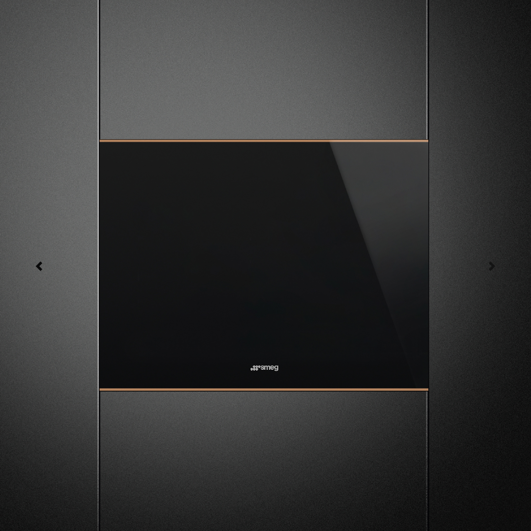 The anti UV glass door will protect the wine inside from the daylight and with LED lighting and electronic temperature controls, it will integrated into your kitchen perfectly. Featuring top quality engineering, the range includes special touches such as soft close hinges for a premium feel.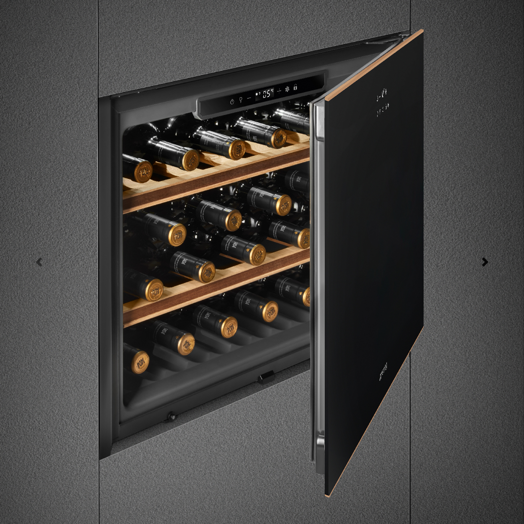 Linea Collection
The Linea wine cooler range combines contemporary design with the latest built in appliance technology.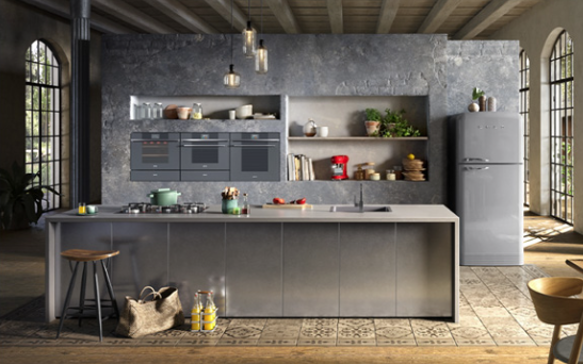 These models offer spacious, flexible racks and controlled luminosity. Internal LED lighting, digital touch control display and adjustable telescopic shelves are just a few features that make up this impressive model. The perfect compliment to a suite of Linea built in appliances or any of the Smeg range cookers, a must have in any modern kitchen.
Smeg Connect
Through the Smeg Connect app you can operate, control and monitor your appliance from anywhere. It is a great solution for both preserving and exhibiting your wine collection. Smeg Connect wine cellar perfectly controls the serving and preserving temperature, with other functions including sharing the wine list through Facebook with your friends.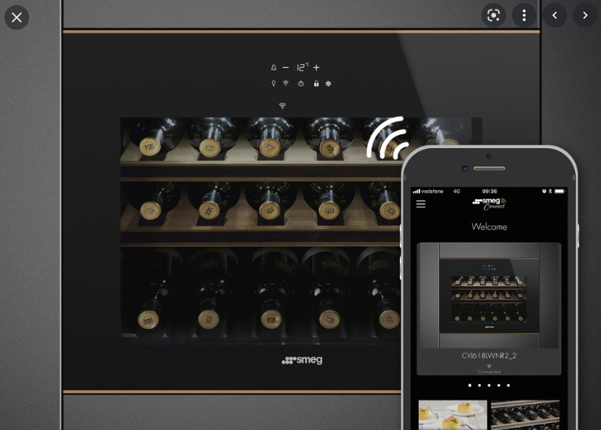 Its attractive and intuitive interface gives access to lots of additional content, such as matching your wines to particular recipes, whilst a Personal Assistant helps for app search and using all your smart appliances.
Pair with...
The Smeg Symphony range cookers appeals to the British consumer, with the width not generally being used anywhere else in Europe. The staggered oven format is different from the usual symmetry of Smeg's products, making it particularly appealing to those who prefer a separate grill compartment. This range cooker offers a 7-burner gas hob, including a large, high power wok burner, and a multifunction main oven with auxiliary oven alongside. This cooker has side opening doors, giving easier access to the oven. The oven handles also cover the width of each oven whilst the handrail is the width of the cooker, making it perfect for hanging towels on.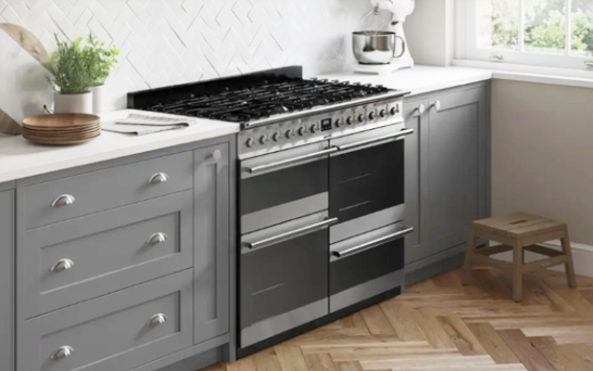 The Opera model is a timeless classic with an ergonomic design and close attention to detail. The Opera range cookers give you a clear LCD display, offering 50 automatic programmes and 10 customisable recipe functions, with everything digitally controlled. The highly efficient multifunction oven has a triple fan array to ensure fast and even spread of heat, and the cool-touch triple-glazed door ensures a very quiet and solid feeling performance with a thoughtful soft-close action.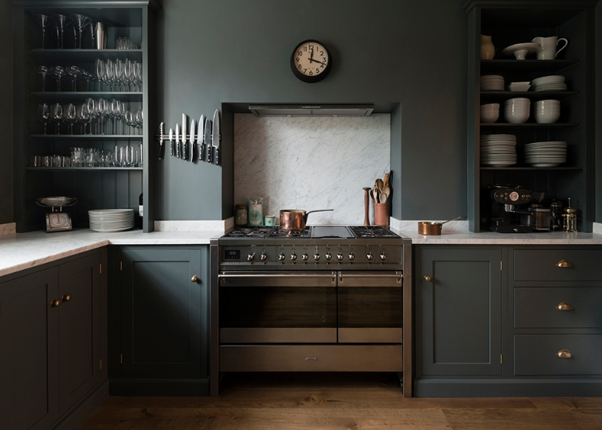 Rangemaster's wine cabinets have been designed to keep your wine in the best conditions possible.
Dual temperature zones create two different internal temperatures that allow you to store white and rose wines in the upper section (4°C-12°C) and reds in the lower section (12°C-22°C), therefore creating enjoyment of any wine at the right temperature. Bright white LED lighting offers instant illumination as soon as the door is opened, as well as having a door open warning to prevent the door being left open and causing the temperature to rise.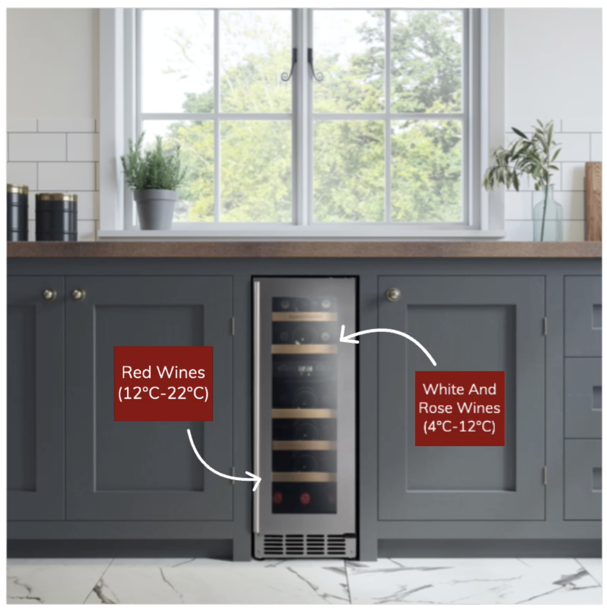 Available in both 30cm and 60cm widths, and with the choice of either a stainless steel or black door with a stainless steel trim, this range is truly special.
The 30cm wine cabinet has an 18 bottle capacity and 5 glide-out premium wooden shelves for easy access.  
The 60cm wine cabinet also offers 5 glide-out premium wooden shelves, but an impressive 46 bottle capacity.
Pair with...
The Nexus from Rangemaster is a contemporary style range cooker, with its sleek and modern appearance making it unique from the rest. This enhanced Rangemaster takes performance to a new level with a versatile multifunction oven, which includes impressive specifications, a fanned second oven and a proving drawer. This unique feature enables a controlled, warm environment for proving dough perfectly. The Nexus also comes with an improved dual circuit electric grill, which offers even more cooking flexibility and capacity thanks to its new deeper pan design. The special seven burner hob on top has five gas burners, including a triple ring wok burner, and two ceramic cooking zones which also act as a heat source for the well-designed removable griddle.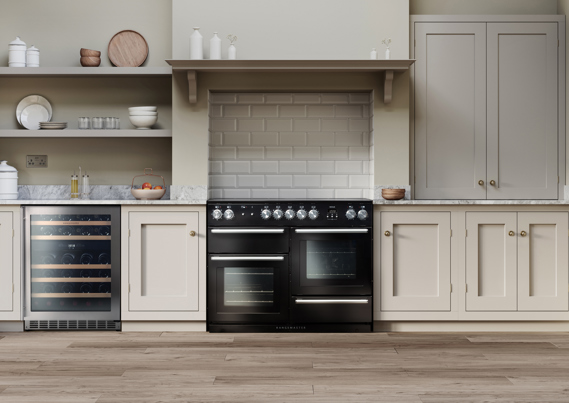 The Elan Deluxe model is distinctly recognisable with its well-considered design, including spiral handles and unwindowed doors. It creates a traditional presence within a kitchen, with character and practicality. Available in sizes 90cm and 110cm, this collection is feature-rich and creates the perfect cooking experience with both multifunction and fanned ovens. Take your pick from a choice of Black, Cream, Cranberry, Royal Pearl, Olive Green and Stone Blue.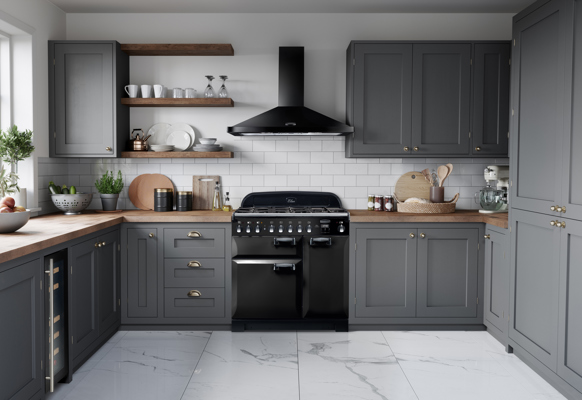 To find out more about any of the products mentioned, call our team on 01244 402 975 or visit our website now!