False Economy Of Cheap Purchases: Choosing A Premium Range Cooker
Prices for range cookers start at just under £700 here at Rangecookers.co.uk but whilst there are retailers that sell much cheaper, we are focused on the quality of the product you will be receiving.
The saying goes "buy cheap, buy twice", as buying a cheap but second fiddle product is a false economy since it will often need replacement. A range cooker can provide a kitchen with a hint of colour, character and warmth. Cooking food to perfection, a premium model range cooker can cost you anywhere upwards of £2000. However, the build quality of a premium range cooker will ensure it has a long lifespan, making this daunting piece of equipment a great investment piece. We have created this Rangecookers guide to show you just what you're getting for the price of a premium range cooker and why you should invest just that little bit extra…
Lacanche
Lacanche range cookers are authentic and highly capable. They are all about the cooking, with them being specially designed by this historic and impressive French brand. Longevity is guaranteed with a Lacanche, with them servicing a number of their range cookers still after 70/80 years.
Behind the striking exterior of a Lacanche range cooker is a smart and professional cooking platform that is built to perform to the highest of standards. From the refined Modern models to the simple but stylish Classic models, a Lacanche could be the cooker of your dreams. If it is a gas cooker you are looking for, but up to now have been a little too much for your cooking requirements, Lacanche are very aware of this. They have re-engineered their gas ovens to provide greater control, with an up-to-date thermostat included in the design to give you a range of 100 degrees at gas mark 1 to 260 degrees at gas mark 10. This flexibility is suitable for both roasting and baking at a lower scale.
With a variety of sizes and configurations, also including electric and dual fuel, there's a Lacanche range cooker out there to suit everybody. Solid and built to last, they offer years of truly professional performance, versatility and lots of great cooking.
Lacanche Cluny Classic 100 - £4,750
One of Lacanche's best-selling range cookers. Aesthetically pleasing symmetrical configuration that offers versatility with two 55 litre ovens. Can be ordered in natural gas, LPG gas or all electric fuel types.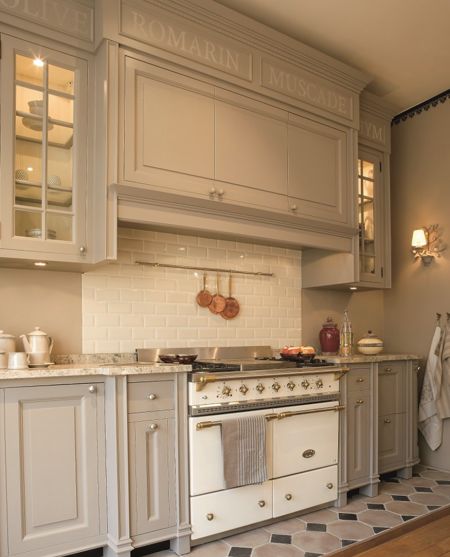 Lacanche Saulieu Classic 110 - £6,990
A double oven range cooker featuring a large 70 litre main oven, plus a vertical 65 litre oven and grill on the left hand side. The Saulieu Classic is the mirror image of the Lacanche Savigny Classic.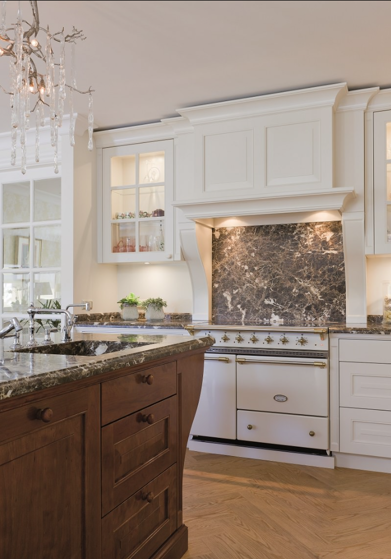 Lacanche Macon Classic 100 - £5,250
The Lacanche Macon Classic and the Macon Modern are both popular and flexible range cookers. If you prefer your range cooker to have a separate grill, the Macon Modern caters to this need.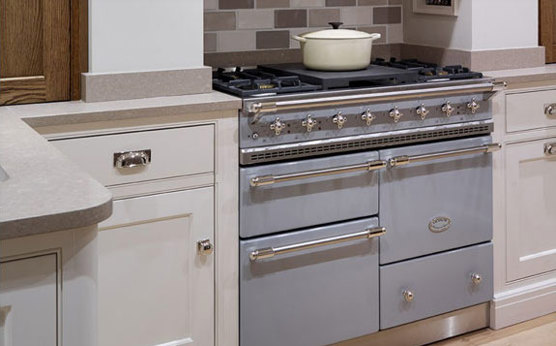 Bertazzoni
Cooking is one of the essential elements of Italian family life. Bertazzoni are one of the oldest brands in Italy, having run for 140 years. Their range cookers are built through rich Italian heritage and manufacturing, with cooking being at the forefront of the high-quality design on each of their products. Functional ergonomic design makes these cookers a standout piece in many homes and the passion that has been passed down through six Bertazzoni generations is clear within every appliance. Precision engineering ensures your appliance functions perfectly, but the stylish design also gives an elegant but powerful aesthetic. With range cookers available in sizes, colours and finishes to suit every need.
Bertazzoni Professional 90 Twin Colours - £4,095
The Professional series offers premium Italian quality in the form of solid, functional design and all the most popular Bertazzoni refinements. Featured on the Professional models are five shelf positions clearly lit by two oven lights, and ample storage for all your cookware and accessories in a handy compartment below.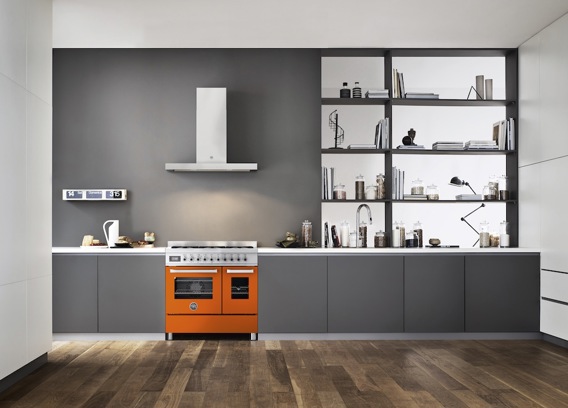 Bertazzoni Master 90 Twin - £2,095
The Master range brings all the usual authentic features of a Bertazzoni range cooker but with an affordable price point. The twin model includes a multi-function oven that is both quiet and efficient and a second auxiliary oven, along with all the same features as its smaller sibling.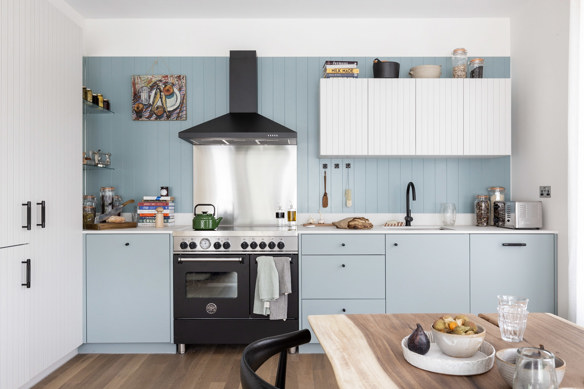 Bertazzoni Heritage 100 XG  - £4,795
The classic appeal of a Heritage model makes it a perfect addition to a more traditionally styled kitchen. The striking round chrome control knobs are familiar and comfortable to use, making them a key part of the design of the models.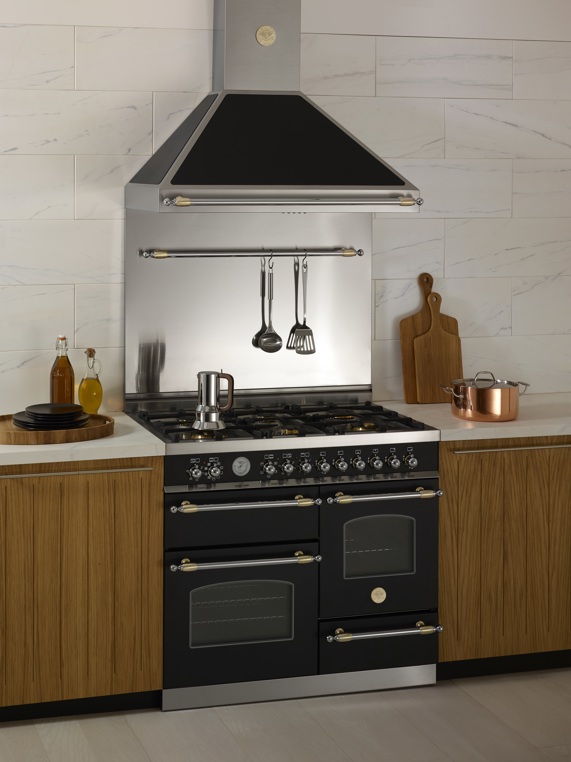 ILVE
As a globally renowned cooker brand, ILVE take price in the quality and refinements of their range cookers. Efficiency and visual appeal make ILVE stand out amongst the crowd, with precision engineering providing a professional cooking appliance that is perfect for any home. Their overall integrity of all their components shines through and reassures owners that they have made the right investment.
With continuous research into cooking science, ILVE are at the forefront of the industry. Located near the beautiful Italian city of Venice, ILVE products are handcrafted using the finest materials. They showcase an impressive collection of products, with a choice of colours, size and finishes to suit any style kitchen.
ILVE Milano 90 Twin 6 Burner - £3,795
The iconic Milano is one of ILVE's more traditional style range cookers. This dual cavity range cooker offers attractive metal control knobs and matching door handles to create a polished look. Also featured is ILVE's unique E3 control that allows you to digitally adjust the temperature using a control dial to nudge the setting in five-degree increments.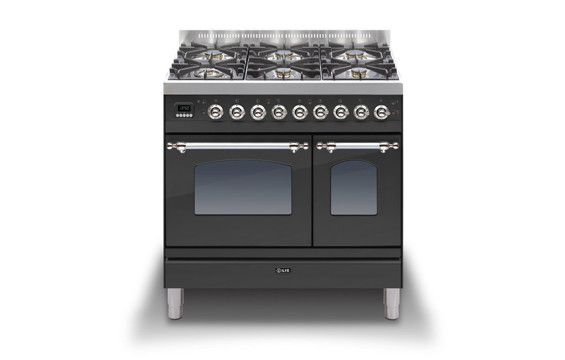 ILVE Roma 80 Single 5 Burner - £3,155
The Roma is the most contemporary model of the ILVE range cookers collection. Inspired by professional kitchens, ILVE created this modern appliance to provide an impressive cooking experience. The Roma's fresh finish creates a sleek look that can be integrated into any kitchen interior design.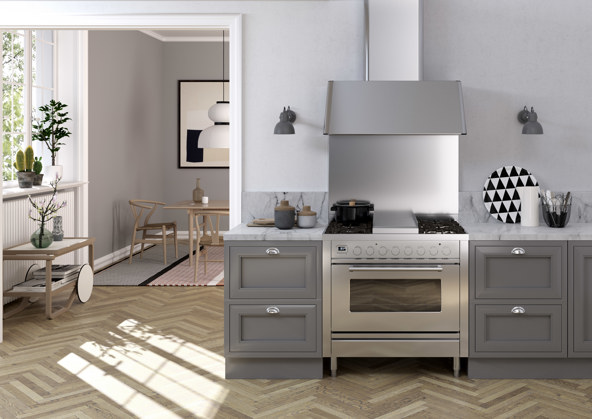 ILVE Panoramagic - £12,595
The Panoramagic brings an extra touch of indulgence to your kitchen, with a futuristic style range cooker certainly becoming an eye-catching centrepiece. The red LED backlit control knobs matched with the stainless-steel body makes this a stylish choice. The Panoramagic 120 8 Burner is a striking appliance. Behind the triple glazed, soft close doors is one 91L multifunction oven offering 15 different settings including fanned, conventional, pizza mode, intensive cooking and rotisserie.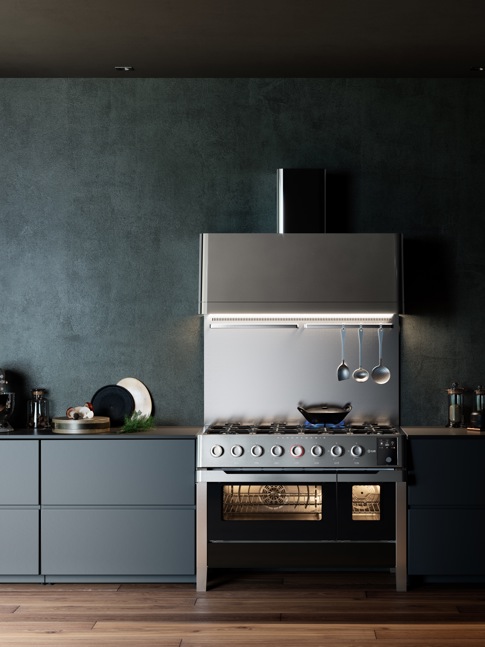 Falcon
Falcon range cookers have always appealed to those looking for a straightforward and reliable cooking platform, which will look great in their kitchen and provide years of robust service.
This highly regarded premium brand, and the strong look of a Falcon, has remained unchanged since it was first introduced. However, the technology has evolved and the current collection uses all the latest components and insulation materials to give you optimum performance. Part of the AGA Rangemaster brand, Falcon share the same formats as some of the manufacturers' other brands, Rangemaster, Mercury and AGA Masterchef, but are built using heavier-grade sheet steel, more robust oven shelving and impressive power from their gas burners.
Falcon 1092 Continental Induction - £3,395
If you're looking for a solid and reliable range cooker, look no further than the Falcon 1092 Continental Induction. This induction model brings all the power you could need in the form of five cooking zones with useful features like power-boost, boil-dry detection, auto-heat up, simmer and zone-link functions, all being operated by clear and simple control knobs.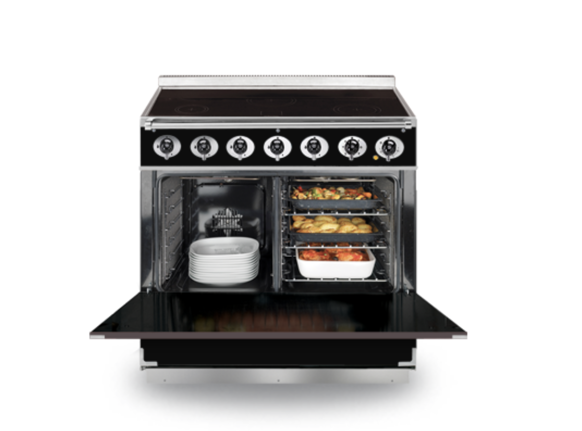 Falcon 1092 Deluxe - £4,095
The more expensive 1092 Deluxe model does away with the domestic features such as windowed doors and gives a more focused user experience. Competent and available in a selection of very appealing colours, including China Blue and Cherry Red.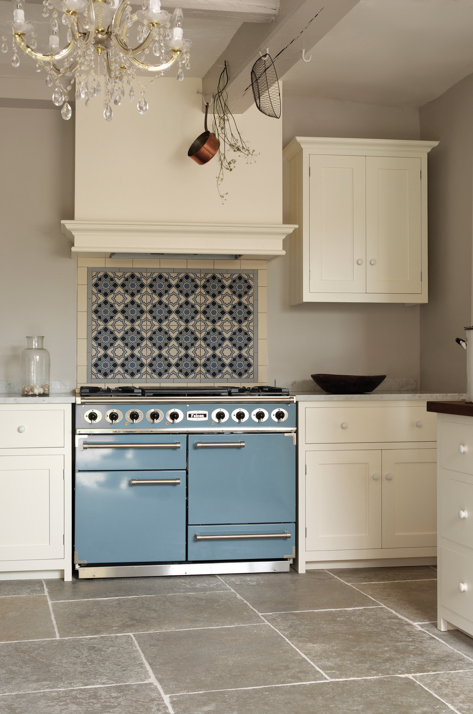 If you have any questions about the brands or products talked about in this post, please don't hesitate to give our team a call on 01244 402 975, they will be happy to help you! You can also take a look at all of these products and more on our website now.